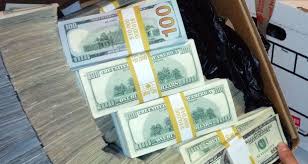 Banks operating in the Baltic nation of Estonia may have laundered considerably larger sums than first thought.
Estonian police now estimate that bankers in their country were involved in suspicious transfers of money and securities, mainly from Russia, totaling more than $13 billion from 2011 to 2016.
Danske Bank Rebuked by Government as Laundering Scandal Expands
The transactions took place through four separate schemes using non-resident accounts, including transfers of Russian stocks and bonds since 2012 worth more than 7.3 billion euros ($8.6 billion), Madis Reimand, the head of the police service's Financial Intelligence Unit, said in a phone interview on Thursday. Accounts of U.K.-based companies played "a significant role," he said.
The Baltic region, which has long served as a conduit for illicit Russian funds into the European Union, has been tainted by a string of financial scandals in recent years. Two of its banks were closed this year over money laundering, while Denmark's financial watchdog has reprimanded Danske Bank A/S for violations at its Estonian unit. In a bid to salvage their reputations, Latvia and Estonia are considering asset seizures and bans on the use of shell companies.
Reimand said there wasn't enough evidence at this point to pursue criminal prosecution. In its annual report, released on Friday, the FIU says it's "vital" to proceed with the plan allowing the seizure of dubious assets if their legal origin can't be proved, reversing the burden of proof.
'Dubious Origin'
"Our general problem with such transactions from the East, and in general with large international schemes, is that it's impossible in practice to find out to which prior crimes any assets of dubious origin are tied," Reimand said. "Clearly these transactions aren't transparent and, therefore, are suspicious."
Three out of four schemes have already been reported by the Organized Crime and Corruption Reporting Project, which cited an investigation by 17 European media organizations. In two cases, Russian assets were mainly transferred through Moldova (known as the Russian Laundromat), with banks in Estonia handling about $2 billion out of a total of $47 billion, according to the Estonian FIU.
In the third scheme -- the Azeri Laundromat -- companies and state institutions there transferred more than $3.9 billion to non-resident corporate accounts at Estonian banks. A previous estimate by the OCCRP placed the figure much lower, at $2.9 billion, Reimand said. Azerbaijan rejects the OCCRP's report and Danske has declined to comment pending the findings of an ongoing investigation into its Estonian unit.
Reduced Risks
The fourth scheme involved transfers of shares and bonds of Russian companies to non-resident accounts at Estonian banks. The securities were sold through the local financial system and proceeds were paid to non-residents, before being forwarded to "tens of countries and thousands of companies in exchange for different goods and services," Reimand said.
While OCCRP said all the suspect transactions in the Azeri scheme were handled by the Estonian unit of Danske, Reimand declined to comment on specific banks. Still, he said the Estonian financial watchdog's actions in recent years have "virtually" eliminated the risk of similar schemes.
"The financial supervision authority has adequately reacted to reduce the risks that we were exposed to in these four schemes, and to a very large extent eliminated these risks from the market," Reimand said. In all four cases, more than one bank operating in Estonia was involved, he said.
Estonia's watchdog reprimanded Danske's local unit in 2015 for "significant" money laundering breaches, based on checks conducted a year earlier. It is considering opening another investigation into Danske after concluding the bank may have misled it by withholding information about a client linked to Russian President Vladimir Putin's cousin, Igor Putin, as well as people with close ties to Russia's security service, the watchdog said this February.
The police report suggested there's every reason to expect money laundering efforts from Russia to continue. In recent years, hundreds of banks there lost their licenses amid criminal charges, and the people running those institutions are likely to keep trying to get their money out via Estonia.
(Adds reference to police forecast on laundering in final paragraph.)
Bloomberg, 25 May 2018