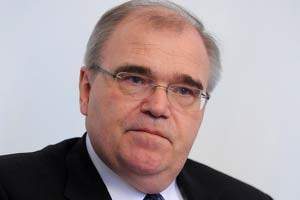 The legal specialist Wolfgang Brandstetter has been Minister of Justice of the Republic of Austria since December 2013. Previously he acted, among other things, as defence counsel of the late businessman and Kazakh Ambassador Rakhat Aliyev.
He also helped Aliyev get a registered address and an Austrian alien's passport. Aliyev maintained a close network of brass-plate companies in tax havens, including in Panama. Was Aliyev, the former Deputy Intelligence Chief of Kazakhstan, involved in money laundering? And what was Brandstetter's role in this, if any? We talked to the Minister – and he attempted to explain.
profil: Minister, you were one of Rakhat Aliyev's lawyers between 2007 and 2011. During this time an almost impenetrable network of companies and foundations arose around your client, in countries such as Austria, Panama, the British Virgin Islands, Liechtenstein and Malta. Did you advise Aliyev or anyone close to him about setting up brass-plate companies?

WB: No. I never had anything to do with that. I acted as Aliyev's defence counsel in two extradition cases and I also gave him legal advice. First in Austria and later via the law firm Batliner Gasser (Author's Note: now known as Gasser Partner Attorneys at Law) in Liechtenstein. I understand that a number of companies already existed before I took over the representation.
"During the time I had to do with him, there was no constitutionally viable evidence of a predicate offence"
profil: Money-laundering cases were brought against Aliyev in Austria, Malta, Liechtenstein and Germany. Some investigations against his alleged accomplices are still pending. His assets in Austria and other countries were repeatedly frozen and banks regularly filed reports of suspected money laundering. Was Rakhat Aliyev involved in money laundering?

WB: During the time I had to do with him, there was no constitutionally viable evidence of a predicate offence. Without a predicate offence there's no money laundering. Under protection of parliamentary immunity, as is currently the case, you can claim a lot of things and call whoever you like a money launderer. But I have to abide by the rule of law. And as I said: no predicate offence, no money laundering.
profil: But a lot of money was moved about.

Brandstetter: At the time, I never had the impression that he was someone who had gained assets through criminal acts, money that he now wanted to hide. At the time, we were much more aware of the fact that he felt he was being persecuted. So we could understand why he was searching for safety somewhere in the world.

profil: The Kazakh regime has been insistently accusing Aliyev for years of stealing hundreds of millions of dollars and taking the money out of the country.

WB: This was the subject of intense investigations in Austria. It was up to independent courts to assess the allegations. As far as I'm aware, there has still not been any final adjudication from which one could infer that his assets had a criminal origin.

profil: From the records that went missing from the Panamanian law firm Mossack Fonseca, it is clear that Aliyev and his family also used the firm's services in Panama. The creation of numerous brass-plate companies has been proven. Do you know anything about Aliyev's connections with Mossack Fonseca?
WB: No, I know absolutely nothing about that. I had never even heard of the firm until a few days ago.

"At no point was I involved in the technical aspects of the transfer"

profil: In 2014 the magazine "Format" (Author's Note: now called "trend") reported on an unusual money transfer. According to the report, the Panamanian brass-plate company Lofro Management Inc., attributed to Aliyev, had transferred a sum of EUR 130,700 to a Liechtenstein bank account belonging to you early in 2008. How did this come about?

WB: This was the fee for services which I had rendered for Batliner Gasser in Liechtenstein, which were also paid exclusively via Liechtenstein banks. However, at no point was I involved in the technical aspects of the transfer – you would have to ask the law firm Gasser about that (Author's Note: see below).

profil: So, let me get this clear: an Austrian legal adviser issues an invoice to a Liechtenstein law firm, and that law firm pays the invoice via a Panamanian brass-plate company that belongs, to all appearances, to a Kazakh client?

WB: As I said – and let me be quite clear here – I had involvement in the type of transfer. The law firm submitted the invoice, I signed it, and the fee was paid. That was it. To my knowledge the authorities have also looked into this.

profil: You have to admit that it raises a number of questions.

WB: The fee note which you're talking about must be about nine years old. At that time, it really wasn't that uncommon for a Liechtenstein law firm to also hold offshore companies on behalf of a client, and this was no proof of illegal activities. What I did know was that if the law firm Gasser drew up an invoice with respect to the payment of my professional fees and submitted it to me for signing, then that was OK. The firm has – and had at the time – a good reputation in Liechtenstein. Otherwise I wouldn't have been working for them.

profil: Did you receive more than one payment via Panama?

WB: All I can say is that my services for Dr Aliyev were invoiced for via Batliner Gasser in Liechtenstein. The fee didn't come from Panama either, it always came from Liechtenstein.

"After I left the company I was still listed in one of the registers for a while"

profil: You also once held a post in a Liechtenstein foundation attributable to Aliyev. You were listed as a director there, either until shortly before or until shortly after you joined the government, depending on what version one reads.

WB: I had a supervisory role in a company: I never had anything to do with operations. My work in this supervisory role effectively ended long before I took up government office. However, after I left the company I was still listed in one of the registers for a while because the law firm had missed the deadline for requesting that my name be deleted.

profil: There were questions over the use of brass-plate companies long before the recent Panama revelations. Anyone who uses such a structure has, if they have not already done anything wrong, then at least something to hide.

WB: You always have to look carefully at why people want to hide something. Not everything has to be immediately illegal. The case of Aliyev was unique in that at the time we felt he had reasonable grounds to want to find safe havens for himself, his family and his assets. But generally there is no doubt that offshore destinations, given that they can easily be misused for illegal purposes, represent a global problem, which can only be solved globally.

" How is someone who has to make do on the minimum pension expected to understand that these loopholes are not closed?"

profil: We hear that every time there's a leak.

WB: Because the problem still exists today. Think about the opportunities that arise from European double taxation agreements with certain offshore destinations, for example. Think about the possibilities that the United Kingdom offers here. The Minister of Finance recently pointed out – rightly – that you can still be completely anonymous today as the beneficial owner of an American trust. This is just not OK. Many loopholes still exist, especially in the field of tax fraud. Just thinking about it I get really angry. And then there was the Austrian tax fraudster who was able to abscond to Brazil a few years back. Today that would no longer be possible, as we managed to sign an extradition treaty with Brazil in 2014. Tax fraud is stealing from taxpayers – and incidentally something that was long regarded as a trivial offence in Austria. Today, people think about it differently. How is someone who has to make do on the minimum pension expected to understand that these loopholes are not closed? That's what makes people furious. I understand that very well, and we are doing something about it.

profil: Tax fraudsters are one thing. Legal tax avoidance by corporations is another issue.

WB: That is a global issue, too. It is my firm intention to close the loopholes and help this process in my area of competence too. The problem is that there are still international practices around which act as a hindrance: they put those who observe the compliance rules at a competitive disadvantage. That means that honest people lose out, which is unacceptable. As far as Austria in concerned, we have done a lot in this area recently. The new provisions relating to tax reform and the amendment to the Criminal Code represent substantial progress. Tax evasion, for instance, is now regarded as a predicate offence for money laundering. Self-laundering, that is to say hiding the proceeds of a criminal offence that you yourself have committed, is also punishable by law. As part of the amendment to the Criminal Code which came into force on January 1, 2016, the criminalisation of money laundering was strengthened. Or the central register of bank accounts...

"We also finally need to get things moving internationally"

profil: Which was strongly criticised...

WB: Don't be mistaken, this represents real progress. Public prosecutors no longer have to scour the banks to see whether someone even has an account in Austria. Only if they really want to look into the accounts do they need judicial authorisation. This will make things much easier and faster, and help the fight against tax fraud. But, as I already mentioned, we also finally need to get things moving internationally. I am already talking to the Minister of Finance about this, and together we will make improvements wherever we can, drawing on the services of the best international experts. The fight against tax fraud and money laundering, both nationally and internationally, is a matter very close to my heart.

profil: How credible is it that you, Wolfgang Brandstetter, say you are against tax evasion and money laundering when you yourself worked up until a few years ago for a law firm in Liechtenstein that for a long time was the patron saint of tax optimisers?

WB: My personal impression of Gasser, from having worked there, is that they certainly cannot be accused of having violated any professional rules or other regulations. I learned a great deal there, and gained international experience. You see, I haven't always worked in "sheltered workshops". I also learned that it is important to distinguish between legal tax optimisation and illegal tax evasion, and thanks to this experience I know how to act internationally. I have my work in Liechtenstein to thank for that. But I have to live with the fact that the same old accusations against me are brought up again and again with regard to the Aliyev case, even though those accusations have long since been disproved. I have nothing to hide. But for professional and other reasons, in particular the obligation of confidentiality, it is hard for me to defend myself against my former activity as a defence counsel being measured – for reasons of political expediency – by the same standards that now apply to me as Minister of Justice. As an editor said to me recently, "that's the price you pay for going into politics."
"Very careful and cautious"

What did Wolfgang Brandstetter actually do for the Liechtenstein law firm Gasser? And what was the fee paid via Aliyev's Panamanian brass-plate company in 2008 all about? An excerpt from a statement made to profil by the Liechtenstein lawyer Johannes Gasser.

"Professor Brandstetter worked for many years as an international criminal law expert in various cases for our law firm in Liechtenstein. He also acted on our behalf in many public hearings held at the district court in Vaduz, and also particularly in Germany.

All of Professor Brandstetter's activities were invoiced via our firm. The technical side of the settlement process was handled by our firm, and Professor Brandstetter personally had nothing to do with the administration. Payments made by clients relating to fee notes written on the firm's headed paper and signed by Professor Brandstetter were made to various accounts belonging to the firm, including a business account for which both Professor Brandstetter as an associate consultant and the firm were authorised to sign. If an invoice was issued directly to a company, this was at the express request of the client in question, which is not uncommon. The payment in question was made from an account held at a Liechtenstein bank to another account at a Liechtenstein bank. The source of funds was naturally carefully checked.

As an adviser on criminal law, Professor Brandstetter had nothing to do with offshore companies. Rather, he was called in when the possible criminal background of clients and their assets needed to be assessed. On such matters he was considered very careful and cautious. On occasion we declined or put aside briefs on his recommendation, or contacted the authorities as required. Our firm is a good example of how Liechtenstein has consistently and successfully implemented compliance in every respect over recent years, as has been confirmed by the OECD."