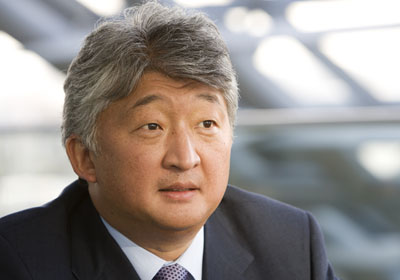 Vladimir Kim, chairman of the FTSE 100 mining company Kazakhmys and one of Britain's wealthiest residents, has been accused of giving false evidence to a foreign court during the trial of a former prime minister of Kazakhstan.
Kim, who was ranked 32nd in the 2012 Sunday Times rich list with a fortune of £2bn, has been sent a letter from lawyers acting for Akezhan Kazhegeldin, who was prime minister of Kazakhstan from 1994 – 1997, challenging testimony the businessman supplied to a Kazakh court in 2001 when the former politician was convicted in his absence of abuse of office.
Kazhegeldin, who lives in exile in London, is now attempting to win compensation in international courts and says that key evidence that convicted him – including the claims he received a Mercedes Benz and a Toyota for his personal use while still in office – was falsely provided by Kim.
The letter, which has been seen by the Guardian and sent to Kim at his London office and Knightsbridge apartment, said: "We understand that you knew that your evidence was not true. You gave evidence that you had delivered the cars to Mr Kazhegeldin, but we can prove that this did not happen, nor could it have done so.
"We can well imagine the pressure was brought upon you in order to have you give false evidence. It would assist our client ... if you were to make a statement explaining this pressure and providing full details of your involvement in the whole affair".
A spokesman for Kazakhmys, which will make its third-quarter trading statement on Thursday, said that Kim denied receiving the correspondence. He added: "These matters have already been extensively dealt with in the press and we have no more to add beyond the evidence given by Mr Kim in court in 2001."
However, the spokesman could not point to any previous press coverage on the topic and only referred to a report into Kazakhmys published two years ago by the campaign group Global Witness, which detailed Kim's testimony about paying bribes to the former prime minister, as well as Kazhegeldin's denials.
The document, though, focused on questioning why investors were not warned at Kazakhmys's flotation that the company's chairman claimed to have been forced to pay bribes in Kazakhstan. It did not mention Kazhegeldin's claims of possessing supporting evidence that could potentially contradict Kim's testimony.
The request by Kazhegeldin's lawyers for a statement from Kim, who owns one of London's most luxurious apartments at One Hyde Park, relates to cases they have launched in Malta and Italy against Rakhat Aliyev, a former head of Kazakhstan's committee on national security.
Kazhegeldin claims that Aliyez launched a campaign against him while he was prime minister which resulted in his conviction and has caused him financial loss.
Aliyev, who was also once Kazakhstan's ambassador to Austria and formerly the son-in-law to President Nursultan Nazarbayev, has himself fled Kazakhstan and is now living in exile in Vienna and Malta. Like Kazhegeldin, he claims to be a victim of a political witch-hunt in his homeland. Aliyev's lawyer did not respond to phone calls and request for comment.
Simon Goodley and Mark Hollingsworth

theguardian.com