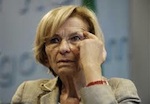 Rome (dpa) - Italy may take action against Kazakhstan's ambassador if the central Asian republic fails to ensure the wellbeing of the wife and daughter of a dissident that Rome has wrongly deported, Foreign Minister Emma Bonino said Wednesday.
An energy-rich nation with a poor human rights record, Kazakhstan has extensive commercial relations with Italy, whose energy company ENI is a major investor in the country.
"I think it is clear that, after this episode, the quality of our relations will depend on Astana's willingness to offer its essential cooperation" in safeguarding the rights of Alma Shalabayeva and of her 6-year-old child, Bonino said in parliament.
Italy would seek help from the European Union to press Kazakhstan on the issue, the minister said.
Depending on the response, the government would "consider the most suitable actions to be taken against" Kazakhstan's envoy to Rome, Andrian Yelemessov, said Bonino. She labelled the diplomat's behaviour during the affair as "inexcusable."
In late May, Yelemessov by-passed the foreign ministry and urged senior police and interior ministry officials to arrest Mukhtar Ablyazov, an exiled critic of President Nursultan Nazarbayev, tipping them off about his hiding in Rome.
Officers failed to find Ablyazov, who is wanted at home for fraud but was granted political asylum in Britain. However, they arrested and repatriated his wife and daughter, a decision that the Italian government later admitted had been illegitimate.
The case was discussed "briefly" at an EU-Kazakhstan Cooperation Council meeting in Brussels on Wednesday, said Lithuanian Foreign Minister Antanas Linkevicius, who represented the bloc in the talks.
Khazak Deputy Prime Minister Yerbol Orynbayev declined to react to Bonino's statements when asked by a journalist in the Belgian capital, saying that his country would not comment until there was an "official decision" from Italy.
He said Khazakhstan is ready to return Shalabayeva to Italy, but only if it gets a "guarantee" that she will be sent back in case Kazakh authorities need to interview her again in connection with their criminal investigation.
At the same time, however, he argued that the possibility of Shalabayeva returning to Italy was "quite questionable" since she could face four years in prison there on suspicions that she used a false passport.
Italy has not mentioned the possibility of any jail sentence.
Upon her return home, Kazakh authorities placed Shalabayeva under investigation for paying bribes to secure fake documents for her family and banned her from leaving the city of Almaty, where she is living with her parents.
An Italian diplomat has visited her and found her in good health, Bonino said. However, she added that the woman has decided to limit her movements because "she fears becoming a victim of incidents or provocations."
Her deportation has been a serious embarrassment for Italy. Interior Minister Angelino Alfano, who is responsible for the police, said he was kept in the dark about the affair, blamed his chief of staff for not telling him, and dismissed him.
Last week Alfano survived a no-confidence vote in parliament. But on Monday Bonino said questions still hanged over how the case was handled, and, in Wednesday's hearing, told lawmakers she "really could not sleep over it."