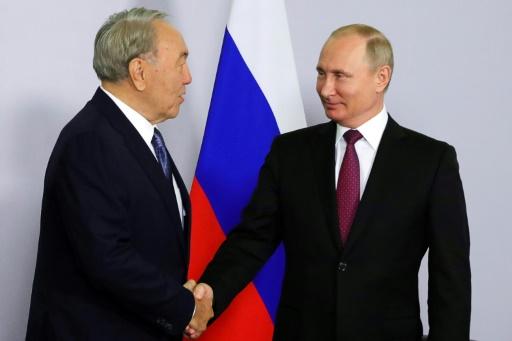 Kazakhstan's parliament on Wednesday passed a bill that would cement its veteran ruler Nursultan Nazarbayev's status as the country's top power broker even if he decides to retire as president.
The bill "On the Security Council of Kazakhstan" was passed without opposition in the Central Asian country's rubber-stamp lower house Wednesday and its passage through the upper house is expected to be a formality.
The legislation has been seen as a potential check on the power of any future president should Nazarbayev, 77, decide not to seek re-election.
The law would bestow constitutional status on the country's consultative security council -- which currently issues recommendations -- while affirming the ageing autocrat's right to chair the body for as long as he lives.
At the helm of Kazakhstan's security council Nazarbayev would effectively control all the security services.
Last year, Kazakhstan reduced presidential powers in favour of the cabinet and lawmakers, in a move seen as paving the way for a future political transition.
Next year will see Nazarbayev mark three decades at the helm in Kazakhstan, a vast oil-rich country of 17 million people.
Nazarbayev has so far not announced plans to step down from power.
His current term runs until 2020 and he has not publicly named a successor.
Nazarbayev is the only leader among the countries of the former Soviet Union whose reign began before the collapse of the USSR.
Ruling with a heavy hand, he has been criticised by rights groups for cracking down on political opposition and independent media.
In 2010, he was granted "Leader of the Nation" status, effectively becoming a ruler for life.
The status gives him and his family members lifelong immunity from criminal prosecution, among other privileges.
His opposite number in neighbouring Uzbekistan Islam Karimov died in office of a reported stroke aged 78 in 2016.
Karimov's sudden death triggered a drawn-out behind-the-scenes power struggle between new President Shavkat Mirziyoyev and the country's long serving security chief over whom Mirziyoyev eventually prevailed.
Nazarbayev and Karimov both rose to the top of the communist parties in their respective republics in 1989 and consolidated power after full independence from Moscow.
AFP, 23.05.2018