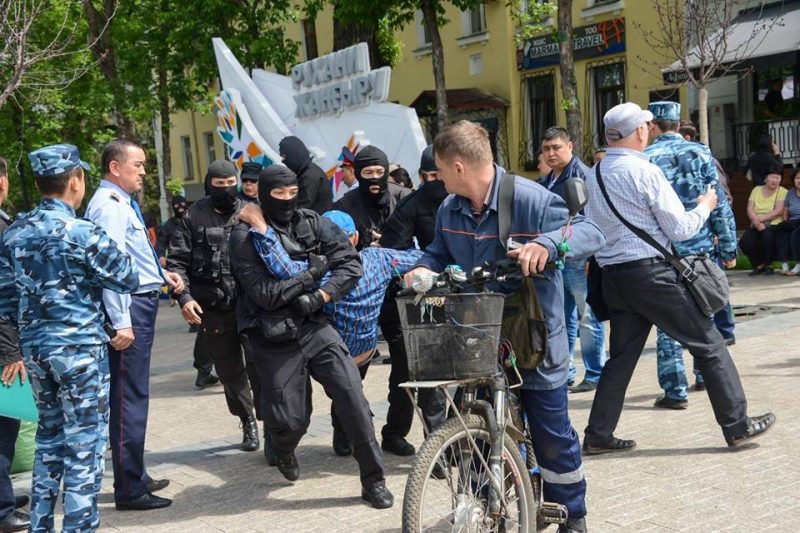 "As usual, there were more police on the scene than protesters," a journalist living in a provincial town recently told Global Voices of one of the freedom of speech pickets that rippled across Kazakhstan but were immediately shut down by authorities.
"It's a sad state of affairs," said the journalist, who wished to remain anonymous.
On May 10, rallies took place in many cities of Kazakhstan with signs reading "Stop torture!" and "Release political prisoners!" Most of the protesters were arrested and detained almost immediately.
Human Rights Watch reported:
Kazakh police yesterday detained dozens of people in cities across the country who were protesting the use of torture and politically motivated imprisonment.

People appear to have rallied in response to a call by opposition movement Democratic Choice of Kazakhstan (DVK), which a Kazakhstan court in March declared "extremist" and banned, a move seen by some simply as a means to repress the opposition group.
Getting information about the protests was more difficult for ordinary Kazakhs.
National media, including private media styling itself as independent, ignored the protests completely.
When interviewed by the Kazakh service of Radio Free Europe/Radio Liberty (RFE/RL) most lawmakers in the Central Asian country's rubber-stamp parliament claimed they had not heard of the protests taking place.
One of the main conditions of the pact is human rights and freedom of speech.
When protests started, police arrived at the scene and began to drag protesters to the bus, while they held each other and tried to resist. As has happened before in Kazakh protests, random passers-by were arrested by mistake.
After the arrests, protesters were taken to police stations. Some were fined and others were detained for up to 10 days.
Public protests are uncommon in Kazakhstan and require permits from the authorities, who in turn rarely grant them.
They seek them here, they seek them there
The man behind DCK is Mukhtar Ablyazov, a fugitive oligarch accused of fleeing the country and taking several billions of dollars worth of stolen funds with him following a struggle over a local bank in 2009.
He is the sworn enemy of Kazakhstan's long-ruling dictator Nursultan Nazarbayev.
Kazakhstan's efforts to bring Ablyazov back to Kazakhstan to face trial have so far come to nothing. The highest civilian authority in France blocked his extradition last year, deeming embezzlement charges against him politically motivated.
The frustrated authoritarian government is now lashing out at his supporters instead. In March this year, DVK was branded "extremist" by a Kazakh court, giving authorities a blank slate to go after anyone with even a tenuous connection to the group.
One well-known case has seen a young businessman jailed and allegedly beaten in detention over accusations that he laundered money for Ablyazov. His mother says her son has no links to Ablyazov whatsoever, and that authorities are in fact using him to force his sister, who worked with Ablyazov for many years, to return to Kazakhstan and testify against the oligarch.
Weaker still were the links between Ablyazov and ordinary citizens of Kazakhstan who were apprehended by police in the country's capital Astana during the Nowruz national holiday while carrying blue balloons. Apparently the reason for the heavy handed treatment was because blue is the colour of the DVK opposition group, meaning the balloons could be viewed as propaganda.
There is a danger that this is just the tip of the iceberg. Social media users have for a long time reported problems using Facebook, YouTube and Telegram whenever Ablyazov begins online broadcasts. As he has started posting more content online, the blocks — which the government does not admit — have grown more frequent.
There are also alarming signs that the government is prepared to use what leverage it has over other countries to force them to cooperate in the hunt for Ablyazov allies. Last week media in neighbouring Kyrgyzstan reported that Kyrgyz authorities had arrested a close supporter of the dissident and would soon extradite him to Kazakhstan. This is despite the fact that apart from Kazakhstan, no country has so far declared the DVK a "terrorist movement".
This new, jacked up phase of conflict between Ablyazov and Astana has two obvious victims: freedom of speech and freedom of assembly. Both are guaranteed by the Kazakh constitution, but unfortunately, that doesn't seem to be a consideration for authorities.
GlobalVoices.Org, 18.05.2018