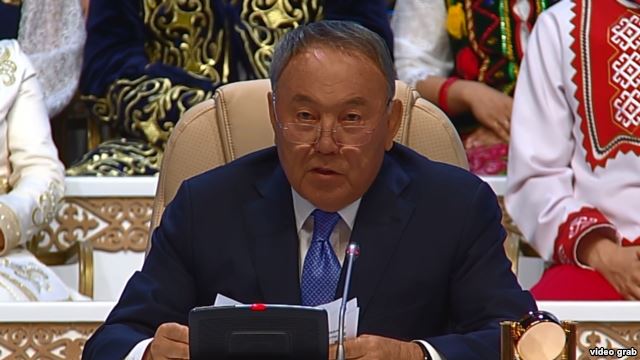 Kazakh President Nursultan Nazarbaev has evoked the Ukraine conflict as protests continued over the Central Asian government's decision to privatize large tracts of state-owned agricultural land.
Nazarbaev on May 1 warned of the dangers of national disunity, citing political, social, and economic turbulence in Ukraine, where a pro-Western government has fought Russia-backed separatists in the east of the country following Moscow's annexation of Ukraine's Crimea territory in 2014.
"Ukraine, the second-biggest ex-Soviet state, today has an economy which is half the size of Kazakhstan's," he said in a speech on the occasion of the country's National Unity Day holiday.
"Because there is no unity, no sense of purpose, no tasks are being solved, [people] are busy with other things: fighting, killing, brawling," added Nazarbaev, who has ruled Kazakhstan since the fall of the Soviet Union.
Meanwhile, protesters in the cities of Kyzylorda and Zhanaozen on May 1 staged demonstrations against government plans to auction off public land to private owners beginning on July 1.
Witnesses said several protesters in Kyzylorda were detained by police, though several of the protesters were invited to air their grievances to local officials at a theater in the city.
The activists told Serik Kozhaniyazov, deputy head of the Kyzylorda region, that citizens deserved a say in how state-owned land is managed. Kozhaniyazov replied that the planned privatization is legally sound and necessary because those managing the lands are not caring for them properly.
In Zhanaozen, a witness told RFE/RL's Kazakh Service that dozens of protesters rallied in the southwestern city's central square on May 1, chanting: "No land sales."
The woman, who identified herself only as Tilektes, said the city's mayor, prosecutor, and police officers arrived on the scene and warned the demonstrators that their rally was unauthorized.
Zhanaozen was the site of deadly protests in December 2011, when police shot dead at least 16 people and injured more than 100 others during a crackdown on demonstrators after a more than one-month long strike by oil workers.
Hundreds of Kazakhs in several cities since April 24 have rallied against the privatization plan amid rumors that foreigners would be allowed to purchase the land.
The government says foreigners will only be allowed to lease agricultural land, and authorities have warned that it is a crime to spread "false information about land privatization."
On April 26, Nazarbaev vowed to "punish provocateurs" who are disrupting social order by spreading disinformation about pending land sales.
He has defended the plan, insisting that foreigners will only be allowed to rent agricultural land under 10- to 25-year leases.
Nazarbaev has kept a tight lid on dissent during his reign over the country, which is the second-largest exporter of hydrocarbons in the former Soviet Union after Russia.
Slumping oil prices, however, have triggered a slide in the country's currency, sparking public protests over the past year both in Astana and the Central Asian nation's economic hub and largest city, Almaty.
With reporting by Reuters,
01.05.2016