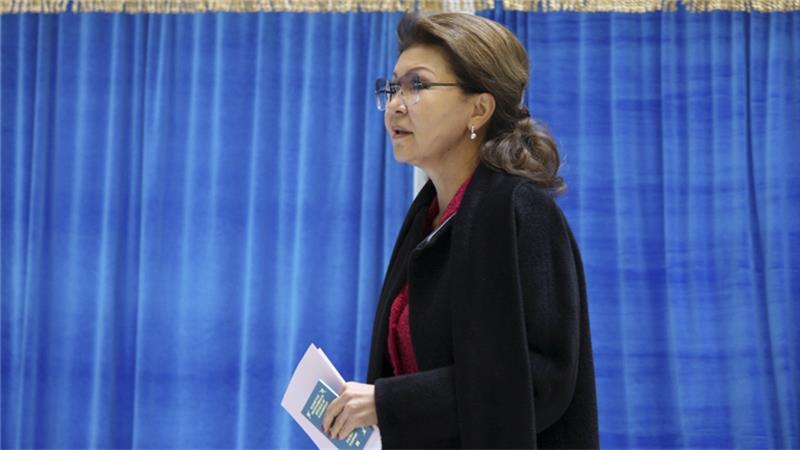 Leader says Asia is about "family relations" not democracy as he vows to turn Kazakhstan into a parliamentary republic. As his party triumphed in a snap parliamentary vote, Kazakhstan's ageing President Nursultan Nazarbayev said his oil-rich nation may become a parliamentary republic - apparently with his daughter at the helm.
Nazarbayev, who has led Kazakhstan since 1989, is credited with turning his Central Asian nation - which occupies an area the size of Western Europe, but has a population of less than 18 million - into one of the most prosperous former Soviet states.
But the question of succession has dogged him for years as his political opponents ended up in exile, political oblivion, jail or a graveyard.
Kazakhstan's immense hydrocarbon resources and strategic location in the heart of Eurasia have already triggered political rivalries between Russia, China and the West - and their leaders, obviously, also want to know about Nazarbayev's successor.
The answer, apparently, lies in the results of Sunday's parliamentary vote, carefully phrased pledges of political changes - and a recent cabinet appointment.
Nazarbayev's suppression of opposition has paved the way for the landslide victory of his Nur Otan (Shining Motherland) party that won 82 percent of the vote despite a crisis caused by low oil prices, an economic meltdown in neighbouring Russia, and the industrial slowdown in China, an even mightier neighbour.
"There must be changes," Nazarbayev said in televised remarks after casting his vote on Sunday. "We may be talking about a distribution of power between branches - the president, the parliament, and the government. We're thinking in this direction."
He also warned about the danger of "urging" democracy in Kazakhstan.
"Democracy is not the beginning of the road for us. Democracy is the end of the road," Nazarbayev, who won last year's presidential election with almost 98 percent of the vote, said.
"There is no need to urge us because we are different. Asia is about different relations, family relations."
In September, he appointed his 52-year-old daughter, Dariga, as a deputy prime minister, and her name topped the ticket of the Nur Otan party. She is the most likely speaker of the 107-seat Majilis - the lower house of parliament - and, possibly, the next Kazakh leader, analysts say.
"Since the late 1990s, many considered her a possible successor, an heiress," Adjar Kurtov, a regional expert, told Al Jazeera.
In the past 20 years, she has cut a towering political and public figure. She headed a national news agency, a media consortium, and a political party that morphed into Nur Otan. She also served on the board of directors of a major bank - and became an opera singer who once performed at Moscow's renowned Bolshoi Theatre.
But Nazarbaeva's ties to her father have not always been cordial.
In 2007, she and her husband, Rakhat Aliyev, a powerful security official, fell out with Nazarbayev. She was forced to leave her parliament seat and divorce Aliyev, who fled to Austria and was eventually arrested on murder and kidnapping charges.
He committed suicide in a prison cell last February - and she returned to parliament in 2012 as a deputy speaker.
But the comeback to the spotlight has not been all positive to her public image. Some of her statements have been controversial - if not outright scandalous.
Nazarbayeva told a government meeting in 2013 that Kazakh school students should visit orphanages for disabled and handicapped children "to see the results of premature, reckless sexual life" by observing "these freaks, the invalids".
Another obstacle in her rise to the political top could be the traditional, male-dominated structure of Kazakh society.
Fiercely proud of their nomadic heritage, Kazakhs have for ages kept an elaborate clan structure that excludes women from decision-making. Even the rapid Westernisation of younger Kazakhs and their exposure to foreign political models is not likely to change this structure, analysts say.
"Even is such a civilised Asian country as Kazakhstan a female president is hardly possible," Arkady Dubnov, a Moscow-based political analyst, told Al Jazeera, adding Nazarbayeva's nearly certain appointment as parliament speaker is a tentative "fitting".
Al Jazeera, 21.03.2016