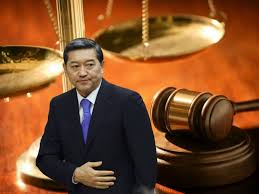 A former prime minister of Kazakhstan who was jailed last year in a high-profile corruption case has had his jail sentence reduced on appeal.
The case attracted widespread attention in Kazakhstan, where corruption is rife but the arrest of political heavyweights on graft charges is rare. That has led some observers to speculate that the case is the result of infighting among the elite groups surrounding President Nursultan Nazarbayev.
The term of Serik Akhmetov, who was prime minister for 18 months until April 2014 and was subsequently defense minister for six months, was cut from 10 years to eight in a ruling handed down on March 14, the Total.kz news website reported.
Akhmetov was jailed in December after a trial in which he pleaded guilty to bribery and embezzlement during his tenure as governor of Karaganda Region, which is Kazakhstan's industrial heartland, from 2009 to 2012.
Investigators accused the former prime minister of taking bribes worth some $2.4 million to ensure that a firm run by his brother Berik Akhmetov and his son Daniyar Akhmetov was awarded lucrative tenders in Karaganda.
Prior to his conviction, Akhmetov issued a groveling public apology to Nazarbayev, in which he begged the president's forgiveness "for failing to live up to his trust."
Akhmetov's sentence was cut on the grounds that he had admitted his guilt, and that relatives had repaid 2.2 billion tenge ($15 million) of the funds embezzled.
The appeal ruling followed an unusual public protest staged in Astana in support of Akhmetov last month, when a dozen people stopped traffic on a main thoroughfare carrying a banner demanding "justice" for the former PM.
Businessmen and former local officials who were convicted alongside Akhmetov in a case featuring 20 defendants also had their sentences reduced in the same appeal hearing.
Baurzhan Abdishev, a former city mayor and regional governor had his term cut from five to three years, and Meyram Smagulov, another former mayor, will now serve three years instead of two.
EurasiaNet.Org, March 16, 2016