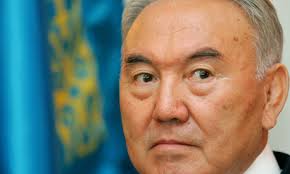 Kazakhstan's president could hardly be expected to run for parliament, so the ruling Nur Otan party has gone for the next best thing: The actor who played him as a young man in the biopic.
Nurlan Alimzhanov is just one of several celebrities that Nur Otan included in its populist list of candidates for the March 20 parliamentary election, which authorities are hoping will serve as a tonic for their flagging legitimacy.
Other recognizable faces selected by a unanimous vote at a party congress in Astana on January 29 included Gennady Golovkin, a world champion boxer renowned as the best pound-for pound fighter in the world, Olympic gold medal-winning weightlifter Ilya Ilyin and Kairat Nurtas, a wildly popular 26-year-old pop singer.
One actual Nazarbayev is also standing — Dariga Nazarbayeva, the president's daughter and current first deputy prime minister.
Alimzhanov may be the actor, but it was President Nursultan Nazarbayev that gave the real performance in Astana as a man pretending his party is readying for a proper election. Speaking to the congress, he urged a "competitive fight" in the upcoming vote.
Since there is no real opposition (not behind bars) anywhere to be seen, however, it can be taken for granted that the new legislature will be similarly compliant as the outgoing lot.
Nazarbayev also took advantage of the occasion to prove himself a man of the people in touch with the mood of a populace struggling with an economic crisis of a scale not seen since the 1990s.
Warning that low oil prices would be the norm for a long time to come, Nazarbayev remarked that his people would be even poorer if the tenge had not been devalued.
He had, he told the congress, been trawling the bazaars of his capital city to check prices amid public concerns about rising inflation caused by the currency collapse. Luckily, he found that everything from beef and horse meat to milk and potatoes had gone down in price in the last year.
He did acknowledge price rises for some products, however. "Lemons have gone up by 150 tenge," Nazarbayev said, in remarks quoted by Tengri News, "but we can survive without lemons."
The remarks left some members of the public apoplectic, judging by the comments posted under the report. "Can we go to those bazaars? Are they underground or what?" asked a user named "Bank" caustically. "Lost for words," remarked "Mother of Three."
Rumblings of discontent notwithstanding, Nur Otan – which won 81 percent of the vote in the last parliamentary election in 2012 and is unlikely to face serious challengers this spring – is still expected to win a landslide victory.
EurasiaNet.Org, January 29, 2016