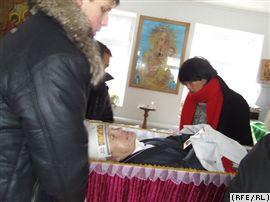 With attacks against journalists around the world on the rise, it is no surprise that Central Asian journalism is becoming ever more dangerous.
The recent brazen murders of two Bishkek-based journalists have shocked human rights groups that seek to pressure Central Asian governments into investigating such crimes and bringing the guilty to justice.
It is increasingly clear, however, that those governments themselves are behind much of the violence, leaving any hopes that justice will prevail futile.
The two journalists -- 40-year-old Gennady Pavlyuk (pen name Ibragim Rustambek) and 27-year-old Sayat Shulembaev -- were brutally murdered in Almaty in December. Pavlyuk's hands and feet were bound and he was thrown out of a sixth-floor apartment window on December 16; he died six days later of his injuries. Shulembaev was stabbed to death in an Almaty apartment on December 26.
The office of Kyrgyz President Kurmanbek Bakiev has issued a statement affirming that "Kyrgyzstan's law-enforcement agencies are doing their best to make sure that every attack on journalists is thoroughly investigated." But little in the way of competent police investigation followed earlier such pledges from Central Asian governments.
Possible Motives
Pavlyuk, who worked closely with the Kyrgyz opposition and exposed high-level corruption in his writing, was planning to establish an opposition publication with the support of Bakiev's rivals in the opposition Ata-Meken party. Shulembaev had been reporting on Pavlyuk's murder before being killed himself.
Though the Kyrgyz government maintains that the murders were not "connected to any kind of political motivation," the spate of recent attacks, combined with the stiffening of media laws across the region, suggests that the Kyrgyz regime, like its counterparts in Uzbekistan, Kazakhstan, and Tajikistan, is willing to take drastic measures -- even beyond its own borders -- to silence criticism.
Earlier in 2009, a Kyrgyz journalist was reportedly beaten to death by eight policemen in the southern town of Osh while trying to renew his passport, and three journalists were attacked in Bishkek the same week that Pavlyuk was killed. Reporters Without Borders believes those attacks were part of a broader effort to intimidate journalists close to opposition parties. Despite official Kyrgyz assurances, no one has yet been arrested or charged with any of those crimes.
Furthermore, in a case that received some attention in the Western press, ethnic Uzbek journalist Alisher Saipov was gunned down in Osh in October 2007. Many believe that assassination was carried out by Uzbek security forces operating illegally in Kyrgyzstan in retaliation for articles Saipov had published exposing high-level Uzbek government corruption. The failure to solve the Saipov case casts serious doubt on official claims that the Kyrgyz authorities are "doing their best to make sure" that such attacks are properly investigated.
Finding The Killers
It is logical that Kazakhstan should bear the primary responsibility for tracking down those who killed Pavlyuk and Shulembaev, especially since it recently took over the chairmanship of the Organization for Security and Cooperation in Europe (OSCE) and, among other things, has pledged to uphold the human rights component of the OSCE charter.
Sayat Shulembaev
Although the Kazakh government has identified suspects in the murders of Pavlyuk and Shulembaev, they have yet to release any detailed information about their investigation, and it is unclear if they are willing to coordinate their efforts with the Kyrgyz authorities. And judging by Kazakhstan's cavalier attitude toward suggested media and political reform in its run-up to taking over the OSCE chairmanship on January 1, as well as its controversial sentencing of leading human rights activist Yevgeny Zhovtis to a four-year prison term last fall, human rights advocates and Central Asian journalists should not expect a thorough and conclusive investigation nor much cooperation between Kazakh and Kyrgyz authorities.
Based on past experience, the likelihood that the two countries will undertake a joint investigation is slim. Central Asian governments have proved to be extremely reluctant to coordinate efforts of any kind, with intense personal rivalries between the authoritarian leaders in the region often trumping economic or security concerns.
Furthermore, there are few incentives to induce either Kazakhstan or Kyrgyzstan to pursue the murder investigation systematically. First, the leaders of both countries are aware that they are unlikely to incur serious criticism from either the U.S. or other members of the international community for their failure to do so. Washington's primary interest, despite its rhetoric regarding universal human rights and support for freedom of expression and the rule of law, remains maintaining oil and gas contracts in energy-rich Central Asia, as well as over-flight and basing rights for its Afghan campaign, including use of the Manas Air Base located just outside Bishkek
And second, if such criticism is forthcoming, the two countries could respond by accusing the West of double standards. After all, neighboring Russia and China routinely violate human rights even more egregiously.
Test Cases
Nonetheless, the Pavlyuk and Shulembaev murders are the first test of Kazakhstan's affirmed resolve to comply with OSCE standards, and the success or failure of the murder investigations will color perceptions of Kazakhstan's chairmanship of the OSCE.
Sadly, however, with violence directed toward Central Asian journalists increasing and pressure from western governments to stem it half-hearted at best, it is likely that the Kazakh government will opt for doing very little to solve the case and the treacherous trend will continue, with disastrous consequences for freedom of expression in the region.
"The recent attacks -- and now death -- of our colleagues make it extremely difficult for the rest of us to do our jobs," says Marat Tokaev, a leading Kyrgyz advocate for journalists' rights. "Most of the time, the attacks go unpunished and this creates an atmosphere of hopelessness and fear."
Unfortunately, such an atmosphere sits perfectly well with Central Asian authoritarians unwilling to tolerate the slightest criticism of their repressive rule.
J.G. Cefalo is a regional analyst formerly based in Almaty. The views expressed in this commentary are the author's own, and do not necessarily reflect those of RFE/RL