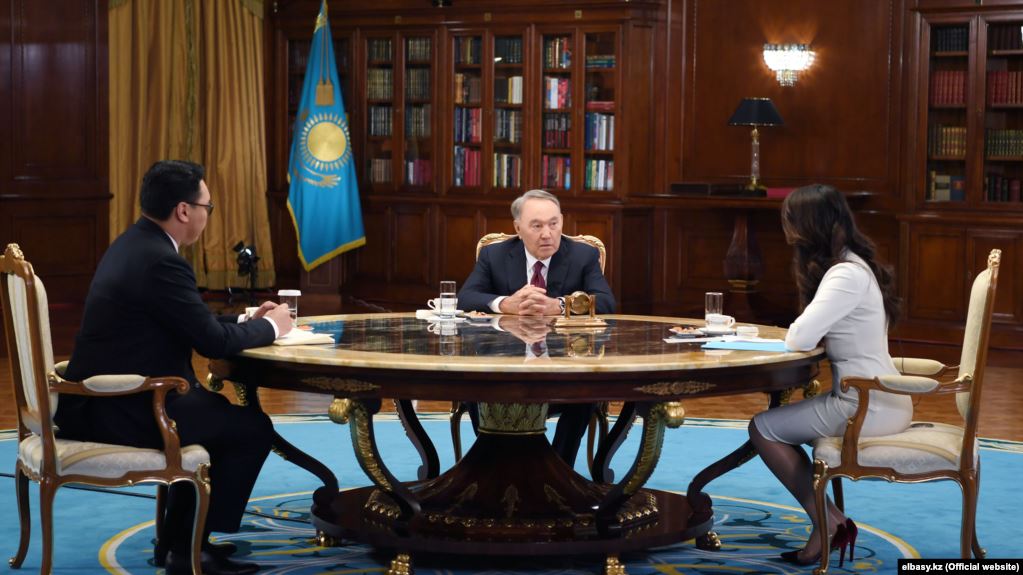 Eurasianism, as developed in Kazakhstan, became an official vehicle for the foreign policy vision of Nursultan Nazarbayev.
On March 19, 2019, after nearly 30 years as president of an independent Kazakhstan, Nursultan Nazarbayev announced his resignation. As Nazarbayev stepped away from the obvious pinnacle of power, the state he'd built marched onward. The "Nazarbayev Era," encompassing nearly all of independent Kazakhstan's short history, is a worthy subject for study. In a new book, Analyzing Kazakhstan's Foreign Policy: Regime Neo-Eurasianism in the Nazarbaev Era, Luca Anceschi — a senior lecturer in Central Asian Studies at the University of Glasgow — explores how Nazarbayev reimagined Kazakhstan's place in the Eurasian geopolitical space. In the interview below, Anceschi discusses some of the book's main topics with The Diplomat's managing editor, Catherine Putz.
How would you characterize Kazakhstan's initial foreign policy following independence?
The early stages of Kazakhstani independent foreign policy were certainly characterized by a strong degree of unionism, with President Nazarbayev pushing for all sort of initiatives to preserve some of the vital linkages that bound together the post-Soviet republics then integrating in the CIS [Commonwealth of Independent States] framework. The book calls this initial period (late 1991 — early 1994) Kazakhstan's proto-Eurasianist era: the government in Almaty appeared interested in multilateral collaboration and, to some degree, intergovernmentalism yet did not use any Eurasianist narrative to describe this wider policy posture. Active support for multilateralism was incidentally not a new trick in Nazarbayev's playbook. Other scholars demonstrated that it matched the staunch unionism of the late Soviet era; my book argues that this policy will be reinterpreted, yet never fundamentally abandoned, for the rest of the long Nazarbayev era.
Explain the roots of what you identify as "Kazakhstani neo-Eurasianism" — how is it related to other versions of Eurasianism?
I use the label "Regime neo-Eurasianism" to describe the ensemble of Eurasia-related narratives and strategies that defined Kazakhstani foreign policy from early 1994 until the very end of the Nazarbayev era. To my mind, the form of Eurasianism developed in Kazakhstan is different from the others we saw emerging in Russia or Turkey insofar as it was established and evolved in a markedly authoritarian context, becoming in this sense an official vehicle for the foreign policy vision of Nursultan Nazarbayev and his close associates. It is, in a very strong sense, an institutional form of Eurasianism, one that, for exactly 25 years, remained closely aligned to the policy and propagandistic agendas of the regime in Almaty/Astana. There are of course similarities between regime neo-Eurasianism and other forms of neo-evraziistvo, including for instance their fundamental vagueness: Nazarbayev never attaches a spatial dimension to his idea of Eurasia. The book demonstrates that this vagueness is not accidental: since the mid-1990s, Eurasia became a mythical place for Kazakhstani policymakers, one where Kazakhstan can find more beneficial cooperation, more convenient trade conditions, and better protect its sovereignty. But we are never told where Eurasia is. It is a process of geopolitical displacement that takes places narratively through regime neo-Eurasianism: the book is ultimately a study of this process.
In the book, you argue that "strengthening of the regime's domestic power ranked highly in the list of objectives pursued by Kazakhstani foreign policy." Did strengthening the Nazarbayev regime's domestic power come at the expense of Central Asian regionalism?
One of the recurrent themes in the book is the use of neo-Eurasianist narratives to glorify the presidential persona. In this sense, regime neo-Eurasianism shares the same function assigned by Turkmenistan's foreign policymakers to Positive Neutrality — the subject covered in my prior book. I do however argue that presenting Nazarbayev as Eurasia's key integrator is nothing more than a propaganda smokescreen. The Central Asian regional framework becomes the ideal case study to demonstrate that Kazakhstan had actually behaved as a regional dis-integrator rather than as a catalyst for more collaboration between the five regional states. The difference between Nazarbayev's regional policy and that put into practice by [Uzbek President] Shavkat Mirziyoyev is stark: there were never too many image-making points to be scored in Central Asia, so the eye of the notoriously image-obsessive Kazakhstani regime shifted, perhaps inevitably, onto other multilateral stages, usually those where the Russian Federation was involved.
What role did Kazakhstan and Nazrabayev's vision of neo-Eurasianism influence (or not) the creation of regional organizations — the Eurasian Economic Union, for example, or even earlier schemes in the realm of regional cooperation, whether economic or security focused?
Another major theme of the book is the investigation of Kazakhstan's insistence to equate Nazarbayev's role in promoting regime neo-Eurasianism to his leadership in the multilateral organizations reportedly inspired by ideas and principles of evraziistvo [Eurasianism]. The core concern here is once again leadership glorification: after the launch of the president's evraziiskaya strategiya in 1994, Kazakhstani foreign policy propaganda remains fixated on portraying the president as both a prominent Eurasianist thinker and a very successful regional leader. This concern reflects the linkages connecting the president's Eurasianist ideya (idea) and Kazakhstan's neo-Eurasianist initsiativa (initiative): the book argues that these are propagandistically reconciled in placing Nazarbayev at the core of regime neo-Eurasianism.
While writing the book, I was always concerned with investigating the gap between propaganda and policy reality in the making of Kazakhstan's foreign policy. It is for this reason that, at least in policy term, I always regarded as irrelevant to know whether the Eurasian Economic Union is based on an original idea voiced by Kazakhstan's first president. It is somewhat more important to find out whether Kazakhstan is acting as a supporting member in the development of an Eurasian common market. If these organizations are to function correctly, then Kazakhstan has to pull its own weight: my research demonstrated that, in most cases, the government in Astana opted not to contribute too meaningfully to the very organizations it supposedly established in the first place.
Is Kazakhstani neo-Eurasianism still a top foreign policy priority for Nur-Sultan? If not, what would you say is the country's top foreign policy priority? In what ways do you think Nazarbayev's resignation last year has (or will eventually) impacted the course of the country's foreign policy?
The book stops its investigation at the exact moment in which Nursultan Nazarbayev resigns his presidential post. To my mind, Eurasianism is one of the most defining markers of the Nazarbayev era: it translated externally the Kazakhstani identity that the regime tried to build internally, while projecting on the international stage the power considerations underpinning Nazarbayev's government style. But it also offered a convenient international strategy for Kazakhstan, leveraging on geography to build better connections with a series of key partners, and the Russian Federation in particular. I would be surprised if the current version of Kazakhstan's foreign policy diverts too markedly from the path traced in the last 25 years. I consider the accession of Kassym-Jomart Tokayev to the presidency as the tip of the iceberg in a process of leadership change, not as an indicator of a wider mechanism of regime change: we have no elements to argue that an elite that pursued continuity in many policy realms will introduce drastic change in an area as crucial as foreign policymaking. Regime neo-Eurasianism, to my mind, is there to stay.
Original source: The Diplomat