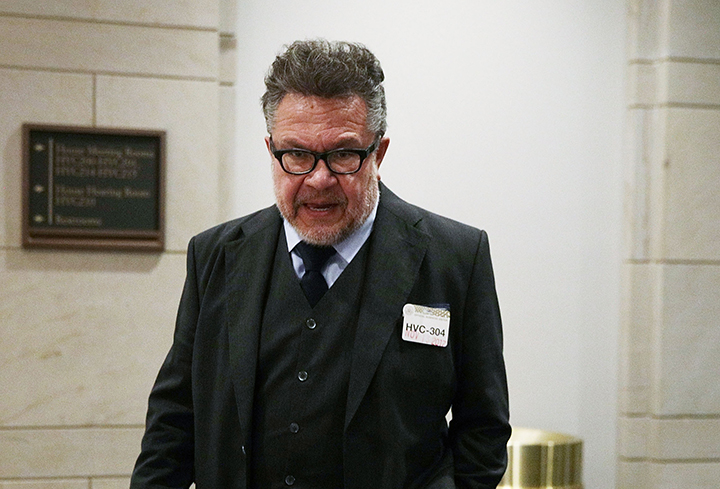 A Russian-tied lobbyist who attended the notorious Trump Tower meeting and a longtime GOP operative are teaming up to lobby on behalf of a Kazakh fugitive alleged to have stolen millions from the Central Asian country.
Lanny Wiles is a longtime GOP consultant whose wife Susan Wiles chaired Donald Trump's Florida campaign and now works for Trump-tied lobbying firm Ballard Partners. He registered as a foreign agent in mid-April, according to FARA filings accessed using the Center for Responsive Politics' (CRP) Foreign Lobby Watch tool.
Bergey Ryskaliyev paid Wiles $135,000 to promote his case to Congress. He's a former Kazakh official who fled his home country for London following allegations that he stole millions from the state budget. Ryskaliyev and fellow asylees formed an opposition group called Jana Qazaqstan, arguing that the Kazakhstan government's charges are politically motivated. They're calling for "free and transparent" elections in Kazakhstan.
Wiles told CRP he would be contacting members of Congress about Ryskaliyev's plight with the "repressive" Kazakhstan government to "raise awareness of not only his treatment but others over the years."
Wiles enlisted his business partner Rinat Akhmetshin — a former Soviet officer and Washington, D.C., lobbyist who took part in the infamous June 2016 Trump Tower meeting — to help with the effort. He paid Akhmetshin $60,000 to help draft language about Ryskaliyev's situation meant to be entered into the Congressional Record by a member of Congress.
Their efforts appear to have paid off.
On April 2, Rep. Duncan Hunter (R-Calif.) — who was recently charged with multiple felonies related to misusing campaign funds — submitted a statement into Congressional Record that was almost identical to the suggested language in FARA disclosures, with the vast majority copied word-for-word. The statement decries alleged human rights abuses by the Kazakhstan government and calls for the State Department to review Ryskaliyev's case.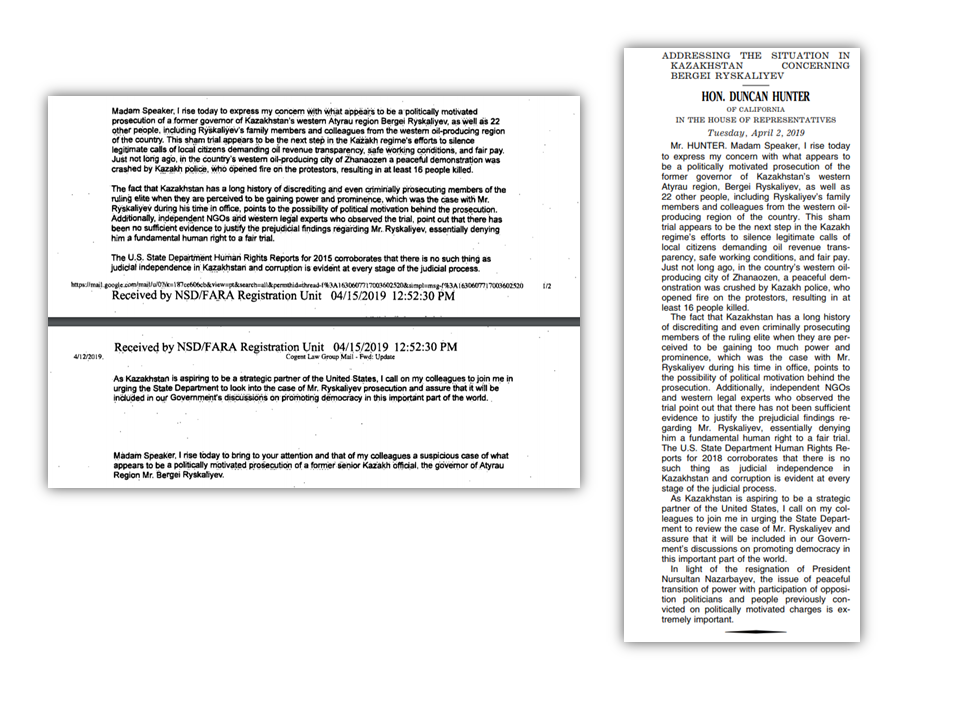 https://cdn1.opensecrets.org/news/wp-content/uploads/2019/05/03160316/farawdh-300x225.png 300w, https://cdn1.opensecrets.org/news/wp-content/uploads/2019/05/03160316/farawdh-768x576.png 768w" sizes="(max-width: 960px) 100vw, 960px" style="box-sizing: inherit; max-height: 1e+06px; border: none; vertical-align: top; max-width: 100%; height: auto; margin: 0px auto; display: block;">
Although the contract's effective date was Jan. 1, 2019, and the first reported payment was transmitted Jan. 15, registration materials submitted to the Justice Department were not stamped until mid-April — months later. Registration records disclosing any contracts for activities covered under FARA are generally required to be filed within 10 days, though late filings are not uncommon.
Wiles and Akhmetshin have a history together. Both men were tied to Natalia Veselnitskaya, the Russian attorney who told Donald Trump Jr. that she had "dirt" on Hillary Clinton obtained from the Russian government leading up to the Trump Tower meeting.
Bankers flagged suspicious payments made shortly after the meeting to Akhmetshin from Russian businessman Denis Katsyv, whose business allegedly conducted a $230 million tax fraud and laundered money into U.S. real estate. The payments were reportedly related to his lobbying on the Magnitsky Act, a law that sanctioned Russian officials tied to Sergei Magnitsky's 2009 death, and which Russian President Vladimir Putin has long sought to destroy.
Akhmetshin also received money from Wiles' business, Buzzfeed News reported, totaling $72,500 between January 2016 and April 2017. That confused investigators, as a Politico article quoted Wiles as saying he had instead been paid by Akhmetshin. That same article noted that Akhmetshin denied paying Wiles.
The two did work for the Human Rights Accountability Global Initiative, a Veselnitskaya-linked group that claimed its mission was "to help restart American adoption of Russian children" and is substantially funded by a Putin-linked businessman. Those lobbying efforts were registered under the domestic Lobbying Disclosure Act rather than FARA, drawing an inquiry from the Justice Department. The nonprofit reportedly attracted interest from special counsel Robert Mueller. Although the nonprofit is not named in Mueller's redacted report, Akhmetshin is mentioned in the report as saying he worked on issues related to the Magnitsky Act.
Less than a week after the Trump Tower meeting, Wiles reportedly held a seat for Veselnitskaya at a June 2016 House Foreign Affairs Committee hearing on "U.S Policy Toward Putin's Russia." Akhmetshin was also present at the hearing.
The night of the committee hearing, Wiles reportedly organized a dinner at the Capitol Hill Club, a private social club for Republicans. The guest list included Veselnitskaya and Akhmetshin, as well as former Rep. Dana Rohrabacher (R-Calif.), then a member of the House Foreign Affairs Committee and the congressman's staff director, who was reportedly fired over his Russia connections. Ahead of the committee hearing, Rohrabacher reportedly worked to promote a pro-Kremlin propaganda moviemeant to convince viewers that Magnitsky "was no hero."
Akhmetshin often speaks out against the Magnitsky Act but denies any links to the Russian government. Last year, he sued prominent Putin critic and Magnitsky Act supporter Bill Browder over his alleged "defamatory" statements that Akhmetshin is a "Russian intelligence asset."
Akhmetshin, for his part, appears to do most of his business in Kazakhstan. In November 2017, Akhmetshin told the Senate Judiciary Committee he had previously worked for Kazakhstan's government around 2009 and 2010 to help "recover stolen money."
Kazakhstan's state-owned BTA Bank alleged in 2009 that its former chairman stole billions from the bank, and later enlisted Trump's longtime personal lawyer, Michael Cohen, and a firm owned by Felix Sater to help recover the stolen money. The bank in March alleged that Sater helped launder stolen money into the U.S. and aimed to launder money through a potential Trump Tower Moscow.
Akhmetshin previously worked with former Kazakh Prime Minister Akezhan Kazhegeldin, who also fled the country on corruption charges he claimed were politically motivated. He told the Senate Judiciary Committee that a majority of his work is connected to "supporting opposition movements and political parties and independent press in Central Asia."
In 2015, a Russian mining company owned by three Kazakh billionaires sued Akhmetshin, accusing him of hacking into its computer systems and stealing sensitive materials. The company later dropped the suit.
Original source: OpenSecrets.org