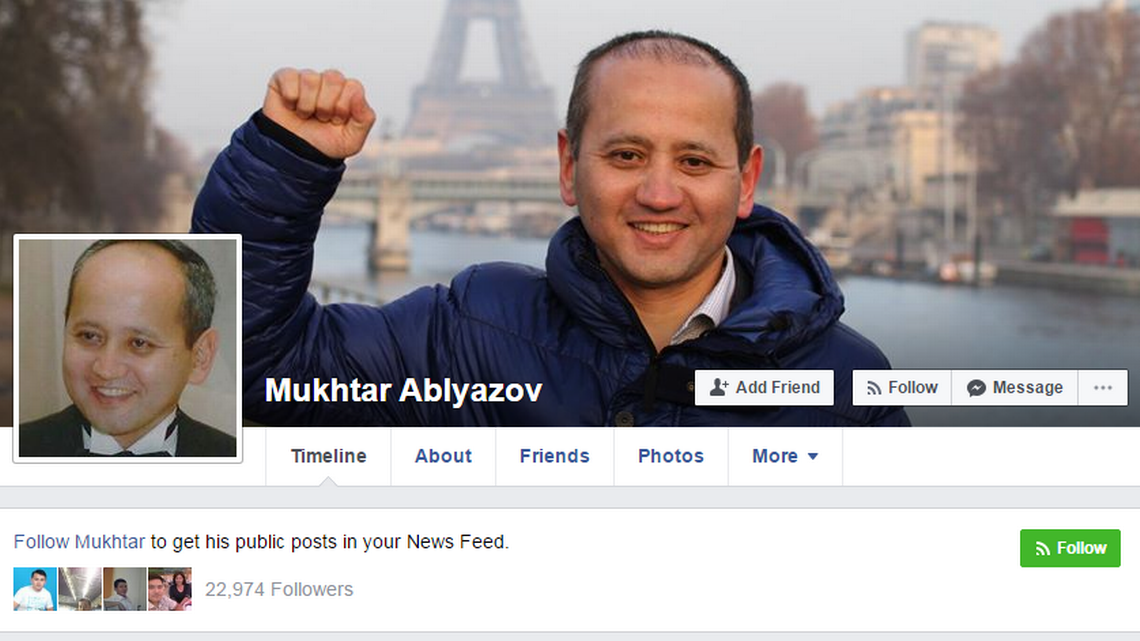 Fugitive Kazakh banker and opposition figure Mukhtar Ablyazov, shown here on his Facebook page, is alleged to have laundered money through the purchase U.S. properties with the help of his son-in-law Ilyas Khrapunov.
FAIRFAX, VA.
A former high-level U.S. government official is an unexpected player in a lawsuit worthy of a spy novel playing out in a Virginia courtroom, one that involves the family of a notorious financial fugitive, a strongman and cameos from two prominent associates of Donald Trump.
Jody Hudson, the head of human resources for the Department of Energy before leaving the federal government last year, is scheduled to testify this week in a Virginia money-laundering trial in which lawyers for a Kazakh bank and its court-appointed receivers claim that Hudson's longtime girlfriend, Gaukhar Kussainova, received millions in funds stolen from a Kazakh bank.
She used that money, they claim, to purchase, among other things, the multimillion-dollar Virginia home in which she and Hudson live.
The money was allegedly stolen by Kussainova's brother, Mukhtar Ablyazov, who is accused by Bank TuranAlem, or BTA, of having stolen more than $4 billion from the bank when he was its chairman, before fleeing Kazakhstan in 2009.
If the bank sounds familiar, it's because it before the House Oversight Committee last month, in which Trump's former personal attorney was questioned about his short-lived — but lucrative — work for the bank in its efforts to recover the money allegedly stolen by Ablyazov.
Some of that money had allegedly flowed into U.S. real estate purchases and investments by his family members, including three units at the former Trump SoHo. The bank has also paid another controversial former Trump associate, Felix Sater, who was also Cohen's partner on a potential Trump Moscow deal.
Hudson is not a party to the Virginia suit and told McClatchy that he is unfamiliar with the specific details of the case.


"I'm the boyfriend of Gaukhar Kussainova and by proximity I got pulled into this, there's nothing more than that to it," Hudson said.
Ablyazov, who has opposed Kazakhstan's long-ruling, autocratic ruler, Nursultan Nazarbayev, has maintained that the bank's legal pursuit of him and his family is politically motivated.
Neither Cohen nor Sater are connected to the Virginia case, which is one of several legal actions in the United States and abroad that have traced the flow of allegedly stolen money through a maze of shell companies across the globe.
Two such companies registered in the British Virgin Islands — Devesta Limited and Denmar Assets Management, Inc. — were alleged in the Virginia lawsuit to be the source of funds for two homes totaling nearly $4 million that Kussainova purchased in northern Virginia in 2006 and 2008.


The Virginia trial gets under way on Monday, and beforehand Hudson turned over documents and e-mails to lawyers for the Kazakh bank in which he directs that an invoice for a $75,000 luxury villa rental in 2013 in the south of France be sent to his offshore company in the Seychelles called San Vito Invest. Those e-mails have not yet been released in the Virginia lawsuit but were released earlier in a related federal lawsuit in New York targeting Ablyazov and his son-in-law's family and their involvement in different real estate transactions.
There's no reference to the company — or any foreign holdings — in any of Hudson's personal financial disclosures filed with the federal government since 2012. The company also has no Internet footprint.
Hudson told McClatchy that the company isn't his.
"It's not my company, it has never been my company," he said.
But when pressed to explain the existence of an e-mail claiming the company as his own, he declined to elaborate.
"I think it's likely to be a topic that would come out at trial," Hudson said.
The bank said in the New York federal case that Hudson helped Ablyazov, the banker, evade the French authorities. At the time, Ablyazov was the subject of an Interpol red notice — meaning he is wanted in his homeland — and he had shuffled between villas in the south of France to evade detection before his arrest. When the authorities finally found Ablyazov, after tailing one of his lawyers, he was with Kussainova. After three years in a French prison, Ablyazov was freed by French authorities, who reversed an extradition order to Russia, citing concerns about political pressure exerted by Kazakhstan.
Hudson declined to address the bank's allegations about his role in Ablyazov's attempts to evade authorities, suggesting again that it was likely to come out at the trial. Kussainova declined through her lawyer to comment.
Hudson and Kussainova met in 2003 and began living together in 2006. Kussainova purchased the 7,400-square- foot Mclean, Virginia home in which they currently live for nearly $2.7 million in 2008, with funds the bank says Ablyazov had stolen.
At the time, Hudson was separated from his wife but he and his ex were not formally divorced until 2016. Because Hudson and Kussainova were not married, Hudson did not list Kussainova's assets on any of his federal financial disclosure forms.
In 2009, Hudson began working at the Nuclear Regulatory Commission. His work for the NRC, which required him to obtain a security clearance, took him across the globe, representing the agency numerous times at the International Atomic Energy Association in Vienna, as well as at conferences in United Arab Emirates and Madrid.
The potential for foreign influence is one of the 13 factors that investigators are supposed to take into account when determining whether to grant a security clearance to a federal employee.
An employee's foreign ties could be problematic "if they create circumstances in which the individual may be manipulated or induced to help a foreign person, group, organization, or government in a way inconsistent with U.S. interests or otherwise made vulnerable to pressure or coercion by any foreign interest," the guidelines state.
But Hudson's relationship with Kussainova, which he said he disclosed, didn't appear to raise any red flags during his government background check.
"If there were any issues or concerns they were never raised to me," Hudson said.
Experts say it's unclear whether this should have raised concerns to investigators providing a government security clearance to Hudson.
"It's a little unique. But lots of people have relationships with foreign family members one step removed that sometimes catch the eye of investigators," said Brian McKeon, former chief of staff for the National Security Council.
Hudson left his post at the Department of Energy soon after he first turned over documents to lawyers for the bank in the related federal case in New York. The job had capped off more than two decades of government service and was a "career goal" according to his social-media postings, but he left the position after only four months for a job with the healthcare company Kaiser Permanente.
Hudson insisted that his departure had nothing to do with the impending case.
"I got a nice attractive offer from the private sector and it was an offer I couldn't turn down," Hudson said. "There's absolutely no connection between my leaving the Department of Energy and this case."
The Energy Department confirmed that Hudson left the agency voluntarily.
Very little is known about Kussainova, who does not appear to have her own social media pages and keeps a low profile. Published reports have said she became a U.S. citizen around 2004. The State Department denied a request under the Freedom of Information Act for details such as whether she was granted political asylum or refugee status. Hudson said he was unfamiliar with those matters.
Kussainova's recent naturalization might have caught the attention of investigators had she been married to Hudson, he added.
What Kussainova has done for a living is also unclear, and Hudson declined to discuss that matter ahead of the trial. Of interest is her business association with Col. Kantzhan "Kanat" Alibekov, with whom she formed a pharmaceutical business that was allegedly funded by her brother's money, according to the bank.
Now known by the Americanized name Kenneth Alibek, he achieved a measure of international fame as a defector who in 1992 brought secrets about the bio-weapons he created for the Soviet Union and Cuba, including a so-called battle strain of anthrax.
Alibek was born in then-Soviet-controlled Kazakhstan and defected to the United States shortly after the collapse of the Soviet Union, becoming a consultant and frequent witness before the U.S. Congress.
In 2006 Alibek became a businessman, creating a company called AFG Biosolutions for microbiological research. He then formed Maxwell Biocorporation, to manufacture cancer medicines for Eastern Europe.
These companies were both domiciled in low-tax Delaware, and a company controlled by Kussainova, Akem LLC, appears on the incorporation and tax documents associated with Maxwell's U.S. affiliate.
Many Alibek ventures met with eventual failure and in 2010 he began teaching at Kazakhstan's main university. In February 2018, Ukrainian prosecutors in Kiev brought charges against him, alleging he was an accessory to money laundering. They accused Alibek of using money stolen from BTA Bank to build his businesses in Ukraine.
Hudson declined to discuss details of his girlfriend's past businesses but said he didn't think she had a business relationship with Alibek.
"I know she was just a casual friend with this wife," Hudson said of Alibek.
Kussainova appears on New York property records for a property in Hewlett, on the south shore of Long Island. Public records show the home was purchased in May 1999, and Nassau County records show that the house was transferred between relatives in 2004 and sold outright in 2006 by Kussainova.
Other public records place her at an address on Manhattan's East Side in the posh Vanderbilt building near Grand Central Station.
Adding to an already intriguing saga, Kussainova is the aunt to another Ablyazov family member being pursued by Kazakhstan. Ablyazov's daughter Medina is married to Ilyas Khrapunov, himself the son of a financial fugitive, former energy minister and and ex-mayor of Almaty, the most populous city in Kazakhstan.
The city of Almaty has sought the Khrapunovs extradition from Switzerland, and has sued them in New York and California. City officials allege some of the stolen Khrapunov money, obtained through rigged auctions of state property, flowed through three condos in what at the time was the posh new Trump Soho development in Manhattan. Its developer Tevfik Arif and a high-profile financier, Alexander Mashkevich, were both prominent Kazakhs.
In California, lawyers for the city of Almaty allege the Khrapunovs' daughter, Elvira Kudryashova, used allegedly stolen money to purchase a Studio City mansion, later sold to singer Bruno Mars, and other Southern California properties.
McClatchy reported exclusively in July 2017 that now-embattled Trump associate Felix Sater helped bring the Khrapunov money into Trump Soho and helped the family invest in other projects in Ohio and Syracuse, New York. Sater also helped Kudryashova seek a U.S. visa.
Kevin Hall: 202-383-6038, @KevinGHall ; Ben Wieder: 202-383-6125, @BenBWieder