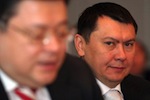 The sensational revelations from President Nazarbayev's former son-in-law could become even more of a scandal than the 'Kazakhgate' criminal trial.
The latest interview with Rakhat ALIEV, the former son-in-law of the Kazakh president, which went out on satellite TV channel K+, can rightfully be called a bombshell. As he answered the questions posed by the famous Radio Free Europe/Radio Liberty journalist Aleksandr Narodetski, he revealed that there had been plans to abduct Akezhan Kazhegeldin and to assassinate Mukhtar Ablyazov.
We have known about these Kazakh special forces 'special operations' relating to the former Kazakh Prime Minister for a long time so Rakhat Aliyev is not revealing anything new here but it is always interesting to hear things straight, as it were, from the horse's mouth. And all the more so considering than in the interview, Mr. Aliyev openly admits that as first deputy chairman of the National Security Commission, he had sufficient information from a number of sources.
First Akezhan, then Mukhtar
"You know, when it comes to the National Security Commission, they can do whatever they like within the country," Rakhat Aliyev observed. "As for operations outside Kazakhstan, then of course the special services would try to use criminal elements, mercenaries and far-reaching organised crime so as not to leave their own fingerprints anywhere. And I had information that criminal elements were preparing to abduct the former premier… and maybe even physically eliminate him."
Mr. Aliyev was even more open regarding 'special operations' to be carried out by unknown hooligans.
"I have information that in the autumn of 2004 there were plans to assassinate the former chairman of Bank TuranAlem, Mukhtar Ablyazov, again using criminal elements."
He says the Kazakh special services were directly involved and the reason for the assassination attempt was that, "…he (Ablyazov, ed.) opposed to those in power with the support of various groups, parties and the press."
"As regards Ablyazov, there were plans to assassinate him in Moscow but as I found out about this I was able to warn him and he gave a press conference in Almaty and openly declared that he had no business conflicts and if something happened to him, it was upon the orders of the Kazakh special services."
The interview ends with that interesting declaration but we have decided to go back to that sensational press conference of Mukhtar Ablyazov's from late September 2004. As Svobodnaya Azia [Free Asia] reported at the time, this happened straight after the parliamentary elections. Once the results were released, the opposition, whose leader in 2001 was still considered to be Ablyazov, accused the president of the country of failing to fulfil his duties as guarantor of the constitution and announced their intention to conduct a nationwide referendum on terminating Nazarbayev's mandate.
"I was on business in Europe and received information that 'unknown people' were beginning to show interest in me in Moscow," Mukhtar Ablyazov declared at the time through his lawyer. "At the same time I started getting telephone messages from Kazakhstan from important social figures and politicians warning me that it would be dangerous for me to go back to Moscow at the time. They said they had reliable information that one highly-placed state official had given orders to do away with me physically. Over the course of the previous week, these 'unknown people' had tried to establish my whereabouts at the company office. They took photos and video footage."
Why is there no word from Ak-Orda [Presidential Palace]?
Which means that Ablyazov's claims from 2004 are confirmed by what Rakhat Aliyev says today. And if we are to believe the President's former son-in-law, there should have been far more political victims of the Nazarbayev regime than just Zamanbek Nurkadilov and Altynbek Sarsenbayev.
The pages of this newspaper have already appealed to the state authorities and we must now repeat the question: isn't it time to investigate all these strange stories properly and set the record straight once and for all? Maybe then the mystery surrounding the death of two important, powerful, independent politicians will be resolved and we will also discover whether the deaths of several well-known journalists and opposition activists were just a coincidence or, as Kazakh society suspects, they were killed.
Let us note once more that although there has long been talk in Kazakhstan of certain influential policemen with authorisation 'from above' organising secret 'death squads' to physically annihilate the heads of organised crime, similar accusations against highly-placed state officials were voiced even earlier. And practice in the CIS shows that authoritarian regimes have a tendency to deal with their opponents in secret when they can't do it openly or want to frighten civil society. We only need remember the tragic cases in Ukraine and Belarus, not to mention the other republics in Central Asia.
If these latest admissions of Rakhat Aliyev are confirmed, they will unleash a universal scandal compared to which Kazakhgate and the other unseemly stories that representatives of the Kazakh establishment are always embroiled in pale into insignificance. For although various countries may deploy terrorist tactics in one form or another as part of their domestic or foreign policy, no such country has yet had the honour of chairing the Organisation for Co-operation and Security in Europe (OSCE).

"Respublika", October 16th 2009, issue no. 39 (174)