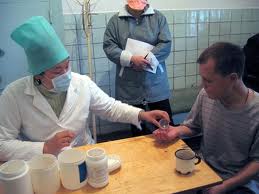 Kazakhstan is striving to build a health system that aligns with the global primary care declaration made on its soil three decades ago. Sharmila Devi reports from the capital, Astana. Since the first international declaration underlining the urgency of primary health care was signed under WHO auspices in Alma-Ata in 1978, parts of the former Soviet republic of Kazakhstan have changed almost beyond recognition.

It achieved independence in 1991, used its new oil and gas wealth to create a gleaming new capital, Astana, replete with shiny skyscrapers, and embarked on an ambitious reform programme under which the country hopes to overhaul its public health capacity as it continues to shed the cultural and administrative legacy of Soviet rule.
"Kazakhstan is taking major steps to reform its health-care system, from hospitals to outpatient and primary care", says Melita Vujnovic, head of the WHO office in Astana, the new capital since 1997, which replaced Almaty, as the old Soviet capital is now known.

"Almaty is the cradle of primary care where the first [primary care]declaration was proclaimed on a global level. They've set very ambitious goals and are making great progress. Of course, I might be biased but I see really very good collaboration with all levels. Sometimes the challenge for us is to respond to all their requests for technical assistance."

Kazakhstan has been ruled by the authoritarian Nursultan Nazarbayev since he was first elected President in 1991. He has since faced persistent allegations of corruption and human rights abuses. Nonetheless, he seems to enjoy popularity, partly because the country has been spared the sort of civil strife seen in neighbouring states such as Kyrgyzstan. At the viewing platform of the 97-metre high Baiterek Tower in Astana, Kazakhs flock to have their photograph taken as they make a wish with their hands pressed into a 2 kg lump of gold impressed with the President's handprint.

Of the 17 million citizens, some 63% are ethnic Kazakhs, about 23% are ethnic Russians, and the rest are made up of a multitude of groups including Ukrainians, Uzbeks, Chechens, and Uighurs.

Thanks to the wealth from its resource-rich Caspian region, the government enjoys economic advantages compared with its central Asian neighbours. But the health challenges are numerous. Non-communicable disease such as cardiovascular disease, diabetes, and cancer are the leading causes of mortality while HIV/AIDS, tuberculosis, and blood-borne diseases such as hepatitis C are of deep concern.

There is also a legacy of environmental disaster. Starting in the 1940s, the Soviet Union did more than 400 nuclear weapons tests in the steppe region of north eastern Kazakhstan, where some 200 000 Kazakhs were exposed to large doses of radiation, leading to an increase in cancers and other diseases.

Pollution also plagues the region around the Aral Sea, which was the fourth largest lake in the world before Soviet irrigation projects almost drained it. In rural areas of the vast, landlocked state—Kazakhstan is larger than western Europe and is the ninth largest country in the world—people have to boil water for drinking.
Brain drain
"The country has undergone many changes but whether they've been successful or not is another matter", says a Kazakh doctor, who left the country in the 1990s but who wished to remain anonymous because he travels back regularly. "I wasn't happy working there because there was a lot of turmoil and then they decided to extract and sell all the oil", he tells The Lancet. "It's not a merit-based culture, it's connection-based. People are tense because they fear for their jobs and decisions are made top-down. And when it comes to the government's attempts to bring democracy, frankly, for me, the word has been devalued."

He was one of the professionals who made up an outflow of trained people in the 1990s seeking a better life and better working conditions elsewhere. Even now, many health-care professionals would prefer to leave, he says.

"Many doctors have more than one job or see patients privately because salaries are low. All health-care workers are salaried, they don't get a fee for service, and salaries are one of the things that the government is looking at", he says. "In other areas, the government has been pouring money into health care to the extent that sometimes the Ministry of Health has trouble spending it."


The health-care system is still dominated by a system of specialisation. Building trust in a system whereby a primary care physician oversees a patient's health is proving a challenge, says a western health specialist who has been helping to implement change in the country and who also wanted to remain anonymous. "Physicians and midwives can face time in jail or fines if something goes wrong with a patient even if it isn't their fault. So they can be very fearful and laws have yet to be changed", she tells The Lancet.

"I heard of one case where a midwife travelled with her patient, an older woman, from the south of the country to the capital and stayed with her for 2 weeks to make sure there were no complications with the birth. She did that because she cared, but also out of fear of punishment, which pervades every area of medicine."
"Disease management is another area that needs change. For example, a diabetic even without any complications will see an endocrinologist, not a primary care physician because there's little respect for them. Heads of department and professors are respected."

The Canadian Society for International Health (CSIH), a non-governmental organisation that works to reduce global health inequalities, is working in Kazakhstan on improvements to medical education and accreditation and on the upgrading of clinical practice around evidence-based medicine and health technology assessment. "There are many challenges, especially the move from directives to independent decision making in clinical practice", says Eva Slawecki, director of project development at CSIH. "We have found that this requires a change in mind set. This is not easy to do in any health-care system."

Elma Heidemann, an expert in health-care quality and accreditation and a CSIH consultant, agreed. "We've been trying to promote the implementation of the concepts of patient-centred care, of informed consent, and of the patient's participation in the care team. We're trying to encourage quality improvements to be initiated from the grassroots of health-care organisations rather than, as they are used to, from the top down", she says.

Although medical school enrolment is high, the role of physicians and nurses is undergoing change. It is not unusual, for example, for physicians to staff ambulances rather than paramedics or nurses, whose responsibilities and duties will eventually expand under planned reforms.

Public health and education is also being expanded to encompass prevention, rather than a reliance on treatment and technology. Of particular worry are rates of HIV/AIDS, often linked to injection drug use. Although the HIV epidemic is concentrated and not reaching levels seen in sub-Saharan Africa, infection rates are rising, says Andrea Howard, clinical and training unit director at ICAP, health systems strengthening for HIV/AIDS programmes, based at Columbia University's Mailman School of Public Health, NY, USA. "The actual numbers are small, in the 20 000 range for registered HIV cases, but we are seeing an increase", she says. "ICAP's programme is working on providing some degree of integrated services at the medication assisted therapy sites we support where patients receive methadone. We've been working with the Ministry of Health to provide testing for HIV and tuberculosis while viral hepatitis is also an important health problem."

One positive development is that Kazakhstan has reduced mortality from tuberculosis and halved incidence to 137 per 100 000 from 290 per 100 000 of estimated new cases and relapses, says Vujnovic of WHO. But the country remains among 27 high-burden countries globally because of new cases as well as the number of patients in treatment already.

Vujnovic says overall WHO's priorities are wide and include looking at hospitalisation rates, disease management, and strengthening primary care. "We are dealing with old structures and outdated expectations of the population", she says.

"The population expects to see specialists and there is pressure on doctors to send patients to hospital. The Ministry of Health and partners are making major steps to integrate services so people only see a specialist when needed and have good quality primary health care for most of their needs."

A big boost to the country's outpatient care system will be Kazakhstan's hosting of a new WHO specialised office for primary health care, a geographically dispersed office (GDO) in Almaty.

Kazakhstan signed an agreement with the WHO on May 21 and the GDO is aimed at strengthening work in the WHO European region on health service delivery and will provide technical assistance to 53 member states of the WHO European region.

A strong desire to reform the health-care system was evident across the government and population, says Vujnovic. "The people wish to move forward and in the Ministry of Health, civil service, and in the WHO office, people come in to work extra hours every Saturday", she says. "I mean it in the best possible way when I say that they move with the speed of an arrow and it is good to be the wind which supports its flight."
The Lancet