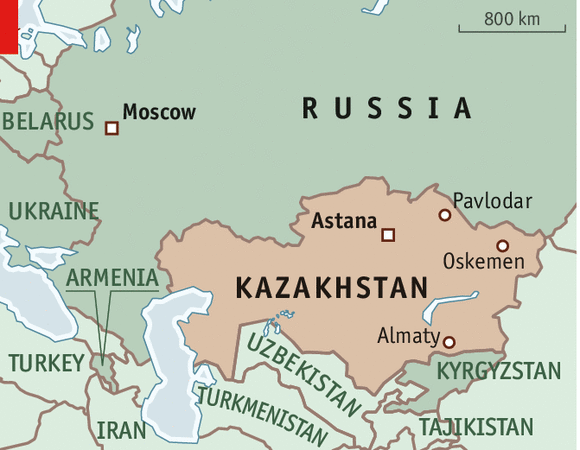 A GOLD-CLAD warrior on a white horse trotted through the streets of Pavlodar in Kazakhstan in early June, at the head of a flag-waving procession on its way to a stadium, where thousands of young people joined a rapturous chorus of the national anthem. The jingoism marks an obscure holiday celebrating national symbols. But in this town, just 100km (63 miles) from the Russian frontier, it is also a response to Russian sabre-rattling.
Russia-Kazakhstan relations look rock-solid. On May 29th Nursultan Nazarbayev, Kazakhstan's president, played genial host in Astana, his futuristic capital, to Russia's president, Vladimir Putin. Alexander Lukashenko of Belarus was also on hand to sign a pact creating the Eurasian Economic Union (EEU), a free-trade group soon to open to other former Soviet states (starting with Armenia and Kyrgyzstan). Yet cracks have emerged in the union even before it starts functioning next January.
Mr Putin plainly views it as a way to project Russian power. He had seen Ukraine as a linchpin of the EEU. Kiev's geopolitical lunge towards the West has made him even more zealous in his post-Soviet integration project. Some neighbours, including Mr Nazarbayev, are alarmed. The Kazakh leader is uncomfortably aware that Ukraine paid a high price for choosing west over east. The Kremlin's bellicose reaction shocked him. Incendiary claims by Russian nationalists to parts of "southern Siberia" (ie, northern Kazakhstan)—disavowed by Moscow but only languidly—have further jangled nerves.
Along Kazakhstan's 7,000 km border with Russia lie towns with large ethnic-Russian populations. In many, such as Oskemen in the industrial north-east, Russians outnumber Kazakhs. On a hillside, visible throughout the city, is a blunt reminder to its residents of whose country they are in: towering white letters reading "Kazakhstan". Russians living here see the EEU as a godsend, bringing trading opportunities and access to the Russian job market. Among the older generation, many wax nostalgic about Soviet days—as, at times, does Mr Putin. Some dream wistfully of the EEU's turning into something more ambitious: in effect, the rebirth of the single state they used to live in.
Mr Nazarbayev, however, keeps repeating that the union is economic, not political. He has to placate the Russians who make up more than one-fifth of the population, while keeping in check a small but outspoken alliance of nationalists and liberals opposed to union with Kazakhstan's former overlord. Protesters have chosen eye-catching methods to express their disgust: from wearing surgical masks over their mouths to avoid catching the "virus of imperialism" to putting lace knickers on their heads in protest at a ludicrous regulation regarding underwear imposed by the customs union that preceded the EEU.
The authoritarian president, not one to heed those who disagree with him, shrugs this off. But Mr Nazarbayev turns 74 next month and cannot, despite appearances, rule forever. Dealing with the consequences of Kazakhstan's new bond with Russia will be one of the hardest tasks facing whoever eventually succeeds him.
The Economist Newspaper