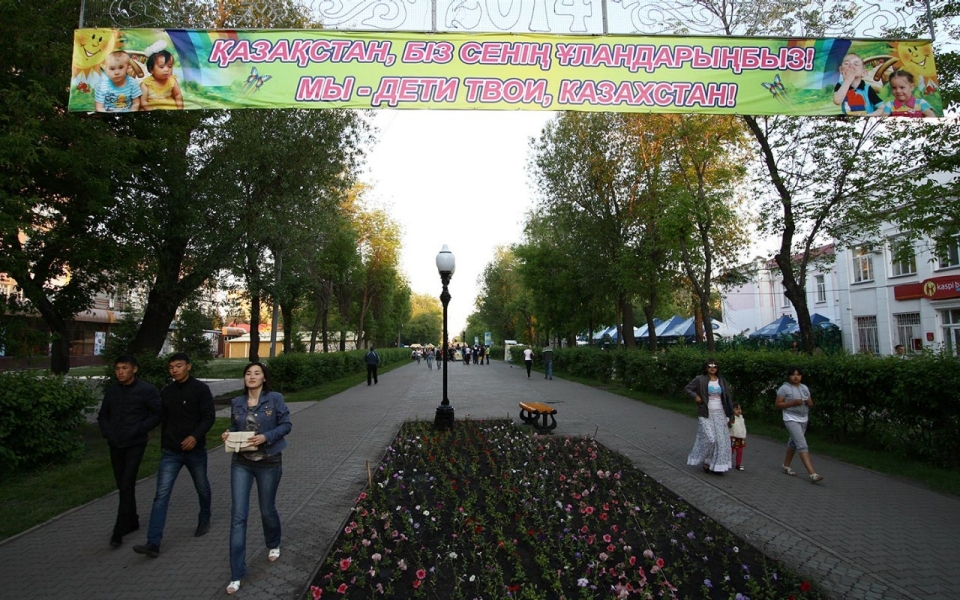 It appears Russian President Vladimir Putin's imperial ambitions aren't limited to economics and politics. The master of the Kremlin also wants to advance his agenda via sports, namely with the creation of a new football super league comprising leading teams from Russia and other formerly Soviet republics.
Club representatives from two regional football powerhouses, CSKA Moscow and Ukraine's FC Shakhtar Donetsk, first started kicking around the idea of forming a super league back in in 2010, according to Alexandr Polyakov, a prominent Russian football commentator and a contributing editor at the football website chempionat.com. Two years later, Russian officials decided to form an organizing committee. Polyakov said he has played a consultative role in the discussions.
Preliminary plans call for the super league to have at least 32 teams, divided into two tiers. The teams would be drawn mainly from Russia's own Premier League. Prominent Ukrainian clubs, including Shakhtar Donetsk, Dynamo Kyiv, Dnipro Dnipropetrovsk and Metalist Kharkiv would also be recruited, along with a representative club or two from Belarus, Armenia and Kazakhstan. A model for the football project is the Kontinental Hockey League, which was formed in 2008 and comprises 21 Russian teams with lone representatives from other formerly communist states, including Latvia, Kazakhstan, the Czech Republic and Croatia.
"This is a political project," said Polyakov, citing a source within the presidential administration of Russia. "Putin wants it. It's a priority for him. He wants to go down in history as a 'collector' of lands."
It's probably not coincidental that the countries involved in the football super league plan also figure prominently in a grand economic project that is being advanced by the Kremlin. Russia, Belarus and Kazakhstan are already members of the Eurasian Economic Union (EEU), which is set to become operational on January 1, 2015. Armenia is expected to sign on by the end of the year.
Ukraine was also expected to be a charter member of the EEU, but that was before the Euromaidan movement pushed Ukraine's pro-Russian president, Viktor Yanukovych, from power in February, followed by Russia's annexation of the Crimean peninsula in March. Ongoing tension between Ukraine and Russia has dashed any hope of Kyiv signing up for the EEU. These days, Ukrainian leaders in Kyiv are far more interested in pursuing integration with the European Union than they are in closer ties with Russia.
Crimea's annexation has likewise scuttled the possibility of Ukrainian clubs joining a Russia-led football super league, Polyakov acknowledged. "Political tension makes Ukrainian participation impossible," he added.
But members of the Russian organizing committee are not giving up completely on the idea. Valery Gazzaev, a former manager of CSKA Moscow and the man who leads the organizing committee, believes the project can move ahead on a smaller scale, with teams coming from Russia, Belarus and Kazakhstan, the same countries that are currently part of the EEU.
"Right now clubs from Belarus and Kazakhstan are expressing real interest in taking part in a unified football league," Gazzaev said in comments posted June 4 on the organizing committee's official website. "The potential of our [super league] project is similar to the potential of the Eurasian Economic Union. We are aiming to form one of the leading leagues in Europe."
Gazzaev and others even retain hopes that Ukrainian teams will one day play in a super league. Polyakov said organizers want to revisit the idea of Ukrainian participation, "but nobody knows when."
If the aim is truly to turn a Eurasian super league into one of the strongest in the UEFA zone, then Ukrainian participation would seem essential. The level of play in the domestic leagues of Belarus and Kazakhstan are far lower than in Russia. The Russian national team is currently 19th in the FIFA world rankings, and will be playing in the World Cup tournament starting June 12 in Brazil. Belarus, meanwhile, checks in at 82nd in the FIFA rankings, while Kazakhstan lags behind in 124th place. In the 16th slot, Ukraine's national team is currently ranked higher than Russia's in the FIFA table, even though it did not qualify for the World Cup finals in Brazil.
Another big question surrounding the super league's potential concerns finances. In this area, the project seems to be on sounder footing. According to Polyakov, the super league initiative is being underwritten by Gazprom, the Kremlin-controlled energy conglomerate. Gazprom already has sponsorship deals with some of Europe's top clubs, including Zenit St. Petersburg, Germany's Schalke, and Chelsea, which plays in the English Premier League.
"Gazprom is not only the largest gas company in the world, but also one of those most passionate about football," Gazprom's CEO Alexey Miller states on the Gazprom-Football website.
Miller has close ties to Putin, and, according to Polyakov, is prepared to pump up to $1 billion of Gazprom's money into the super league project. "It's not a business decision," Polyakov said about GazProm's financial involvement. "It's a social responsibility."
EurasiaNet.Org