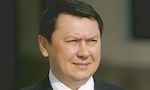 Rakhat Aliyev, the Kazakh president's former son-in-law, has been detained in Austria while under investigation for alleged crimes including murder and running a crime network in the Central Asian country, his lawyer said.
Aliyev, once Kazakh ambassador to Austria and now a vocal critic of President Nursultan Nazarbayev, is wanted in Kazakhstan for the killings of two bankers in 2007 and could face up to 40 years in jail if extradited.
Vienna has twice refused to extradite him because of the former Soviet republic's human rights record, but opened its own investigation in 2011 against Aliyev, who now lives in Malta.
He has in the past called the charges politically motivated.
"After he voluntarily turned himself in and returned to Austria, he was arrested around 11 p.m. (on Thursday) after we waited for the police at the airport," lawyer Manfred Ainedter told Austrian broadcaster ORF in a radio interview broadcast on Friday.
An arrest warrant from May includes allegations ranging "from murder to kidnapping, blackmail, coercion, a whole range of allegations, all of which are not valid", he added.
A criminal court in Vienna on Friday ordered Aliyev and two unidentified people held in investigative custody until June 20, standard practice for suspects who face at least 10 years in prison, a court statement said.
It gave no more information, and Vienna prosecutors declined to comment on the other two people held.
(Reporting by Michael Shields; Editing by Andrew Roche)
VIENNA (Reuters)