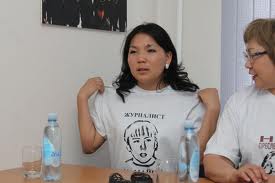 Two prominent activists lobbying against Kazakhstan's membership in the Russia-led Eurasian Economic Union (EEU) – due to be created next week – have been hauled in for interrogation by Kazakhstan's domestic intelligence service over an alleged plot by Russian nationalists to destabilize the country.
Zhanbolat Mamay and Inga Imanbay were questioned for six hours by National Security Committee agents on May 21 as they were finalizing preparations to hold public hearings into Kazakhstan's EEU membership.
The spooks questioned Mamay and Imanbay over their links to Russian far-right nationalist Aleksandr Potkin, who – according to unattributed material leaked to Kazakhstani media – went to Kazakhstan in 2012 and trained ethnic Kazakh nationalists to "provoke a confrontation" with "the Slavic community."
In view of Moscow's intervention in Ukraine on the pretext of protecting Russian speakers, Astana currently has an eye on its own ethnic Russians, who make up about 22 percent of the population. But it is not clear why Kazakhstan's intelligence service took two years to launch the Potkin probe.
"This is a total lie and utter nonsense," Mamay told EurasiaNet.org on the sidelines of the Almaty public hearings, describing the accusations as "a provocation carried out with the aim of discrediting me and those who speak out against joining the EEU."
Mamay said interrogators asked him what he was planning to do on May 29, the day presidents Nursultan Nazarbayev, Vladimir Putin of Russia, and Alexander Lukashenko of Belarus are expected to sign the EEU foundation treaty in Astana.
Mamay said he had met Potkin once in Almaty two years ago "for an exchange of opinions," but a plot was "simply unthinkable."
Mamay and Imanbay – who are not, thus far, accused of any crime but were summoned as witnesses – are prominent youth activists known for voicing concerns about Russian domination of Kazakhstan through the Customs Union and the EEU.
"What kind of plot could there be with Aleksandr Potkin, with Russian nationalists who favor the separation of Crimea, who favor the separation of southeastern Ukraine?" Mamay asked. "What kind of views could one have in common with such people?"
This is not Mamay's first brush with the law: In 2012 he spent a month in jail, accused of inciting fatal unrest in western Kazakhstan, but was released amid an international outcry.
The public hearings into Kazakhstan's EEU membership went ahead in Almaty on May 22, attended by around 100 opponents who adopted a resolution urging Nazarbayev not to sign the treaty.
Nazarbayev insists the union is a purely economic project and that Kazakhstan will not cede "an iota" of sovereignty. But critics' fears that the Kremlin has political designs on its neighbors have only been heightened by the Ukraine crisis.
The EEU will be "a political union of authoritarian regimes," activist Tolegen Zhukeyev told the hearings.
"On both the economic and political levels this union offers no advantages for our country," Mamay told EurasiaNet.org. "On the country, the threat of our country losing its sovereignty and independence looms, and on that score we're going to actively oppose it."

EurasiaNet.org