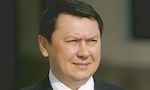 Authorities of Austria and Malta must order a thorough investigation of the crimes which Rakhat Aliyev is alleged to have committed when he was in charge of the secret police under his former father-in-law, Kazakh President Nazarbayev.
On Thursday, April 10, the Eurasia Democracy Initiative will hold a
special briefing:"Torturers at Large: Lack of Accountability and Justice
Denied"

The briefing will take place as part of the OSCE Meeting on
Torture. Taking part in the briefing will be torture victims,
including Mr. Petr Afanassenko, who has accused Mr. Aliyev of
personally torturing him and had to serve 3 1/2 years in prison on
false accusations; Mr. Serik Medetbekov, founder of the first
independent radio channel in Kazakhstan; and Mr. Nurmukhammed
Hanamov, a member of the opposition of Turkmenistan in exile; as well
as UN officials.

In his statement to the OSCE Conference, the last (and the first
democratically-elected) Prime Minister of East Germany Lottar Da
Maiziere has urged European leaders to hold accountable Mr. Rakhat
Aliyev and other fugitive from justice hiding in Europe. He has
appealed to the governments of Malta and Cyprus urging them not to
grand Mr. Aliyev citizenship due to his reputed political past spent
torturing his political opponents and fabricating criminal cases
against them.

Austrian and Maltese police have refused to investigate the
serious allegations against Rakhat Aliyev, who has made large
investments in these two countries. Do Vienna journalists know Media
Quarter Marx, where many of their media outlets' headquarters are
located, was built with the money Rakhat Aliyev is said to have
stolen from Kazakh journalists and publishers?