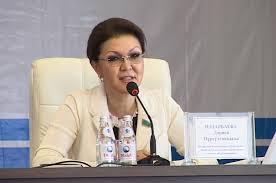 Kazakh President Nursultan Nazarbayev's eldest daughter Dariga will lead her father's party faction in parliament and become the legislature's deputy speaker, marking her comeback from the political sidelines. Dariga Nazarbayeva, 50, received the promotions after serving as the head of the social and cultural development committee in the Majlis, the nation's lower house of parliament, the ruling Nur Otan party said on its website today.
Nazarbayev, who heads Nur Otan, named Nurlan Nigmatulin as his chief of staff, replacing Karim Massimov, who was brought back as prime minister yesterday after Serik Akhmetov resigned. Nigmatulin was previously chairman of the lower chamber and head of the ruling party's faction. Deputy Speaker Kabibulla Dzhakupov was elected to lead the Majlis.
The president's daughter, who became a deputy head of Nur Otan after its merger with her Asar party in September 2006, lost her position in 2007 after her former husband Rakhat Aliyev was charged with organizing the kidnapping of two bank executives. She returned to parliament in 2012 and served as as the director of the Foundation of the First President of the Republic of Kazakhstan, a non-profit organization which says it promotes social, cultural and educational causes.
Nazarbayeva, who headed the country's biggest TV channel Khabar for nine years until 2004, led the Asar party in 2003-2006.
Dariga's Husband
Aliyev, who was once Kazakhstan's envoy to the Organization for Security and Cooperation in Europe, was sentenced in absentia to 20 years in prison for kidnapping and other crimes in 2008. He lives outside Kazakhstan and has denied the charges.
Nazarbayev, who has ruled central Asia's biggest energy producer for 25 years, has said he may extend the longest reign of any former Soviet leader by running for a fifth term in 2016.
Nazarbayev won his most recent five-year term in 2011 with 95.5 percent backing in a nation of 17 million people. The lack of a clear succession plan has constrained Kazakhstan's debt ratings for Standard & Poor's and Fitch Ratings by exacerbating political risks.
"There definitely will be a transition of power -- there's nothing frozen, it will be changed," Nazarbayev, 73, said in an interview in February. "I was elected until December 2016. The time will come when we'll talk about it."
To contact the reporter on this story: Nariman Gizitdinov in Almaty at This email address is being protected from spambots. You need JavaScript enabled to view it.
To contact the editors responsible for this story: Alaric Nightingale at This email address is being protected from spambots. You need JavaScript enabled to view it.
Paul Abelsky, Scott Rose
Bloomberg