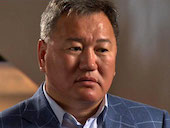 The father of a student from Kazakhstan who is accused of obstructing justice in the United States over the Boston bombings has been stripped of his seat on a city council in the Central Asian nation. Amir Ismagulov, a prominent businessman and lawmaker from the oil town of Atyrau in western Kazakhstan, has been waging a one-man campaign for the release of his son, Azamat Tazhayakov, who he insists is innocent
Two Kazakhstan nationals, Tazhayakov, 19, and his roommate Dias Kadyrbayev, were charged in May last year with allegedly helping Boston bombing suspect Dzhokhar Tsarnaev to destroy evidence, which included a laptop and a backpack containing fireworks, after the attacks.
Both students, who were detained in April after the Boston Marathon bombings, in which three people were killed and 260 injured, face up to 25 years in jail. They have pleaded not guilty to the charges of lying to authorities.
Atyrau newspaper Moy Gorod cited the chairman of the city election commission as saying deputies in the local legislature voted for Ismagulov's early resignation.
Ismagulov failed to attend three plenary sessions of the council and had no reasonable excuse, the chairman said in remarks on the decision.

Ismagulov has reportedly been living in Boston over the past nine months, since his son's arrest.
He was also expelled from the ruling Nur Otan party, which is led by Kazakhstan's President Nursultan Nazarbayev.
4 February 2014
RIA Novosti