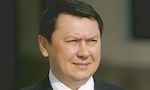 Claude Turmes, a member of the European Parliament, is concerned that inaction of European authorities on mounting serious accusations against Aliyev could undermine public confidence to EU justice, Tengrinews reports citing the inquiry of the the Greens–European Free Alliance representative in the European Parliament posted on the Parliament's official website.
He reminded the European Commission that serious white collar crime accusations against Kazakhstan's ex-Ambassador to Austria Rakhat Aliyev were investigated in Austria, Germany and Malta, and a criminal inquiry on suspicion of murder and abduction were launched in Austria.
In April 2014 Austria cancelled Aliyev's Alien's Passport ruling that the issuance of both the passport and the residence permit to Aliyev were unlawful. However, this didn't stop the Kazakhstani multi-millionaire from trying to open a bank account in Cyprus using the no longer valid ID in November 2013.
Strange as it may seem, but the piling accusations on such a wide variety of charges and in so many countries have not resulted in much progress on the part of European law enforcement authorities so far.
According to the Member of the European Parliament who voiced the concerns, the EU-wide investigations against Aliyev have been in progress for nearly three years in Austria and two years in Germany and Malta, but have not progressed anywhere or resulted in any legal proceedings.
In fact this is not even the first MEP inquiry into the inaction. Earlier this month Portuguese MEP Ana Gomes also called onto the European Commission to involve Eurojust and Europol in a Europe-wide investigation into Rakhat Aliyev. This makes two MEP calls in one month.
The awkward inaction of the European law enforcement authorities sounds like a welcoming bell to international criminals signaling them that Europe is too busy elsewhere to deal with them. With passports and resident permits being issued in batches, criminal suspects like Aliyev are allowed to travel freely in the European Union. And it is quite likely not only to undermine the public confidence to the European justice, but also to give Europe an image of a place that is no longer safe to live in.
Tengrinews.kz