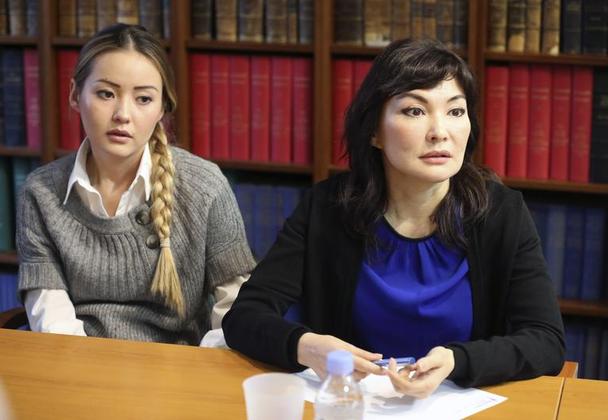 He is wanted in his native Kazakhstan, Ukraine and Russia. He was ordered jailed in Britain. An opposition leader from a country that has been ruled by the same man since 1989, a former banker accused of siphoning off billions, Mukhtar Ablyazov has been jailed since police special forces seized him July 31 in the south of France. On Thursday, a judge is expected to rule on his extradition.
Courts in London have frozen his assets and issued more than $4 billion in judgments against Ablyazov, who fled Britain days just before he was convicted of contempt of court. The Kazakh is often compared with Mikhail Khodorkovsky for making his fortune during the wild post-Soviet years, then running afoul of the political leadership when he started using his wealth to bankroll the opposition.
"This is not a story about a bank. This is not a story about a theft. This is a settling of political scores," said Peter Sahlas, a lawyer representing Ablyazov.
A former energy minister once aligned with President Nursultan Nazarbayev, Ablyazov was chairman of BTA Bank when it was nationalized in 2009, one of many Kazakh financial institutions to falter after the U.S. subprime mortgage crisis. Even before the financial crisis, he has said, he was under pressure from Nazarbayev to hand over a 50 percent share of the bank, which he said amounted to extortion.
He ultimately received asylum in Britain, where he continued to use his wealth — ill-gotten, according to the Kazakh, Russian and Ukrainian governments — to fund Kazakhstan's weak opposition movement, as well as invest in property including a mansion in London and an estate in Surrey, on the outskirts of the capital.
The bank, meanwhile, pressed 11 separate claims against him, accusing him of diverting money that, among other things, was intended for a Moscow skyscraper that remains unfinished and a Kazakh real estate development project that never materialized.
Sentenced to prison for contempt of court in Britain after judges said he continued to move his money around in violation of orders freezing his assets, Ablyazov fled in February 2012, citing threats to his life.
"Much of what he says appears at first sight to be exaggerated and implausible, and it is striking that the fears for his personal safety on which he now relies so heavily were voiced only after judgment was given," a British magistrate said after the Kazakh disappeared.
With Ablyazov, his wife and their two youngest children on the run — first in Latvia, then Switzerland, then Italy — the bank won rulings in Britain at every turn.
At the end of May, Italian commandos stormed the home where the family had been staying. Ablyazov wasn't there, neither was his 12-year-old son. But his wife, Alma Shalabayeva, and their 6-year-old daughter were, and the Italian forces whisked them away to a waiting private jet, where they were taken to Kazakhstan and Shalabayeva was accused of falsifying passports.
Uproar over their swift and secret expulsion nearly toppled the Italian government, which revoked the expulsion order retroactively. By then, Shalabayeva said, she was in Almaty under house arrest and 24-hour surveillance.
"Not being able to get Ablyazov, they had the brilliant idea to take hostages," Sahlas said.
By mid-summer, Ablyazov, too, was taken into custody after private detectives hired by the bank tracked him to a home in the south of France. French law enforcement, agreeing to enforce an Interpol request for arrest, was told the former banker might be armed and arrived prepared, with armored trucks, aircraft and special forces.
Under pressure from the Italian government, Kazakhstan allowed Shalabayeva and the little girl to return at the end of December, requiring them to put up the family home as collateral and return at authorities' request.
"They want to turn her from a hostage into a fugitive," Sahlas said. He said the Kazakh government had initially demanded $1 million in cash bail.
Throughout the saga, BTA has pressed its case, saying Ablyazov stashed millions of dollars in off-shore accounts as the bank was faltering during the global financial crisis. Now Kazakhstan's third-largest financial institution, the bank returned to profitability in August in part with the sale of Ablyazov's assets.
"An extradition is a question of law but also a question of politics," said Jean-Pierre Mignard, another lawyer for Ablyazov. He said the key concern is whether Ablyazov could be treated fairly in the Russian or Ukrainian legal systems, and whether either of those countries would send the former banker back to Kazakhstan, which has no extradition agreement with France.
A French judicial panel rules Thursday on the extradition requests from Russia and Ukraine. Lawyers said one or both could be accepted, or they could be entirely rejected and Ablyazov could ultimately be freed. Human rights groups have urged France to decide against extradition.
Either way, said Ablyazov's 26-year-old daughter Madina, he will continue to oppose the Kazakh government and the family will support him.
"There is absolutely no going back," she said. "It is a matter of principle."
Associated Press