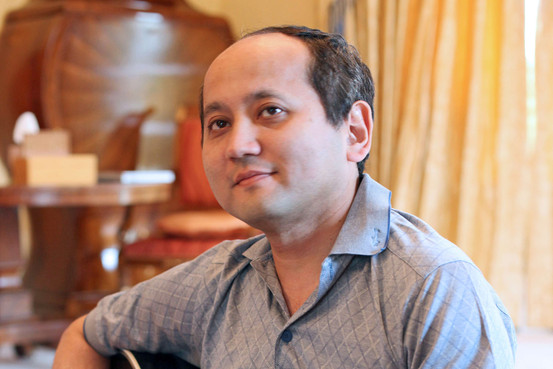 A Ukrainian lawyer named Olena Tyshchenko traveled to the Royal Courts of Justice on the afternoon of July 22 as a bit player in one of the most complex legal dramas ever seen here. When she left the imposing edifice, though, she unwittingly walked into a starring role. Kazakhstan's state-owned BTA Bank had sued its former chairman, Mukhtar Ablyazov, accusing him of embezzlement and fraud on a monumental scale. It had won billions of dollars in damages.
But Mr. Ablyazov, who denied the allegations, hadn't paid. He fled Britain in 2012 when he was about to be sentenced for contempt of court. BTA was desperate to find him.
Outside the court that day, Ms. Tyshchenko hailed a cab. The bank followed her.
Its private detectives trailed her to an office building, then to Heathrow airport. They watched her shop in Terminal 5 and get on a late flight to Nice, France, according to an account provided by the bank to The Wall Street Journal.
In Nice they saw her get chauffeured to her house in the hills above Cannes, switch cars to a gray Land Rover and, around 2:30 a.m., drive south to a villa on the Mediterranean coast. At 3:40 a.m., one of the private eyes spied a figure through a bedroom window, according to the bank's account.
It was Mr. Ablyazov, the man they had been hunting for a year and a half.
They watched him for six more days, then called the French police. Mr. Ablyazov was arrested on July 31 by a squad of gendarmes disguised as gardeners.
Today, Mr. Ablyazov resides in a crowded prison south of Aix-en-Provence, while lawyers and judges debate where he should be sent. To Ukraine, Russia or Kazakhstan, each of which wants him on fraud charges? To the U.K., where he is due to serve a prison sentence and from which he fled? Or nowhere at all?
Behind the wrangling is a more vexing question: Is Mukhtar Ablyazov a hero or a crook?
Mr. Ablyazov, 50, once was a protégé of Nursultan Nazarbayev, Kazakhstan's authoritarian president, trusted enough to be energy minister in a country steeped in oil and gas. Like other members of Kazakhstan's elite, he moved easily between government and business, and he built a fortune—several hundred million dollars, he later said in English court papers.
By his own account, he had a sugar company and TV stations and stakes in an airline, a grain processor and the country's largest producer of salt. In 1998, he and partners bought a bank that would become BTA.
But by 2001, he had fallen out with Mr. Nazarbayev. He helped form a political party that challenged the president's authority. Within months he was jailed on charges of abuse of office and tax evasion, which he denied. Human-rights groups decried the trial.
The president's spokesman declines to discuss any aspect of Mr. Ablyazov's affair. "It is purely a criminal case," he says. "There is not any political motivation."
Mr. Ablyazov's daughter, Madina Ablyazova, then a teenager, visited him in prison in 2002. "I never saw my father that skinny," she recalls. "He looked like he was a child again." He told her of beatings and of a box barely bigger than a coffin he was put into for punishment.
Kazakhstan's justice ministry said in a written statement that Mr. Ablyazov was "tried and convicted in full accordance" with the law and was "well treated" in prison.
Mr. Ablyazov said he agreed to a deal: He would be freed if he renounced politics. He did.
Shortly before Christmas 2004, Mr. Ablyazov's business partner died in a freak wolf-hunting mishap. According to press reports at the time, a shotgun accidentally discharged in a jeep after the partner spotted a wolf in the frigid fields of southern Kazakhstan. Within months, Mr. Ablyazov took control of the bank.
BTA thrived. It had little trouble raising money from Western investors eager for a frontier-market boom. Mr. Ablyazov began dropping roots in England. His wife had moved to London with the couple's children, and eventually Mr. Ablyazov began to spend more time there. A London-based company called Eastbridge Capital Ltd. was handling paperwork and instructions for scores of offshore entities connected to him.
Mr. Ablyazov would later complain repeatedly that the president hadn't forgotten his political past. In 2009, in the wake of the financial crisis, Kazakh regulators forced a recapitalization of the bank. The state sovereign-wealth fund injected money and Mr. Ablyazov was forced out. BTA ultimately became state-owned. The justice ministry denies the move was retaliatory.
Fearing arrest, Mr. Ablyazov fled the country and won political asylum in the U.K. He traveled with bodyguards and lived behind gates.
He broke his vow to stay out of politics. "Practically all opposition leaders visited him in London," says Yevgeniy Zhovtis, a human-rights campaigner in Kazakhstan. "He is one of the key political figures, even up to now."
Mr. Ablyazov's story of being a persecuted dissident on the run, however, is far from straightforward. Soon after he arrived in London in 2009, a battalion of BTA lawyers began pursuing him in English courts. The bank's claim: Mr. Ablyazov took billions of dollars of cash raised by the bank and transferred the money to himself.
"This is one of the largest corporate frauds the world has ever seen," says Chris Hardman of Hogan Lovells, the bank's principal lawyer.
BTA has filed 11 civil claims against Mr. Ablyazov in London, accusing him of a complex fraud with a basic method: He or his associates would instruct BTA to lend money. The money ultimately would end up in a shell company controlled by Mr. Ablyazov. The loan wouldn't be fully paid back.
"He stole billions of dollars from this bank," says Mr. Hardman.
Mr. Ablyazov denies that he misappropriated any funds from BTA. In a witness statement, he said the cause of BTA's downfall was its sudden nationalization, which he alleges was politically motivated. He also disputes control of some of the holding companies the bank says he used to steal assets, and says others were necessary to legitimately protect his assets from President Nazarbayev.
BTA's claims have involved more than a dozen judges, hundreds of hearings and more than 100 lawyers. At nearly every turn, Mr. Ablyazov has lost. So far, the bank has won judgments against him totaling more than $4 billion. Interest is accruing at nearly $1 million per day.
U.K. judges have ruled that he lied under oath and violated a court order freezing his assets. In May, a judge said the bank could seize and sell the $25 million North London mansion—nine bedrooms and a Turkish bath—where Mr. Ablyazov had been living. In November, a High Court judge determined that Mr. Ablyazov was personally responsible for the theft from BTA of a $300 million portfolio of bonds. The judge found that the bonds were passed from the bank to five British Virgin Islands holding companies ultimately owned by Mr. Ablyazov.
Mr. Ablyazov fled the U.K. early last year, days before he was expected to be sentenced to prison for contempt of court. It isn't clear how he slipped away from Britain. His lawyer acknowledges he had a Central African Republic diplomatic passport in the name "Marat Ayan" when he was arrested in France.
Since his flight, judges have forbidden Mr. Ablyazov from continuing his defense unless he surrenders and makes a full disclosure of his assets. They have ruled against him by default on several of the claims.
"It is difficult to imagine a party to commercial litigation who has acted with more cynicism, opportunism and deviousness towards court orders than Mr. Ablyazov," Justice Maurice Kay of the Court of Appeal said in a judgment last year.
In court filings, Mr. Ablyazov has offered various defenses. He denied owning the five British Virgin Islands companies that received the bank's bonds. He said the London mansion, wrapped up in a web of holding companies, belonged to his brother-in-law Syrym Shalabayev, and that he was merely a tenant.
Richard Leedham, Mr. Ablyazov's lawyer at the London firm of Addleshaw Goddard, says his client has had difficulty presenting his case because of "extraordinary pressure" on anyone who might defend him. "He couldn't get witness support, he couldn't get documents to support his view of the case," Mr. Leedham says.
Mr. Ablyazov has appealed to the European Court of Human Rights in Strasbourg, France, saying he didn't get a fair trial. "The U.K. court system failed him," Mr. Leedham says. Human-rights groups have urged France not to deport.
Another of his lawyers, Peter Sahlas, says the Central African Republic passport was issued to Mr. Ablyazov in his capacity as an adviser to the republic's then-president. The assumed name, Mr. Sahlas says, was a safety precaution.
The bank says it uncovered much of its evidence in its own books. BTA's lawyers, led by Mr. Hardman, found other material elsewhere. Bank representatives spotted a van loaded with boxes coming and going from a Big Yellow storage facility in north London used by Salim Shalabayev, another brother-in-law of Mr. Ablyazov, where they later found a cache of Eastbridge's documents, according to court records.
They got a search warrant for a firm managing some of Mr. Ablyazov's companies in Cyprus. That turned up, amid a pile of bills for office supplies and tea, a receipt from a company that scans and shreds documents, the court records show. There, the lawyers found intact a hundred thousand documents on the company's backup tapes.
Mr. Hardman says the tactics were essential given Mr. Ablyazov's evasiveness and the losses borne by BTA's creditors—which the bank was obliged to try to recoup. "You have a very stark choice," he says. "Give up on all of those losses and say it's hard luck, or you have to go after the spider at the center of the web."
The information shed light on how BTA money moved to entities tied to Mr. Ablyazov. For example, according to a High Court judgment earlier this year, between 2006 and 2008 BTA lent $1.4 billion to 17 companies incorporated offshore, which had few assets.
One loan in November 2007 went to AstroGold Corp., a British Virgin Islands company that had been registered less than a year earlier with a single director, a man in Cyprus. Its balance sheet showed assets of $5,000. BTA lent it $45 million, according to the High Court.
Over the next year, the loans to the 17 companies were partly repaid, but mostly were replaced with a new set of loans—$1 billion worth—to still more holding companies, the court said. That money never came back.
The judge, Nigel Teare, concluded that the 17 companies, among them AstroGold, were "owned or controlled by Mr. Ablyazov." The evidence, he said, "strongly suggests" that almost all of them were managed by Eastbridge.
After Mr. Ablyazov fled England, the pressure increased. In May, Italian authorities picked up his wife, Alma Shalabayeva, at a house in Rome where she had been living with their 6-year-old daughter.
According to Mr. Sahlas, the family lawyer, Ms. Shalabayeva says that she and her child were brought to Ciampino airport and led out on the tarmac to a chartered jet, where they were met by Kazakh diplomats.
"We climbed up into the airplane," Ms. Shalabayeva said in a written statement. "Nobody was asking us anything. We were flying out without documents. Practically speaking, they had simply abducted us."
The jet took them to Kazakhstan.
Kazakhstan says Italy authorized the expulsion. Italy initially said it was a deportation. Human-rights groups criticized it as an illegal rendition, and the Italian prime minister later said the affair brought "embarrassment and discredit" to Italy. The government revoked the deportation order. Mother and child remained in Kazakhstan until late December, when authorities permitted them to return to Italy.
Meanwhile, Mr. Ablyazov's associates were being picked up around the world. Ms. Tyshchenko, the Ukranian lawyer who inadvertently led the BTA investigators to him, was detained for several months by authorities in Russia, where BTA has a subsidiary. Her lawyer says she has never worked for Mr. Ablyazov and didn't even know him during the period when she is alleged to have aided him.
Early last month, Mr. Ablyazov was brought from prison to the appeals court in Aix-en-Provence for a hearing on possible extradition to Ukraine, where BTA also has operations. He is a short man, bald on top with dark hair dusted silver. He wore a blue V-neck sweater and stood in the defendant's dock amid a gaggle of lawyers in robes and dark suits.
The judges and lawyers wrangled over whether Ukraine's paperwork amounted to a proper arrest warrant.
The presiding judge asked Mr. Ablyazov if he had anything to say. Speaking animated Russian, he asked the court to hurry up and hear his case.
"You understand that the Kazakh government stole my family," he said.
The matter was postponed, and Mr. Ablyazov was taken back to the prison. According to his lawyer, the guards there call him "the minister," and he spends his days alone in a cell.
His daughter Madina lingered outside the courtroom. If he gets out, she said, he will return to Kazakh politics and challenge President Nazarbayev.
"Give it a year or two, he will be elected," she said. "Either he will become someone important, or he will die."
–Giada Zampano contributed to this article.
Write to Charles Forelle at This email address is being protected from spambots. You need JavaScript enabled to view it.
wsj.com