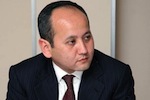 Political upheaval in Ukraine may help Mukhtar Ablyazov, the former fugitive banker at the center of a $6 billion fraud case, fight extradition to the eastern European country. A French court in Aix-en-Provence may decide at a hearing today whether to extradite Ablyazov, 50, to Ukraine, where prosecutors have charged him with perpetrating a $167 million fraud while he was chairman of Almaty, Kazakhstan-based BTA Bank from 2005 to 2009
With thousands of protesters in Kiev decrying President Viktor Yanukovych's decision last month to reject a trade deal with the European Union, the French court may be reluctant to send Ablyazov to a country that may be turning away from the West, said Paul Garlick, a human rights and extradition lawyer in London.
"Everyone realizes that Ukraine is realigning with Russia," Garlick said. "Even if the judges were satisfied that extradition to Ukraine would not violate his human rights, they would also have to be satisfied that under no circumstances would he be re-extradited to Russia or Kazakhstan."

The French court will consider a Russian extradition request separately from the Ukrainian bid at the hearing. Ablyazov has been charged with fraud in both Russia and Kazakhstan. As members of the Council of Europe, a 47-nation group based in Strasbourg, France, Ukraine and Russia have extradition treaties with France. Kazakhstan and Russia have been criticized by Amnesty International and other human rights organizations for repeatedly pursuing politically motivated prosecutions.

Shell Companies

Ablyazov, a long-time critic of Kazakh President Nursultan Nazarbayev, has denied the charges. He's testified in previous hearings in France that Kazakh prosecutors are working with their counterparts in Ukraine and Russia to persecute him because he co-founded a pro-democracy party in Kazakhstan.

The case began when Kazakh regulators found a $10 billion hole in BTA's balance sheet when it was nationalized in 2009. After Ablyazov fled to the U.K., BTA filed 11 lawsuits in London alleging he took $6 billion from the bank and hid the assets in hundreds of offshore shell companies.

Ablyazov left the U.K. in early 2012 and went into hiding after a London court held him in contempt for lying in testimony and moving his assets in violation of a freezing order, sentencing him to 22 months in prison. Later that year, the court ordered him to pay restitution, which now stands at $4.1 billion.

Private detectives hired by BTA found Ablyazov in a villa near Cannes in July 2013 and notified French police, which arrested him on an Interpol warrant issued by Ukraine.

Imprisoned, Tortured

Since then, Ablyazov has contested extradition by arguing that Ukraine would turn him over to Kazakh authorities. As a political dissident, he has said he will not receive a fair trial and may be unlawfully imprisoned or tortured there.

"The moment he is sent to Ukraine, the Kazakh government will seek his transfer," said Bruno Rebstock, Ablyazov's French lawyer. "The Ukrainian political situation should strengthen our case. It shows the unreliability of the government there -- it is not to be trusted."

Guillaume-Denis Faure, a Paris-based attorney representing the Ukrainian government, said Ukrainian prosecutors are intent on trying Ablyazov for fraud he allegedly committed on their soil.

"There is no way Ablyazov will ever be sent to Kazakhstan," Faure says. "He's protected by international conventions on human rights and he faces serious charges in Ukraine."

'A Scoundrel'

French judges will have to consider the political crisis as they deliberate Ablyazov's fate, said Oleg Levytskyi, a Ukrainian human rights lawyer.

"The situation in the country asking for extradition is the central question in the judicial process," said Levytskyi, who is monitoring the Ablyazov case at the Citizens Advice Bureau, a human rights group in Kiev. "This will be a very strong argument for the protection of Mr. Ablyazov."

While Ukraine's political crisis may give the French judges pause, they may find the British court's decisions more persuasive, said Mark Spragg, a fraud and human rights lawyer at Keystone Law in London. "My feeling is that it will have no effect since the U.K. system has decreed that he is a scoundrel."
To contact the reporter on this story: Edward Robinson in London at This email address is being protected from spambots. You need JavaScript enabled to view it.
To contact the editor responsible for this story: Anthony Aarons at This email address is being protected from spambots. You need JavaScript enabled to view it.
bloomberg.com