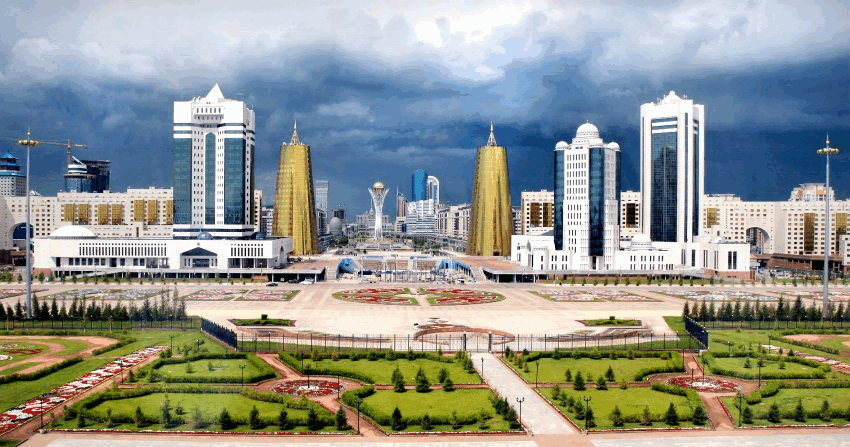 Outside of Central Asia there is very little knowledge of Kazakhstan. Once you begin to explain, some will recognize it as the large darkish red tones that illustrated most geography classrooms around the word. It is somewhere up there, between Russia and Mongolia and China. Business people, however, probably will recognize that it is one of the world's major source of hydrocarbon, uranium and grain.
Others, such as those with a lack of better understanding of how world affairs work, have taken to accept Borat's portrayal of the country from the eponymous 2006 movie as an authoritative source.

This film even aroused interest among foreign tourists wishing to go to Kazakhstan and increased visa applications to the Central Asian nation increased ten-fold since the film's release. In 2012 this fact was admitted even by then-Kazakh Foreign Minister Yerzhan Kazykhanov.
"It was a great triumph for us and I am grateful to Borat for helping to attract tourists to Kazakhstan," Kazykhanov said.
A far cry from the opinion of the country's president, Nursultan Nazarbayev, who according to reliable sources who asked not to be identified, had a fallout with his daughter Dariga, over Borat's interpretation of Kazakh life.
In fact Kazakhstan has absolutely nothing in common with the country and characters in this film. No one scene of the film was shot in Kazakhstan, no actual Kazakh language is heard in the film and the movie's director has never been to the Central Asian republic.
In fact Kazakhstan is the ninth largest country in the world which has very rich and diverse culture influenced by many ethnic groups. Besides Kazakhs over 120 nationalities live in the country including Russians, Ukrainians, Germans, Poles, Uzbeks, Chechens, Koreans, Uyghurs and other. Unfortunately this ethnic diversity is mainly due to the country's troubled history.
In 1930s a devastating famine, caused largely by the imposition of the collectivization of agriculture in the Soviet Union killed a quarter of Kazakhstan's population. Thousands more Kazakhs escaped to China, Iran and other countries.
Meanwhile many European and citizens from the Soviet Caucasus were forcibly resettled in Kazakhstan during World War II because it was feared that they would collaborate with the enemy. Many non-Kazakhs arrived in the country later for the cultivation of wheat and other cereal grains and development of extensive coal, gas, and oil deposits of Central Asia. Moreover millions of people had been interned in collective labor camps spread out over Kazakhstan.
As a result ethnic Kazakhs remained a minority in their titular republic in the Soviet Union time and today make up just a little higher than 60 percent of the country's population.
Nevertheless, Kazakhstan perceives its cultural diversity not as a curse but as an advantage and have adopted measures to make sure that it stays that way.
President Nazarbayev urges the people and the government officials to prevent discrimination on linguistic grounds and to develop multilingualism.
"Trilingualism [knowledge of Kazakh, Russian and Enlish] should be a norm for our society," Nazarbayev said at an educational forum in Astana last week.
Kazakhstan has hundreds of non-Kazakh schools, including Russian, Uzbek, Tajik, Uyghur and other.
National minorities from People's Assembly of Kazakhstan are without fail represented in Kazakh Parliament according to the constitution.
Unlike its neighboring countries Kazakhstan has not had any clashes between national groups and ethnical conflicts in the years of independence.
The religious preferences among the population are also diverse. Besides Islam the population professes Christianity, Judaism, Buddhism and other religions. The country hosted several conferences of world and traditional religions.
"Living side by side with other nations allows us to now different cultures and traditions better. I think it is great," Azamat, a user at Kazakh forum said.
"Multiculturalism, ethnic and religious diversity is not a challenge to society, but a huge advantage. The tolerance becomes a key factor for growth and innovative economy development in the 21st century. We can not ignore the fact that ethno-cultural diverse courtiers are those which achieved the greatest success in the past 30 years," Kazakh president said at the Congress of leaders of world and traditional religions in May 2012 in Astana.
Officials and experts in the region and all over the world assess Kazakhstan as the most prosperous, stable and developed country of the region. The country's natural resources surely contribute to such a well-being. Meanwhile the country's ethnic, religious and cultural diversity and tolerance to this diversity undoubtedly plays not the least part.
www.azernews.az