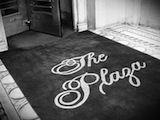 The brother of Kazakhstan president Nursultan Nazarbayev has accused his ex-wife of secretly listing herself as a co-owner on the deed for his $20 million apartment at the Plaza, at 768 Fifth Avenue, and then improperly seizing the flashy residence.
Bolat Nazarbayev filed papers in Manhattan Supreme Court alleging that his former wife, Maira Nazarbayeva, had listed herself as a co-owner of the plush 4,000-square-foot pad without his knowledge.
Nazarbayeva then went and sold the apartment for $1 to her son, the suit says.
The suit also claims that Nazarbayeva "purchased a very large quantity of jewelry from Jacob & Co., for a total value of about $75 million, all of which we believe was purchased with Nazarbayev's money," according to the court papers seen by the New York Daily News.
Nazarbayeva denied any wrongdoing when testifying in court, according to the News.
A copy of the couple's divorce decree seen by the newspaper shows that Nazarbayev was married to two other women at the time the divorce was granted.
therealdeal.com