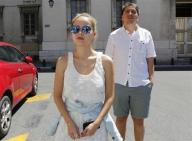 The Swiss authorities are interrogating the extended family of Mukhtar Ablyazov, a Kazakh oligarch arrested last week in France on fraud charges after 18 months on the run, and have effectively frozen some assets, a prosecutor said. A Swiss prosecutor said Kazakhstan had accused Swiss-based Viktor Khrapunov, a former Kazakh government minister, mayor and father-in-law of Ablyazov's eldest daughter Madina - along with his wife Leila - of using public money for property investments.
The latest investigation into the family of Ablyazov, who is accused of embezzling $6 billion by his former Kazakh bank BTA in English courts, comes as the 50-year-old billionaire dissident is held in France facing extradition to Ukraine or Russia.
Ablyazov has long denied fraud charges, arguing that Kazakh strongman President Nursultan Nazarbayev wants to eliminate him as a political opponent and rob him of his assets.
He fled Kazakhstan in 2009 after BTA was seized by the sovereign wealth fund and declared insolvent, saying his life was in danger, and was granted political asylum in Britain in 2011. BTA launched 11 fraud claims against him in England while Kazakhstan, Russia and Ukraine also brought charges against him.
Geneva-based prosecutor Jean-Bernard Schmid, who is leading the Swiss investigation, told Reuters that Kazakhstan had requested judicial help last year, but that Khrapunov and his wife vehemently denied the allegations.
French-based lawyers for Ablyazov and a spokeswoman for the Khrapunov family were not immediately available for comment.
"I am interrogating the family, examining the different pieces and listening to their arguments," Schmid said.
"If the money that came from Kazakhstan was earned illegally then we can consider that money laundering. The investigation is partly about identifying bank accounts and making sure the money doesn't disappear," he said.
Schmid, who conceded there was a connection between this investigation and the arrest of Ablyazov in France, said "restrictions" had now been placed on the Khrapunov family's funds following allegations about a very large amount of money.
Swiss magazine Bilanz last year listed Khrapunov among Switzerland's 300 richest people with a fortune of 300 to 400 million Swiss francs ($324 million to $432 million) - although Khrapunov called this figure "highly exaggerated" in a later interview with Swiss paper Tages Anzeiger.
Khrapunov's son Ilyas is a Geneva-based real estate developer married to Abylazov's daughter Madina. Ablyazov's wife and six-year-old daughter were expelled from Italy in May after police, under pressure from the Kazakh embassy, sought to arrest and deport her husband. The Italian government later revoked its expulsion order saying it had been abnormal.
($1 = 0.9249 Swiss francs)
(additional reporting by Mariya Gordeyeva in Almaty and Kirstin Ridley in London; editing by David Evans)
GENEVA/ZURICH (Reuters)