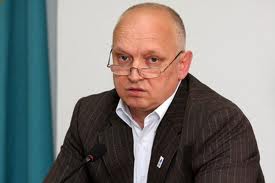 Kazakhstan's Supreme Court has denied jailed opposition leader Vladimir Kozlov a review of his controversial trial and imprisonment, a case widely condemned as legally flawed and politically motivated.
Kozlov was jailed in October 2012 for seven and a half years on charges of seeking to overthrow the administration of President Nursultan Nazarbayev and stoking fatal unrest in the town of Zhanaozen in December 2011, which left 15 dead when security forces fired on unarmed protestors.
"The circus is over, the judges have pronounced their decision – there are no grounds for opening a supervisory review," Kozlov's wife Aliya Turusbekova wrote on her Facebook page after the Supreme Court ruling on August 5, which effectively put an end to Kozlov's legal battle. Kozlov has argued that he only engaged in legitimate political opposition and is a scapegoat for the Zhanaozen violence, while Astana rejects claims of political motivation in his case.
Kozlov's appeal against his conviction was turned down last November. Today's Supreme Court decision rejected his motion to open a supervisory review, which would have examined the legal rulings handed down in the case to see if he got a fair trial. Independent monitors from US-based organizations such as the National Democratic Institute (NDI) and Freedom House found violations of due process during the trial to be rife, leading NDI to compare proceedings to a "Stalin-era political trial."
Kozlov's conviction sparked an outcry among international human rights campaigners, and an expression of "concern" from the US embassy in Kazakhstan at "the apparent use of the criminal system to silence opposition voices."
The Supreme Court ruling came days after a Kozlov associate and political rival of Nazarbayev's, oligarch Mukhtar Ablyazov, was captured in Europe. Ablyazov – whom Astana has accused of bankrolling the Zhanaozen unrest – is now in jail in France awaiting the results of an extradition bid lodged by Kiev. He is wanted in several countries (including Kazakhstan, Russia and Ukraine) for financial crimes. Last year he fled the United Kingdom, where he has political asylum, after a judge ordered him jailed for concealing his assets.
Eurasianet.Org