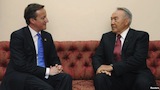 It should be both easy and timely for Cameron to publicly raise concern about human rights abuses and the imprisoned opposition leader at the highest levels
Prime Minister David Cameron's two-day visit to Kazakhstan this weekend happens to overlap with a Supreme Court hearing concerning the conviction of a prominent opposition leader in a seriously flawed and politically motivated trial. It should be both easy and timely for Cameron to publicly raise concern about the imprisoned opposition leader, Vladimir Kozlov, at the highest levels. But will he?
The UK government has called Kazakhstan "one of about two dozen global emerging powers" and has made no secret about the importance it places on a bilateral relationship, especially concerning energy, trade and security. Kazakhstan has a wealth of natural resources – it is amongst the 20 largest oil producers in the world – and steady economic growth. Along with needing its help in the drawdown of troops from Afghanistan next year, it's no wonder such issues are at the top of Cameron's agenda.
Mr Cameron follows of course in famous footsteps when he lands in Kazakhstan. Tony Blair has been a highly paid advisor for the last two years to the government of Nursultan Nazarbayev, the country's long-serving president. During this time Mr Blair has addressed many challenges facing Kazakhstan, but has not spoken out critically on the serious human rights concerns there.
Mr Cameron should do things differently. It is precisely because Kazakhstan stands out in the region for its energy and trade potential that the United Kingdom should take an approach firmly rooted in human rights in framing the relationship between these two countries as they grow closer.
Kazakhstan has long restricted key civil and political rights, including freedom of assembly, expression and religion. Then in December 2011 violence rocked the western part of the country after extended strikes by oil workers. Police opened fire on strikers and others, killing over a dozen people. The labour disputes also involved a multitude of rights violations by authorities and companies alike.
In the year and a half since, the government has targeted labour activists, the media and a political opposition group, accusing them of instigation of or involvement in the violence. There have been credible allegations of ill-treatment and torture by people detained in the aftermath of the violence.
Kozlov, the leader of a political opposition group, was among those caught up in this net. In October 2012 – following a trial that raised serious due process issues – he was sentenced to seven and a half years in prison on overbroad and vague charges of "inciting social discord."
The government denies it, but the crackdown on critical voices continues. In late March, authorities arrested Aleksandr Kharlamov, a journalist from northeast Kazakhstan, on the same nebulous charge used against Kozlov. Authorities alleged that Kharlamov "incited religious discord" in his writings on religion and placed him under forced psychiatric observation – cut off from his lawyer and family. After approximately one month, he was found to be sane, so his case will soon go to court.
In May, authorities in Astana jailed two activists and a journalist for violating a restrictive public assembly law.
While the government has acknowledged some missteps during the December 2011 violence, it has yet to address the underlying causes of the oil strikes – such as burdensome collective bargaining requirements and the broad ban on strikes in certain sectors of the economy. It has also yet to hold law enforcement officers accountable for ill-treatment and torture in the aftermath of the violence. Two of the most outspoken oil workers, Rosa Tuletaeva and Maksat Dosmagambetov, languish in prison, allegedly for organising the December unrest.
International concern has been growing about Kazakhstan's deteriorating rights record. Indeed, in its annual Human Rights and Democracy Report, released in April, the UK government itself noted concern about restrictions on freedom of expression and religion.
The same month, the European Parliament issued an urgent resolution on the deteriorating human rights situation in Kazakhstan, just months after another strongly critical resolution urging the European Union to link any enhanced relations with Kazakhstan to human rights improvements.
During her visit to Kazakhstan last July, the UN high commissioner for human rights, Navi Pillay, issued a highly critical statement. And the OSCE representative on freedom of the media, Dunja Mijatović, during a November visit, noted the need for media reform. Following Kozlov's conviction in October, both EU High Representative Catherine Ashton and the United States expressed concern over the apparently politically motivated nature of his case.
So Prime Minister Cameron's visit is a real opportunity to treat Kazakhstan as the 'emerging power' the UK government claims the country to be. He should raise concern – both publicly and privately -- about Kazakhstan's failure to live up to its human rights commitments under international law. Kazakhstan, a member of the UN Human Rights Council and recent chair of the Organization for Security and Cooperation in Europe, should be able to handle the criticism.
The Independent