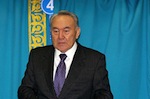 Ten years ago, Mukhtar Ablyazov stepped out of Kazakhstan's notorious Derzhavinsk prison with a pledge to give up politics. Ablyazov, a "wild '90s" oligarch and rising force in Kazakhstan's nascent opposition, had served just 10 months of a six-year sentence for illegal financial deals. But it had been enough. During his time in prison he had reportedly been beaten, placed in isolation, and denied access to his lawyers.
When President Nursultan Nazarbaev, his one-time political mentor, offered a pardon, Ablyazov accepted -- agreeing to give up his political ambitions in exchange for freedom and a quiet return to business.
That promise, however, was short-lived.
In the past decade, Ablyazov has spent millions of dollars funding opposition groups and independent media -- all with the aim of taking down Nazarbaev, the man who once shepherded him up the ladder of the political elite as one of the bright young stars behind Kazakhstan's post-Soviet economic explosion.
Nazarbaev, in turn, has spared no expense in trying to ruin the rival he once set free. He seized Ablyazov's BTA Bank, prompting Ablyazov to flee abroad. He accused Ablyazov of embezzling $6 billion and spent hundreds of thousands of dollars attempting to prove it in a British court.
Finally, last week, he appeared to raise the stakes even higher, when Italian police seized Ablyazov's wife and 6-year-old daughter, deporting them to Almaty to effectively serve as political hostages.
"They don't want him to return, they just want to have him," says Ablyazov's eldest daughter, Madina, speaking from Switzerland. "I want to underline that. They want to have him. Not as a hostage. Probably, the minute they have him, they will just kill him. They want to kill him, because my father is the biggest opponent for the president."
'Betrayed Twice'
It's a turn of events that seemed unimaginable in 1998 when Ablyazov, a native of southern Kazakhstan with a degree in theoretical physics, was appointed to the coveted post of minister for energy, industry, and trade.
Together with other up-and-coming politicians, such as Pavlodar Governor Galymzhan Zhakiyanov and Information Minister Altynbek Sarsenbaev, Ablyazov was part of a younger generation that Nazarbaev, 20 years their senior, hoped to harness as he pushed his resource-rich nation into the 21st century.
​​
But within years, Ablyazov and the others had broken ranks, citing disenchantment with endemic corruption in Nazarbaev's inner circle. Launching a pro-reform opposition movement, they quickly drew the wrath of the regime.
Zhakiyanov, like Ablyazov, was jailed. (Unlike Ablyazov, he refused a pardon.) Sarsenbaev, who went on to lead the Ak Zhol opposition party, was assassinated in 2006.
Yevgeny Zhovtis, the head of the Kazakhstan International Bureau for Human Rights and Rule of Law, suggests Nazarbaev's crackdown on his former proteges was personal from the start.
"Nazarbaev to a certain extent felt betrayed," he says. "Because he thinks that he provided them the space to become wealthy, to become well-known, to make a career in state service or in business, and they challenged him. When he pardoned Ablyazov in 2003 and allowed him to return to business in exchange for a promise not to be involved in politics and then found out that he was again involved in politics, of course Nazarbaev felt betrayed twice."
Ties To Zhanaozen
Nazarbaev, 72, has felt betrayed many times over the course of his more than two decades in power. There are dozens of former high-ranking Kazakh officials who have fled abroad after falling out of favor -- including Nazarbaev's former son-in-law Rakhat Aliev and onetime Prime Minister Akezhan Kazhegeldin.
Many are assumed to be biding their time, waiting until the aging Kazakh leader dies or steps down before returning to Kazakhstan to jockey for position in a post-Nazarbaev government.
Ablyazov, for one, has made no secret of his political ambitions, suggesting he will stand for president once Nazarbaev is gone. But even in exile he has used his ties to the opposition to cast a critical eye on the "Kazakh leader of the nation," as Nazarbaev is known.
​​The most notable example came in 2011 when privately-funded media outlets with ties to Ablyazov -- including broadcaster K+ and the "Vzglyad" and "Golos Respubliki" newspapers -- gave full-scale coverage to the bloody police crackdown on striking oil workers in the western city of Zhanaozen.
The following year, Kazakh courts ordered the closure of the media outlets, branding them "extremist." The opposition Algha party, led by Ablyazov ally Vladimir Kozlov, was shut down as well, with Kozlov sentenced to a lengthy jail term in a trial criticized by rights groups as profoundly biased.
"Kozlov was convicted in October and in December we saw the very brisk closure of opposition and independent media outlets, and of the unregistered Algha Party," says Mihra Rittmann, a Central Asia researcher with Human Rights Watch. "To the extent that his name appeared in the case against Kozlov, Ablyazov is implicated in what happened in Zhanaozen as being the mastermind behind it, allegedly. Ablyazov is an outspoken critic of the Nazarbaev government, so there's no doubt that that's part of the motivation."
Life Underground
Ablyazov, meanwhile, had his own motivation for continuing his battle with Nazarbaev: the Kazakh president-for-life had made him a fugitive.
Ablyazov and his family had lived sumptuously in London after fleeing Kazakhstan in 2009. His properties included a nine-bedroom mansion in a neighborhood known as "billionaire's row" and a 40-acre country estate complete with polo facilities and trout lakes.

​​
But the four-year BTA Bank trial -- which included testimony from defense witness Ruslan Tsarni, the man who would return to headlines three years later as the uncle of the alleged Boston Marathon bombers -- brought an end to his lavish life in England.
Britain had granted Ablyazov political asylum in 2011, acknowledging that he faced certain political persecution at home. Nonetheless, a year later, he fled England, ostensibly to avoid a jail sentence for failing to provide information about his financial assets. Last month the High Court in London ruled that BTA Bank was free to liquidate Ablyazov's assets in order to repay its creditors.
Lawyers for Ablyazov say he left England after receiving a death threat. They also argue that Ablyazov did not embezzle the $6 billion claimed by the Kazakh government, but restructured the bank's holdings in order to protect them from precisely the kind of government takeover that took place in 2009.
'Masked Extradition'
Ablyazov's whereabouts have been the source of intense speculation for more than a year. But his lawyers believe it was he, and not his wife, whom Italian forces hoped to detain when storming the villa outside Rome last week.
Italian police officials have defended the May 29 nighttime raid and subsequent deportation, accusing Ablyazov's wife, Alma Shalabaeva, and their 6-year-old daughter, Alua, of carrying falsified documents.
Ablyazov's lawer, Riccardo Olivo, has dismissed the charges, saying Shalabaeva and her daughter were carrying valid Kazakh passports and EU residency permits issued by Latvia.
Olivio has also noted that the rapid-fire expulsion of mother and daughter -- who were whisked out of Rome within 72 hours on a chartered jet, accompanied by the Kazakh consul, while lawyers were still scrambling to inspect the deportation order -- raised suspicions that Italian and Kazakh authorities had colluded on the deal.
"A person could get arrested committing a violent crime in broad daylight and get better due process than they did," says a lawyer close to the family.
Shalabaeva now faces potential criminal charges in Kazakhstan for using fake documents, and has been forbidden from leaving Almaty.
Lawyers say Shalabaeva, 47, has no forged documents, and are calling her expulsion from Italy a "masked extradition."
Conflicting Interests
Italian Interior Minister Angelino Alfano has been asked to explain the deportation, which reportedly involved 50 members of the Digos police intelligence wing. Italy's Justice Ministry has said it was unaware of the operation until after the fact; Foreign Minister Emma Bonino has criticized the incident as "abnormal."
Ablyazov has used even stronger language on Facebook, where he has launched a voluble campaign accusing Nazarbaev of ordering his wife's "kidnapping" and switching from "political repression to outright terrorist tactics."
Lawyers say the family -- including Madina Ablyazova, 25, who lives in Switzerland with her 12-year old brother, and an older brother based in London -- is looking to launch a legal challenge to the deportation.
It is uncertain what impact the latest twist in the Ablyazov saga will have on Nazarbaev, whose global appeal as leader of a resource-rich nation has remained largely unaffected by a chronically abysmal performance on human rights.
Kazakhstan became the first Central Asian country to chair the Organization for Security and Cooperation In Europe in 2010; it was elected to the UN Human Rights Council in 2012, the same year as the mass trials jailing Kozlov and the shuttering of the media in the wake of Zhanaozen.
Ablyazov supporters have suggested that Italy and Britain, both massive investors in Kazakh energy projects, are far from neutral parties to the conflict. (Former British Prime Minister Tony Blair raised howls of protest last year when he accepted $13 million to serve as Nazarbaev's adviser, a move hotly criticized by "Respublika" months before its closure.)
Nonetheless, it remains evident that Nazarbaev has so far been unable to buy himself peace from powerful detractors like Ablyazov, who has been likened to Russian oligarchs-turned-opponents like Mikhail Khodorkovsky and Boris Berezovsky. With this latest move, observers say, Nazarbaev has demonstrated that he is prepared to go to extraordinary lengths to silence his critics.
"He's got a number of opponents and rivals outside of the country," says Zhovtis. "But among them, Ablyazov was the most consistent and making the most organizational efforts to challenge the regime and Nazarbaev personally. I think all these things together made Nazarbaev very irritated and very angry -- feeling that somebody was still challenging him, even in exile."

Radio Free Europe/Radio Liberty