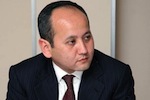 The wife and daughter of a fugitive Kazakh businessman have been deported from Italy back to Kazakhstan. Mukhtar Ablyazov accused Kazakh President Nursultan Nazarbaev of kidnapping his family members.
Reports say Alma Shalabayeva was deported for holding a fake passport.
Her lawyer told Reuters Shalabayeva did not have a proper visa, but argued sending her back to Kazakhstan would put her life in danger.
Ablyazov fled Kazakhstan when his bank, BTA, was nationalized and declared insolvent in 2009.
In 2011, he was granted asylum in Britain.
BTA has brought fraud charges against Ablyazov and his allies.
Accused of embezzling $6 billion, he has been in hiding since last year when he fled Britain after missing a contempt of court hearing at which he was due to be jailed for 22 months.
Based on reporting by RFE/RL and Reuters
Radio Free Europe/Radio Liberty