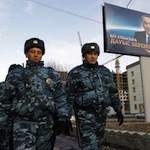 The "Church of Silence" is still a reality in this former Soviet country, where faithful still face repression. From Stalin's gulags to censored books. "Religious freedom is non-existent" in Kazakhstan, international organisations complain, as the persecution of religious minorities intensifies. Members of religious communities and human rights defenders have said there is no freedom of faith in the country.
The former Soviet republic is incredibly rich in natural resources (notably oil) and countries such as Italy have major economic interests in the energy sector. In recent years, the U.S. has built huge military bases here, to supply arms and and equipment to their missions in Afghanistan. In Kazakh libraries and universities, all religious literature that is imported or printed in the country, is checked by state inspectors, AsiaNews reports.
In recent days, Kazakhstan's Agency for Religious Affairs (ARA) checked a number of texts held at the National library in Almaty. The inspection, which director Gulisa Blabekova described as routine practice, is one of a series of checks that are mandatory under the new criminal code. Just a few days ago, President Nursultan Nazerbayev stated that "religious freedom is guaranteed" in Kazakhstan. Nonetheless, the number of cases of minorities being persecuted has risen since the beginning of 2013. The new criminal code proposed at the start of the year has imposed even stricter limits on religious groups, introducing tighter controls on the possession of religious texts and prohibiting people from openly talking about their faith. Sergei Duranov, an independent Kazakh journalist, told Forum 18 that promoting atheism in Kazakhstan has become dangerous. This became evident in a recent case involving a man who was arrested in the East of the country for inciting contempt for religions.
The religious groups that have been affected the most by the government's new policies are the Islamic groups, the Baptists and Jehovah's Witnesses; the latter have fallen victim to a number of sanctions since the start of 2013, says the international agency Asia News, of the Pontifical Institute for Foreign Missions. Duranov reported that "in Kazakhstan, people are not free to preach or promote their faith; freedom of speech does not extend to the religious sphere." Kazakhstan, which has been led by president Nursultan Nazarbayev (elected with a 95% majority vote in April 2011) since 1989, has been seen as an example to follow, both for the path it has taken towards achieving a democracy and for the progress made in the fields of human rights and religious pluralism.
As the ACS report on religious freedom states, the government has shown an increased willingness to reinforce state control over religious activities. The approval of two new laws imposing serious legal restrictions on religious freedom was a step in this direction. Nazarbayev passed these laws on 13 October 2011. They are aimed nationalising religious communities, following China's model for controlling religion. The Russian Orthodox Church and the Kazakh Islamic community are exempt from these restrictions as they are considered to be part of the country's tradition. To survive in Kazakhstan and avoid sanctions, non-traditional religious groups have to prove they have at least 5,000 members. "The new laws on the registration and control of religious communities put the Catholic Church at risk; they place restrictions on visas held by foreign religious leaders and as many as 50% of Catholic priests and bishops come from other countries," said Fr. Edoardo Canetta, an Italian missionary and university professor who has been living in Kazakhstan for 11 years.
The new religious freedom laws have wiped out 579 Protestant communities, Islamic sects, groups and faith communities that have less than 50 registered members. According to Kairat Lama Sharif, chairman of Kazakhstan's Agency for Religious Affairs, the number of religious groups has dropped by 13% since 21 October, the date the law came into effect. Many Protestant communities, including Christian Baptists and Seventh-Day Adventists, will be forced to worship in private homes and under strict state control. The Kazakh government has sent a letter to all communities, inviting them to comply with the news regulations or else cease their activity. Religious groups have been given one year to get member numbers up to the necessary minimum required for registration. But for 12 months, no faith with less than 50 members can celebrate publicly, even if they have complied with all previous laws.
vaticaninsider.lastampa.it