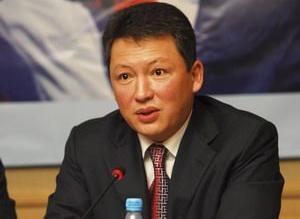 (SRI) - Head of the state-owned holding and investment company Samruk-Kazyna Timur Kulibayev reiterated on Wednesday that he has no intentions to enter politics, the Kazakhstan-Novosti news agency reported.
In July, presidential advisor Yermukhamet Yertysbayev told Russian business daily Kommersant that Kulibayev, who is also son-in-law of President Nursultan Nazarbayev, could succeed his father-in-law as President of Kazakhstan.
"Nursultan Nazarbayev has just been reelected president of Kazakhstan, and the [succession] issue has been resolved for the coming years," Kulibayev said at a news conference in Astana. "What concerns me personally, I was never engaged in politics and I do not belong in any political party. [...] I feel comfortable in business, and I want to make my mark in business."
Kulibayev is widely seen as one of the most influential businessman in Kazakhstan. As the CEO of Samruk-Kazyna, he oversees state-companies accounting for more than half of the country's GDP. Moreover, his personal net worth, consolidated in various businesses stretching from oil and gas to banking, was estimated by the Forbes magazine at $1.3 billion in 2011, making him one of Kazakhstan's richest men.
www.silkroadintelligencer.com