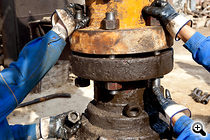 Mangistau, an oil-rich region on the Caspian Sea, is sometimes described as the motor of Kazakhstan's vibrant economy. These days, it is also a hotbed of social tension.
Labor unrest involving state-owned energy companies has been simmering for months in the region, lowering the country's oil output and hurting its investment image. The dispute revolves around workers' pay and benefits. Strikes by as many as 15,000 workers began in May, targeting two state-affiliated entities -- KarazhanbasMunai, a Kazakh-Chinese joint venture based in the port city of Aktau, and UzenMunaiGaz, a subsidiary of the state-run oil & gas conglomerate KazMunaiGaz in nearby Zhanaozen. KazMunaiGaz is operated by the Samruk-Kazyna State Welfare Fund, which is chaired by Timur Kulibayev, President Nursultan Nazarbayev's billionaire son-in-law.
Managers at both companies claim they pay salaries that are well above average, and have embraced an aggressive approach in dealing with the strikers. Between May and August, KarazhanbasMunai and UzenMunaiGaz fired close to 500 people for absenteeism. The threat of retribution prompted many disgruntled employees to return to work: the number of strikers is now reportedly 1,500. Tension remains high, however, fueled in part by the death of a striker in early August under suspicious circumstances.
The companies also appear to benefiting from the tacit support of the government. This impression was underscored by a court case in Aktau that resulted in the August 6 sentencing of Natalia Sokolova and Akzhanat Aminov, a lawyer representing strikers and a community organizer, to lengthy prison terms for "inciting social discord." Human Rights Watch characterized the cases as politically motivated. In response to Sokolova's six-year sentence, several hundred members of the pro-Nazarbayev Nur Otan party suspended their membership; other activists have been arrested.
Ainur Kurmanov, deputy chairman of Zhanartu, an unofficial labor union that represents strikers, told EurasiaNet.org that the protests could easily have been prevented. "A simple labor dispute has transformed into a political conflict," he explained, because employers insisted on only negotiating with workers friendly to the management.
Efforts to address workers' complaints are hampered by the unwillingness of state oil companies to recognize informal labor unions, said Mukhtar Umbetov, chairman of the non-governmental organization Aktau -- an association of independent labor unions. Both Aktau and Zhanartu are legal entities, but they are not recognized by state oil companies. Umbetov said that the official Federation of Labor Unions of Kazakhstan often follows the government line and is therefore not trusted by strikers.
"There is no formal negotiation process," Umbetov told EurasiaNet.org. "These protests show that we need major reforms in labor legislation."
It is not just dissatisfaction with wages and difficult working conditions that is driving the strikes. Resentment is also a factor. According to Aizhangul Amirzhanova, a representative of People's Front, another labor movement in Mangistau, workers in outlying regions feel excluded from the economic prosperity experienced in the far-away cities of Almaty and Astana. "Workers in Mangistau produce close to 70 percent of the country's oil output, but they live and work in difficult conditions. Many households lack basic services," Amirzhanova told EurasiaNet.org.
The strikes have attracted international attention. In early July, British pop star Sting cancelled a high-profile concert in Astana at the urging of Amnesty International, which cited the labor unrest. In late July, seven member of the European Parliament called on authorities to address strikers' demands. Kazakh authorities have dismissed international criticism, calling the disturbances a sovereign affair.
Major foreign investors, including Arcelor Mittal and the consortiums that operate the Kashagan and Karachaganak energy deposits, declined requests for comment. But a London-based industry analyst acquainted with the thinking of foreign corporations said they are worried the strikes may hurt their operations.
The economic costs of the labor unrest are starting to get Astana's attention. In early August, KazMunaiGaz said that the strikes had caused a 6 percent drop in the company's oil output. During his recent visit to Aktau, Parliament Speaker Kairat Mami reportedly acknowledged that local officials and managers at state enterprises shared blame.
Some Kazakh opposition politicians have visited Zhanaozen and Aktau in an attempt to harness the economic discontent and channel it in a political direction. But with authorities blocking credible reporting from appearing in the Kazakh press, the strikers have found it difficult to convey their message to workers in other economic sectors. As a result, labor unrest has remained confined largely to the Mangistau Region. A late-July poll by the Astana-based Institute of Political Solutions found more than half Kazakhstan's population is either indifferent or opposes the protests, while 27 percent of respondents expressed support for the strikers. To make sure the labor unrest remains contained, government media outlets in recent weeks have been carrying reports discrediting the strikers.
Though nettlesome for the government, the strikes are unlikely to pose a serious political problem for Nazarbayev's administration, according to Edward Schatz, an expert on Kazakh politics at the University of Toronto. "We know from many earlier episodes that the regime is adept at buying off key opponents, crushing intransigents, and finding fall guys," he said.
Editor's note: Alisher Khamidov is a freelance writer specializing in Central Asian affairs.
Photo: David Trilling
www.eurasianet.org