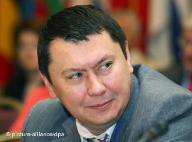 Rakhat Aliyev, the scandal-prone former son-in-law of Kazakhstani President Nursultan Nazarbayev, has stirred up trouble in his homeland and in Europe. Now, he's tried to make waves in Washington. But he's found that a spin war in the United States can quickly turn into a quagmire.
Aliyev, who was divorced from Nazarbayev's eldest daughter, Dariga, in 2007, recently alleged that Nazarbayev's government, through its lobbying efforts in Washington, has secretly – and illegally – funneled money to members of the US Congress. The good-government group Project On Government Oversight on June 2 wrote a letter to US Attorney General Eric Holder asking him to investigate the claims. The most damaging piece of evidence is a letter allegedly written by the ambassador of Kazakhstan to Washington, Erlan Idrissov, to Nazarbayev describing a "Friends of Kazakhstan" group of members of Congress and their staffers.
"The Embassy of the [Republic of Kazakhstan] is financing them through contributions into their funds from a special foreign currency fund allocated by You," the letter states. Kazakhstani officials have called the letter a forgery, but POGO says the allegations are serious enough to warrant an investigation.
"Although serious questions have been raised about the authenticity of the letter and the credibility and motives of the person who obtained it, we believe there is sufficient circumstantial evidence to warrant an independent and official investigation, and we urge you to conduct such an investigation," POGO wrote in its letter to Holder.
Not long after the allegations about Astana's influence-peddling in Washington surfaced, a bodyguard to a former prime minister of Kazakhstan turned up in the US capital to remind American politicians and pundits that Aliyev is an alleged torturer.
Petr Afanassenko, who was the bodyguard of Akezhan Kazhegeldin, was imprisoned in 2000 and sentenced to a three-and-a-half year term on charges that were widely believed to be politically motivated. He was tortured during his incarceration, he says, but was released early and now lives in asylum in Belgium. Aliyev, who lives in asylum in Austria, is now facing criminal charges in a Vienna court for allegedly torturing Afanassenko and another bodyguard of Kazhegeldein's.
When Aliyev allegedly turned the screws on Afanassenko, he was still in Nazarbayev's good graces. Now, Aliyev is perhaps Public Enemy #1 in Astana.
Afanassenko, in an interview with EurasiaNet, said he fears Aliyev has powerful friends in the Austrian government who might interfere with his case. So he is seeking support from a variety of sources in Washington. During a two-day visit in early June, he met with several journalists as well as human rights groups, State Department officials and congressional staffers.
His tour had three goals, he says: to raise awareness that torture happens in Kazakhstan, to ensure that his case against Aliyev might deter torture in Kazakhstan in the future, and to expose what he calls Aliyev's hypocrisy. "He says he is a human rights campaigner, he says all the right things, but it is all fake," he said.
The world of Kazakhstan's opposition in exile is a murky one, with frequently unclear motives and sources of funding. Afanassenko's trip was organized by the International Eurasian Institute for Economic and Political Research, run by Rinat Akhmetshin, a veteran Washington consultant/lobbyist who for several years served as the Washington representative of Kazhegeldin. Afanassenko said his tour was funded by "friends," including Akhmetshin.
Akhmetshin, in an interview with EurasiaNet.org, said whatever funds he spent on Afanassenko's trip were "personal," but that he has not done any work for Kazhegeldin or anything else Kazakhstan-related for "four or five years." Akhmetshin said that his previous activities lobbying for the Kazakhstan opposition did some good – including helping get US officials to pressure Astana to release Afanassenko. But he said now there is "no money" from Kazakhstan's opposition. "Right now, unfortunately, the Kazakhstan government has a monopoly on the story" in Washington, he said.
Editor's note: Joshua Kucera is a Washington, DC,-based freelance writer who specializes in security issues in Central Asia, the Caucasus and the Middle East. He is the author of EurasiaNet's Bug Pit blog.
EurasiaNet.org