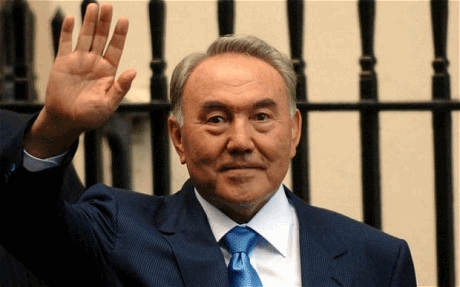 Pro-democracy protesters have been seized in Kazakhstan, as a campaign to keep Nursultan Nazarbayev, the president, in power for another decade without elections claimed the support of more than half the country's voters.
Inga Imanbayeva, the 21-year-old leader of the protests, was held in detention for three hours along with five other activists, and faces possible charges for her role in the meeting outside the headquarters of the Nur Otan party, the only party to hold seats in parliament.
"We wanted to make an event called the 'burial of democracy'," Ms Imanbayeva said from police custody. "Because without elections, and without an alternative leader for 10 years, we believe that it's the end for democracy." The protest came as success seemed more likely for those campaigning for a referendum to keep the president in power until 2020, despite a decree last week from Mr Nazarbayev himself rejecting the idea.
"I spoke to the president, and the president wants elections," Yermukhamet Yertysbayev, one of Mr Nazarbayev's closest advisers, told the Daily Telegraph. "But so many people from businesses, and state bodies and ministries, they all want him to stay for another ten years, and already 4m signatures have been collected. That's why, most likely, the referendum will happen, and the president will have to agree." Erlan Sydykov, the university rector leading the petition, today delivered more than 4.3m signatures to the country's election commission, far beyond the 200,000 required to trigger a national referendum.
Kazakhstan's upper and lower houses of Parliament plan to hold a joint meeting on Friday, where it is expected they will vote in support of the referendum. If more than 80 per cent of members of parliament vote in favour of the referendum, it can go ahead even without the president's overt support.
Aside from today's protest, and another smaller protest on January 8 in the Northern city of Uralsk, domestic opposition to the referendum process, which was launched at the end of December, has been largely muted.
www.telegraph.co.uk