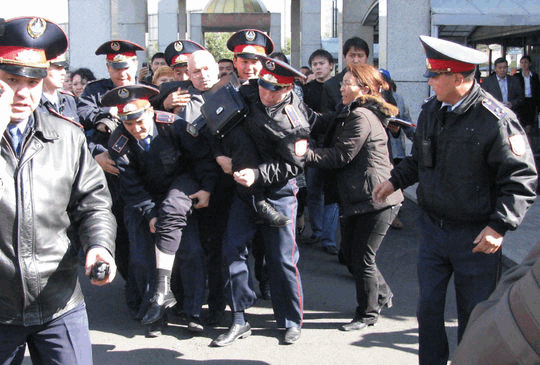 Kazakhstan's presidential race is off to an early start: following last month's announcement that incumbent President Nursultan Nazarbayev plans a re-election bid in 2012 [5], an opposition leader has now thrown his hat into the ring [6].
It's over two years before the next presidential election is due, but Vladimir Kozlov, leader of the unregistered Alga! DVK party [7], has declared himself ready to stand against Nazarbayev in December 2012.
A staunch, outspoken opponent of the president, Kozlov isn't daunted by the challenge of trying to unseat Nazarbayev, who is firmly entrenched in power after two decades at Kazakhstan's helm.
Kozlov says he wants to change a political system that allows one person to stay in power unrivalled for so long. "I'm going to put my candidacy forward for the next presidential elections, but not because I want presidential power," he told the Golos Respubliki newspaper. "I believe it necessary to change the system, in order to guarantee that the necessary legislative reforms be conducted and that transparent, honest, and representative elections be assured."
Kozlov harbors few illusions about his chances of electoral success, however. Complaining about Nazarbayev's "authoritarianism," he said that members of a society which is "zombified by false propaganda and intimidated by examples of the total suppression of dissident views" were hardly likely to elect him.
The Democratic Choice of Kazakhstan movement (known by its Russian acronym, DVK) was formed in 2001 by a group of prominent administration officials and businessmen to lobby for reform from within the system.
It soon fell foul of Nazarbayev, who became suspicious of its motives. DVK figures who refused to be brought back into the administration's fold were pushed into opposition, and two leaders – entrepreneur Mukhtar Ablyazov and Pavlodar Region Governor Galymzhan Zhakiyanov – ended up in prison on corruption charges, which they denied and linked to their political activity. Both were later freed; Ablyazov is now living in London [8] after coming into conflict with the administration again last year, and Zhakiyanov is keeping a low profile in Almaty.
Alga! DVK (Forward! DVK) has been unsuccessfully battling for registration ever since DVK was banned in 2005, treading a knife edge by pursuing political activity in legal limbo.
Kozlov has also fallen foul of the law personally: he's known for his flamboyant flouting of Kazakhstan's restrictive laws on public assembly, and his persistence in challenging them landed him a 10 day prison sentence earlier this year [9].
Nazarbayev's administration, meanwhile, is totally dismissive of any possible threat from opposition quarters. "I have said once and I emphasize again that neither now nor in 2012 does the opposition present any political threat to the existing ruling power," presidential adviser Yermukhamet Yertysbayev told the Liter newspaper ahead of Kozlov's announcement. Unfortunately for Kozlov, in the current political environment most observers agree that Yertysbayev's right.
"Eurasianet"