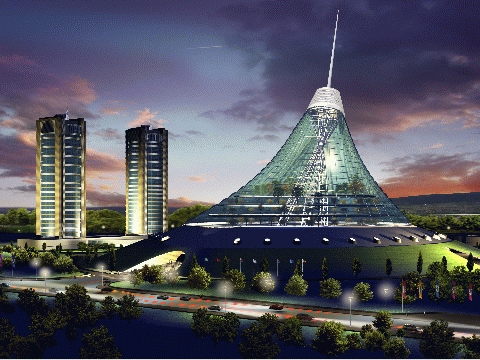 ASTANA, Kazakhstan — Swimming on the steppe? In Kazakhstan's showpiece capital, it seems nothing is impossible.
Khan Shatyr, billed as the world's biggest tent, is the latest addition to Astana's futuristic skyline. Designed by British architect Norman Foster, it houses indoor beaches and waterfalls, as well as a mini golf course and botanic gardens.
Its Turkish builders call it the "King Among Tents." A web of cables spun from a slanting, 150-meter mast supports a transparent plastic roof resistant to the extreme temperatures of the steppe, which in winter can hit minus 35 degrees Celsius. Astana — "capital" in the Kazakh language — is President Nursultan Nazarbayev's gift to Kazakhstan. More than $12 billion has been spent on transforming a Soviet agricultural town into the new seat of government for Central Asia's largest economy.
"Astana was built thanks alone to the president's will," said Kairat Aitekenov, managing director of sovereign wealth fund Samruk-Kazyna.
In the days leading up to Nazarbayev's 70th birthday last Tuesday, also the 13th anniversary of Astana's capital status, state television channels broadcast concerts to celebrate the city. Heartfelt paeans have already been written in its honor.
"Astana makes me proud. It symbolizes beauty," said civil servant Zhak Khairushev, who moved to the capital a decade ago from the northern city of Pavlodar.
Nazarbayev moved the capital from Kazakhstan's largest city and financial center, Almaty, in 1997, preferring a central location to revitalize an ailing post-Soviet economy. The former capital's proximity to China in a region prone to earthquakes also encouraged the move, government officials said.
Astana has swallowed up the city once known as Tselinograd, or "Virgin Lands City," the focal point of Soviet leader Nikita Khrushchev's 1950s campaign to cultivate vast tracts of land. Since it became the capital, Astana's population has trebled to 750,000. City planners foresee 1.2 million residents by 2030 as young civil servants and their families take root.
"The migration of government officials is complete," said Sarsembek Zhunusov, the city's chief architect. "We are already starting to fulfill our functions as a capital city."
Migrant laborers who flock to the city in search of work and better pay have also contributed to the jump in population. Kairat Sarsenbayev, 25, earns about $800 a month installing plumbing systems for luxury apartment blocks. This is four times what he could earn at home in southern Uzbekistan. "This is a modern, attractive city, but to live well here, you need to earn good money," he said.
Sarsenbayev works seven days a week and shares a one-room apartment with four other laborers from Uzbekistan. They each pay $35 a month in rent and send most of their earnings home.
Residents have affectionate nicknames for the futuristic buildings rising from the barren steppe. The Baiterek tower is known as "Chupa Chups," after the popular lollipop brand. Ask a taxi driver for the zazhigalka — "cigarette lighter" in Russian — and he will take you to the angular glass building that houses the Transportation and Industry ministries.
But, for some living in the shadow of the city's original mosque, on the other side of the Ishim River, the architectural extravagance only heightens the gap between rich and poor.
Bolat Zhakenov washes in a rickety wooden outhouse with water carried in bottles from a nearby pump. Behind corrugated metal fences, children play among piles of garbage.
"This is the center of a capital city in the 21st century, and we live in a slum," said Zhakenov, 42, an interior decorator when he can find work. He chewed on a matchstick as he spoke. "Our neighborhood isn't part of their plans."
He said he once spent a day in jail for starting renovations to his squat, whitewashed house without planning permission. Without such permission, he said, he cannot make improvements to a home that floods when the snow melts every spring.
Meanwhile, on the lavish left bank of the Ishim, Italian acoustics experts are already working on the next project: a classical-style opera house to seat 1,200 people. Zhunusov never thought his career as an architect would be so rewarding. "It's a present from fate. I'm thankful I was born here, at this time," he said.
Reuters