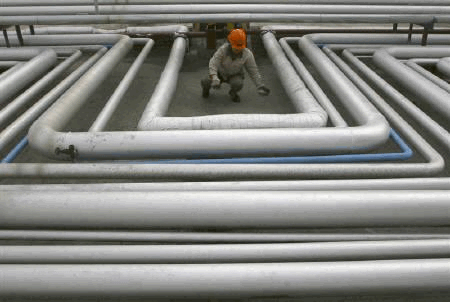 A senior US envoy urged Azerbaijan and Turkey on Wednesday to sign a long-awaited deal he said was crucial for retaining confidence in Western plans to reduce Europe's dependence on Russian gas.
Richard Morningstar said the signing of a deal, which has been two years in the making, would be essential to boost confidence in the European Union's ambitious Southern Corridor plan to bypass Russia in bringing Caspian Sea gas through Turkey to Europe.
"We are encouraged by the recent progress in negotiations between Turkey and Azerbaijan," Morningstar, US Special Envoy for Eurasian Energy Issues, said at a conference on Caspian Sea energy development in the Azerbaijani capital Baku.
"We are hopeful the two sides will reach an agreement sooner rather than later, so that confidence in the Southern Corridor is not undermined."
Energy-rich Azerbaijan is seen as a key potential supplier for the main component of the Southern Corridor plan to diversify gas supplies -- the 3,300-kilometre (2,050-mile) Nabucco pipeline between Turkey and Austria scheduled to be completed by 2014.
Other potential elements of the plan include possible Italy-Turkey-Greece and Trans-Adriatic pipelines.
"The concept of a Southern Corridor is simply not viable if countries that stand most to benefit from it cannot reach commercially sensible, mutually advantageous agreements on the terms under which gas for the corridor will be transported," Morningstar said.
The EU-backed pipeline is competing with Russia's South Stream pipeline project to meet gas demands in Europe, which already relies on Russia for a quarter of its gas supplies.
South Stream, which will channel Russian gas under the Black Sea to Bulgaria, is expected to be completed by the end of 2015.
The deal between Baku and Ankara is expected to cover the price of Turkish gas imports from Azerbaijan and how much Turkey charges in transit fees for delivery of Azerbaijani gas to Europe.
Its signing could signal the start of commercial negotiations between Azerbaijan and Nabucco's shareholders on supplies to the pipeline.
Talks on the deal stalled the last year amid political tensions between Turkey and Azerbaijan over Ankara's reconciliation efforts with Azerbaijan's arch-rival Armenia.
Morningstar said the United States would also welcome the participation of gas-rich Turkmenistan in the Southern Corridor project but opposed Iran's involvement.
"We see no place for Iranian gas in a Southern Corridor, given the current approach of its leadership and while international efforts to address Iran's nuclear programme are underway," he said.
Aliyev said Tuesday that Azerbaijan expected to boost energy production this year to 52 million tonnes of oil and 30 billion cubic metres of gas, up from 50.4 million tonnes and 23.6 billion cubic metres in 2009.
He said Azerbaijan was producing three times more than the level of domestic demand and was keen to expand its export markets.
Rovnag Abdullayev, the head of Azerbaijani state energy firm SOCAR, told the conference Wednesday that extraction will grow to 60 million tonnes of oil and 35-40 billion cubic metres of gas by 2015.
Rich in oil and gas and strategically located between Russia and Iran, Azerbaijan has been courted by both Moscow and the West since gaining its independence with the 1991 collapse of the Soviet Union.
Backed by Western governments, companies such as Britain's BP have pumped hundreds of millions of dollars (euros) into the country's energy sector, building a corridor of oil and gas pipelines from Azerbaijan through Georgia and Turkey to Europe.
Source: AFP American Edition