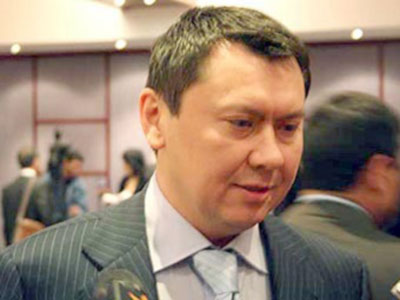 The latest developments in Kyrgyzstan show what happens to the government which demolishes all the instruments of civil society.
Regime which does not allow its citizens to express their opinion and disappointment pushes their patience to the limit. When people have no possibility to influence their future with the tool of free and fair elections, when they are ruled by the totally corrupted authorities, they have only one choice left.
Revolution.
Dictators, facing their angry compatriots, have a choice, though. They can step down and flee the country or they can give an order to open fire.
Askar Akayev chose the first option. And now he lives freely in Russia, being a respectable scientist.
Kurmanbek Bakiev decided to shoot. His hands are now red with the blood of his fellow compatriots. Dozens of people are dead, but it didn't stop the revolution. Bakiev's regime has fallen.
But which country will give a shelter to the bloody dictator? We already know the answer to this question: Republic of Kazakhstan, current Chairman of Organization for Security and Cooperation in Europe, OSCE. Bakiev found his refuge there, with the help of his understanding brother in arm, President Nursultan Nazarbaev.
Bakiev and much more experienced Nazarbaev have more in common than meets the eye. Both grew rich while their counties grew poor. Both enjoyed power while their citizens suffered from lawlessness and deprivation of basic rights. Both were unreliable friends on the international arena, given different promises to different partners.
And both had powerful tool to push Western Democracies to keep their eyes wide shut.
Bakiev had Manas airbase and keys to the Afghan air.
Nazarbaev has oil. Big oil. He has natural resources which he had stolen from his people.
With those cards at hands they were allowed by the international community to play by their own rules. Silence from West helped them to suppress the freedom and to build dictatorial regimes.
Now reaction from Europe and United States is crucial to determine what will happen next in Central Asia. If they will condemn Bakiev's regime for its corruption and brutal practices, if they will condemn the shootings of demonstrators, it will send a powerful signal to the rest of the pack of Central Asian dictators. It will show autocrats like Nazarbaev that they are not immune. They are responsible to their own people and to international community. They can be powerful and menacing now but the Day of payment will come.
And if West and Russia will push them toward the open society, push to embrace the freedom of speech and to respect the Human rights, if the OSCE will keep a watchful eye on general elections, then we have a chance that the Kyrgyz syndrome will not spread all over Central Asia.
Because people today do not have right to vote freely and they are deprived from basic civil liberties. They have no rights but more and more often they have no money as well. And they became desperate. That is how dictators pushing people toward extremism. What happens next we see in Bishkek.
rakhataliev.livejournal.com