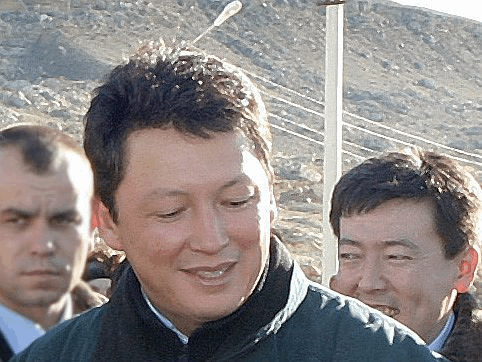 It's back to the drawing board for Kazakh President Nursultan Nazarbaev in his search for a successor. It seemed as if Nazarbaev had found a suitable heir to the presidency in the form of his son-in-law, Timur Kulibaev, but reports surfaced this week claiming that Kulibaev had accepted huge bribes from Chinese oil companies.
The timing couldn't have been worse, as there were also reports in the Russian media that Kulibaev's wife, President Nazarbaev's second-oldest daughter Dinara, had just bought a villa on the shores of Lake Geneva for 74.4 million Swiss francs (some $70 million), which according to one Swiss newspaper is a record amount of money for a real-estate purchase in Switzerland.
Kulibaev, 43, was named vice-president of Kazakhoil in 1998 and then president of KazTransOil in 1999. Since 2002 he has been the first vice president of KazMunaiGaz and since October 2008 the deputy chairman of the Samruk-Kazyna, the state body that oversees all of Kazakhstan's energy companies -- oil, gas, and nuclear.
Kulibaev is also chairman of the board of directors at Kazatomprom and KazMunaiGaz as well as Kazakhstan Temir Zholy, the state railway company. He and his wife Dinara made Forbes list of billionaires in 2007.
The source of the allegations about Kulibaev's alleged financial involvement with the China National Petroleum Corporation is a former Kazakh banker and politician, Mukhtar Ablyazov, who is himself accused of embezzling money and has fled Kazakhstan.
Once, it appeared that Rakhat Aliev, the former husband of Nazarbaev's eldest daughter, could occupy the president's seat, but in making the most of his familial connections to accumulate wealth and power he also broke the law. And according to the Kazakh prosecutor, he also planned to hasten his father-in-law's departure by staging a coup.
Aliev is currently in exile in Austria where he is likely to stay for some time after being tried in absentia and convicted of crimes in Kazakhstan and sentenced to 40 years in jail.
Aliev managed to weather a series of accusations at the start of the century about illegal activities and even plotting against his then father-in-law, so it may be that Kulibaev will also be given the benefit of the doubt this time around.
But remembering what happened with Aliev, President Nazarbaev may now be starting a new search for someone who can one day take the reins of power in Kazakhstan, preserve the country Nazarbaev has built, and of course his legacy.
www.rferl.org