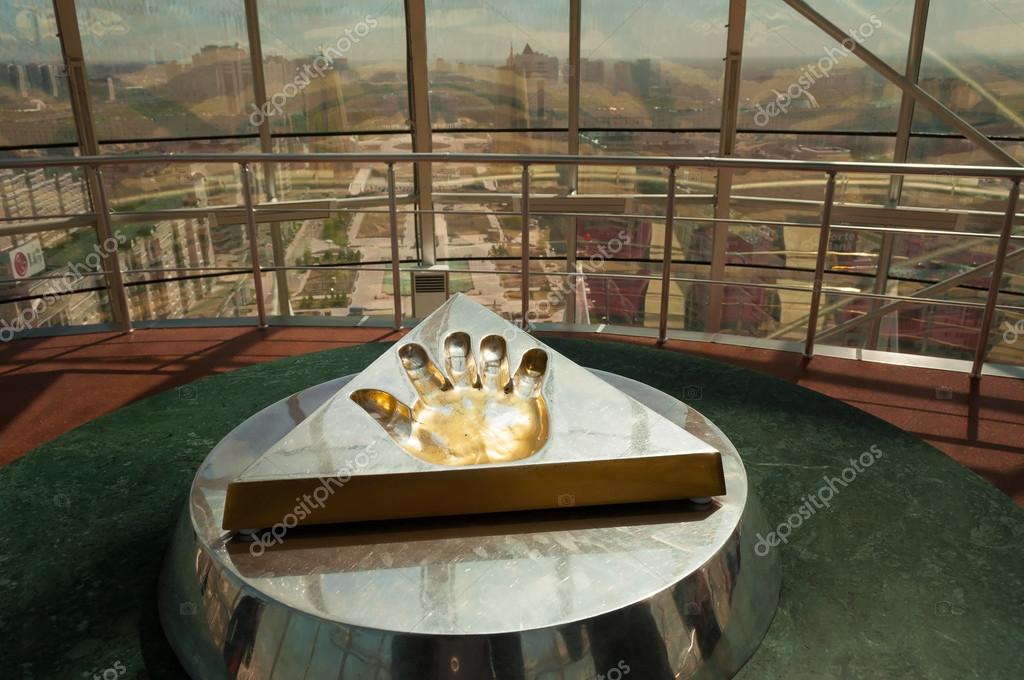 A partial handover of political power through an orchestrated transition takes Kazakhstan into uncharted territory. Will it be able to pursue modernization and reform, and break from its authoritarian past?
Ex
ecutive Summary
Kazakhstan is at a turning point in its history. At face value, at least, Central Asia's wealthiest state has embarked on a bold experiment following the March 2019 decision by its founding father and long-standing ruler, Nursultan Nazarbayev, to resign from the presidency and initiate a managed political succession. A generational transition of this nature, untried in other former Soviet republics, brings with it high stakes. As well as looking to secure his own legacy, having dominated the country since before independence in 1991, Nazarbayev seeks to ensure Kazakhstan does not depart from the course he has set, while safeguarding regime stability in the context of multiple and evolving domestic and international challenges. This is easier said than done.
The uncertainty around this project is substantial, especially considering a 'rowback' decree just seven months after Nazarbayev's resignation, limiting the powers of his anointed successor, Kassym-Jomart Tokayev. How long can Tokayev credibly remain president considering such a transparent undermining of his authority? Is Nazarbayev, in fact, grooming his daughter, Dariga Nazarbayeva, another relative or a power player from outside the family for the leadership in the longer term? Will the 'Kazakh tandem' of
Nazarbayev and Tokayev function effectively, or will tensions and conflicts arise between them as many claim is happening already? How will the leadership cope with the protest mood now manifest on the streets of Kazakhstan, and address the political and socio-economic grievances fuelling this discontent? How might the political transition play out if Nazarbayev were to suddenly exit the political scene altogether? And what is the long-term transition plan for the time when Nazarbayev has departed, and how effective will it be?
As Kazakhstan enters uncharted territory, the purpose of this report is twofold. First, to make the case for the West to devote more attention to Kazakhstan. The country's relative importance in Central Asia, and as the constant focus of intense attention from China and Russia, suggests that the West is wrong to direct so little time and diplomatic effort and so few resources towards it. This is not so much a miscalculation (that would be to assume there had been a calculation in the first place) as a misstep through neglect, presupposing that the future will resemble the present – with Kazakhstan remaining stable internally, relatively inconsequential geopolitically but nevertheless a friendly ally to the West. In fact, the country's trajectory over the next few years is of potentially strategic import. This is because even its political semi-transition presents the West with a rare opportunity to push back against the global rise of authoritarianism, in a state that is open to rational argument and economic logic.
The second function of the report is to serve as a well-intentioned message to the leadership of Kazakhstan. The research undertaken by the report's eight authors shows that Kazakhstan is at risk of failing to achieve the goals its leadership has set for the country. As significant as it has been, the partial stepping aside of Nazarbayev by no means guarantees the modernization and renewal that he and his successor have promised.
Far deeper political, economic and social reforms will be needed if Kazakhstan is to meet the growing challenges to its stability, prosperity and development.
Street protests since Nazarbayev's resignation have demonstrated a level of popular disaffection far higher than the authorities acknowledge. The leadership needs to bridge the disconnect between the rulers and the ruled and start listening to its people.
To avoid slipping into decline, and to resist external pressures and geopolitical overtures that could diminish the sovereignty that its leadership is so determined to safeguard, Kazakhstan needs new faces – innovators and reformers – throughout every level of the administration, as well as new ideas. This report is intended to help with the 'ideas' part of that proposition.
Kazakhstan's principal challenges
Internal
Governance
Although significant economic reforms occurred under Nazarbayev's rule, political reforms conspicuously lagged during his presidency – with Nazarbayev choosing not to establish an independent judiciary, a parliament with meaningful oversight powers, or even a constitution that is respected by the authorities themselves. Indeed, Nazarbayev frequently amended the constitution to bolster and prolong his rule, and an opaque, informal political system persisted. This stymied the development of institutional governance and the country more broadly.

President Tokayev, meanwhile, faces formidable challenges. He needs to improve the government's responsiveness to the needs of the population, address long-term structural economic challenges, and head off rising popular disaffection with the political system and socio-economic conditions, all while negotiating the very real constraints associated with his own limited authority.
As president in a system still shaped in the image of his predecessor, Tokayev is effectively one half of a duopoly, no matter how often Nazarbayev himself and Tokayev's own people deny the existence of any such thing.
Although he is attempting to create his own power base beyond Nazarbayev, the latter retains extensive entrenched powers that make major political or economic reforms unlikely. Only once Nazarbayev fully retreats from the political front line will it be possible to harness the potential for change. But the capacity to do so will depend greatly on how the political system develops in the immediate transition period.
The political economy
Since independence in 1991, Kazakhstan's strong economic performance on the back of its natural resource endowments has enabled it to reach upper-middle-income status. It is one of the most successful economies in the region and has been among the best-performing of the post-Soviet resource exporters. To achieve this, it has overcome formidable barriers of geography, climate and history.
But the post-Soviet system and the natural-resources wealth that delivered this success have accumulated new problems that hinder further economic development. The economic crisis of 2014 exposed structural shortcomings that were hidden by the oil boom. Among them are the excessive role of state-owned enterprises and their holding companies, weak regulatory institutions penetrated by vested interests (especially in the financial sector), costly and inefficient trade arrangements, and corruption. Kazakhstan must address these problems if it is to meet looming challenges that include: a growing population in need of high-quality jobs; rapid technological change; the transformation of energy markets; and increasingly assertive behaviour by China and Russia. A new reform impulse is needed.
Political and civil liberties and human rights
The government does not respect political and civil liberties. It fails to uphold its commitments either under international agreements or under its own constitution and laws. It holds choreographed elections. There are de jure and de facto restrictions on press freedom and freedom of expression. Although some dissent is tolerated, citizens who cross the government's boundaries in expressing their opinions – whether online or offline – face sanctions, including prison terms. Restrictive legislation limits the right to freedom of assembly, with peaceful protesters facing arrest and imprisonment. Freedom of association is curtailed for civil society groups, trade unions and religious congregations. The judiciary is abused for political ends.
Western governments have typically shied away from challenging Kazakhstan over human rights, further fuelling a sense of impunity on the part of the authorities. However, the political transition opens a window of opportunity for Kazakhstan to improve its human rights record, and President Tokayev is already making specific pledges to do so. This would enable the government to address citizens' mounting concerns and grievances in a more inclusive manner by amending restrictive legislation and creating space for the exercise of greater political and civil liberties in practice as well as on paper. International actors could support this process.
Identity politics
One challenge for the transition of power is that it is occurring while various identity groups compete for dominance. Ongoing rural-to-urban migration has contributed to this phenomenon. Many migrants remain marginalized, without access to welfare. Feeling little attachment to the state, they instead prioritize ethnic or tribal forms of identity. As the use of the Russian language diminishes, the number of supporters of these forms of identity is likely to increase. Tribal and clan factors hold sway in certain sectors of society where group loyalty still comes before civic loyalty.
Meanwhile, new forms of religious expression are replacing those destroyed by urbanization and 70 years of Soviet rule, creating clashes between secular and clerical identities. Such tensions are aggravated by the fact that nationalist and populist movements are simultaneously gaining support. Ethnic Kazakhs are the most vocal group, which exacerbates the sense among minorities that they are disenfranchised, even though they are not as politically or civically active as Kazakhs are. This trend will continue as the ratio of minorities keeps shrinking.
External
Relations with Central Asian neighbours
Kazakhstan has begun to identify itself more clearly as an integral part of the Central Asian region, rather than as a mere bridge between the other Central Asian states and Russia.
The result has been a palpable and growing trend towards cooperation among Central Asian states, with a cautiously reforming Uzbekistan acting as an important driver. A confluence of factors has underpinned this gradual shift:
The growth of a more ethnic Kazakh identity to the detriment of the civic-based Kazakhstani identity developed after independence, as a result of demographic and educational changes and a growing ethno-nationalist narrative.
A perceptible disentangling and distancing of Kazakhstan from Russia and its policy directions.
A focus on increasing geographic connectivity as a means to promote national development.


The liberalization of Uzbekistan's economy and its new openness to regional cooperation, following the death in 2016 of that country's long-serving ruler, Islam Karimov.


A growing recognition among the Central Asian states that deepening regional trade is mutually beneficial, especially in light of the constraints associated with Russia's economic problems.
Yet while Kazakhstan's leadership welcomes improved prospects for trade with the other Central Asian states, it knows that trade with those countries cannot begin to equal the value of trade with Russia, China and Europe. This automatically makes the cultivation of Central Asian trade a lesser priority. As a result, Kazakhstan continues to give greater importance in its foreign policy to positioning itself as a global player rather than as a regional leader. Nonetheless, as the country begins its transition to a post-Nazarbayev era, it is at last set to cooperate more closely with its Central Asian neighbours.
Relations with Russia and China
Since independence, fostering good relations with Russia and China has been at the core of Kazakhstan's 'multi-vector' foreign policy. However, behind the façade of strategic good neighbourliness, there are tensions and potential cracks. Kazakhstan's positioning vis-à-vis Russia and China takes place on three levels: bilateral relations, regional dynamics in Eurasia, and the international system.
At the bilateral level, the major issues for the government are the treatment of min­orities and how such groups fit into domestic and foreign facets of nation-building. Changing demographics notwithstanding, the challenge of reducing the susceptibility of Kazakhstan's Russian minority population to Moscow's 'information wars' will remain acute. The upward trend in economic cooperation with China is set to continue, albeit in the face of growing public opposition. In particular, China's repression of ethnic Kazakhs in China's Xinjiang Uygur Autonomous Region feeds into anti-Chinese sentiment in Kazakhstan and clouds bilateral relations.
At the regional level, the principal developments have concerned economic integration through the Russia-led Eurasian Economic Union (EAEU) and China's Belt and Road Initiative (BRI). The progress of the former has been undermined by the Russia–Ukraine crisis and perceptions among member states that Russia is pursuing a political rather than economic agenda, while the BRI faces public opposition that the government broadly ignores.
Finally, at the systemic international level, authoritarian state worldviews similar to those in Kazakhstan, Russia and China are on the rise, though there are important differences in how each state positions itself in the global order. Developments at all three levels are likely to affect – and be affected by – the unfolding and unpredictable power transition in Kazakhstan.
Relations with the West
Since independence, Kazakhstan has actively sought acceptance and validation from the West, which it sees as a geopolitical counterweight to Russia. Western attention has fluctuated, shaped mostly by interest in Kazakhstan's mineral resources and in the country's role as a military transit route to Afghanistan for the US and its allies. For both the EU and the US, Kazakhstan has been the main partner in Central Asia (a position Uzbekistan may come to rival), but the region as a whole remains of marginal interest to Western policymakers.
This fact – along with the country's reputation for being undemocratic and corrupt, and for violating human rights – means Kazakhstan, though clearly a valued partner for Western governments and institutions, is not by any means treated as an equal. That said, starting from a low base also presents an opportunity for President Tokayev, a former diplomat. Better treatment of dissenters and activists, for example, or the swift punishment of corrupt officials who try to hide the proceeds of illicit activity in offshore bank accounts could change how the country is perceived internationally, as well as earn him public respect at home.
Recommendations
For Western governments and institutions
Western countries and institutions need to be more involved in Kazakhstan than they have been in recent times. They should not be fooled by Kazakhstan's past stability. Systemic vulnerabilities are growing. Economic challenges and the transition process have exposed and intensified such vulnerabilities. Powers seeking to maintain their geopolitical footholds, such as Russia, and rising powers, such as China, have proven themselves more than willing and able to fill geopolitical vacuums as these appear. The more the West retreats from engagement with Kazakhstan, the more others will fill the gap – and potentially clash. Kazakhstan needs to rise among the West's priorities now.


Constraints on his power notwithstanding, President Tokayev should be cultivated as a respected interlocutor. As one of the architects of Kazakhstan's successful multi-vector foreign policy, he should be welcomed in Western capitals, which constitute one such vector. Kazakhstan should not, however, benefit from unqualified Western support. Subtle pressure aimed at addressing deficiencies in domestic governance will help foster a culture of change in Kazakhstan. Western interlocutors should impress upon the government that reform is in its own interests to prevent greater upheavals later. This reform needs to be carefully managed, but not micromanaged to the extent that it excludes independent voices.


Western policymakers should proactively counteract the Kremlin's propaganda machine, which seeks to discredit Western values in the eyes of Russian-speaking TV viewers in Kazakhstan. This means undertaking a more targeted, creative and diversified strategy of public information, including opening opportunities for Western news and entertainment.


Recognizing the ongoing changes in global governance, Western governments and institutions should frame their policies towards Kazakhstan in such a way that there are incentives and engagement formats/arrangements for Kazakhstan to value a genuine partnership with the West. The UK and other European countries should enhance their diplomatic presences in Kazakhstan with foreign ministry officials who are less focused on narrow economic engagement and more on better governance. In addition to commerce, Western officials should offer the Kazakhstani leadership assistance with the country's energy transition, for example via the EU's connectivity initiative.


For the government of Kazakhstan
Kazakhstan's authorities need to introduce more transparent and inclusive governance to reduce the disconnection between the population and the ruling elite, respond better to the needs of citizens, and ultimately restore faith in government.


The government needs to give more clarity over its intentions for the political transition and the disbursement of power (especially considering the decree published on 21 October 2019 giving Nazarbayev extra powers over ministerial and security appointments).
The abiding influence of the 'First President' as the official 'Leader of the Nation' (Elbasy), as the head of the ruling Nur Otan party, and particularly as the chair of the Security Council creates ambiguity, diluting the ability of the new president to spearhead reforms.


President Tokayev should create conditions that would foster a more open political environment. The introduction of parliamentary checks and balances instead of a rubber-stamp legislature would yield significant benefits for the robustness of political institutions and governance. Introducing elections for regional governors and the mayors of large cities would also boost accountability.


To deliver the more responsive state that he has promised Kazakhstan's citizens, President Tokayev needs to ensure that his National Council of Public Trust becomes not only a genuine platform for dialogue but also an engine of reform by rapidly enacting some of its proposals. The authorities need to make the platform more inclusive by encouraging the attendance of constructive civil society groups or actors that have hitherto been excluded or have declined to join.


The government should halt detentions of peaceful protesters and should amend legislation governing the right to free assembly, replacing the requirement to obtain permission for public gatherings with a requirement to inform local authorities of such events. The leadership should also halt prosecutions of dissenters for freely expressing their opinions, and should establish genuine dialogue with the public. The cases of citizens deemed 'political prisoners' should be reviewed, and the judiciary should not be abused for political ends.


The government needs to take credible action to strengthen the rule of law, through comprehensive reform of the judicial and criminal justice systems. Such reform needs to eradicate practices rooted in the Soviet system, and foster instead an 'innocent until proven guilty' mentality to deliver on President Tokayev's promise of delivering justice for all.
The government needs to take meaningful action to combat corruption, not only by following through with high-profile trials but by establishing genuine zero-tolerance policies at all levels of the public sector, the civil service, the criminal justice system and the judiciary. Reform should be modelled on international best practice for transition economies, in particular on Georgia as the most relevant post-Soviet example.


A wide programme of financial and commercial reforms is vital if Kazakhstan is to be a major economic player. These should include, but not be limited to: reform of state-owned enterprises through more effective regulation and management, and orderly divestment of their public-sector stakes; policy support for SME development, especially in combating predatory practices of corporate raiding; transparency and reform of the financial sector to root out conflicts of interest; and more consistent and supportive policies for smaller foreign investors and minority shareholders.


In addition to the planned creation of an international centre for trade and economic cooperation on the Kazakhstan–Uzbekistan border, Kazakhstan would benefit from adopting measures to boost border efficiency by tackling informal payments and other non-tariff barriers. Given the limited size of its domestic market, Kazakhstan should seek to coordinate its industrialization strategy with Uzbekistan in order to increase complementarities, rather than compete with its neighbour by diversifying into the same activities, such as the manufacture of automobiles and agricultural and electronic equipment.
The leadership should continue to pursue the informal or 'soft' regionalism advocated by a group of Kazakhstan's leading political analysts. A focus on consensus-seeking and continuous consultation, rather than on integration and the creation of formal structures, would allow Kazakhstan and the other Central Asian states to avert potential Russian efforts to hijack or thwart intra-regional cooperation.


The dominance of various forms of religious and tribal group identity is often a reaction to the socio-economic environment. Thus, the government should strive to create conditions that will ensure the emergence of a stronger middle class and develop a corresponding civic identity. Improving the quality of Kazakhstani education (secular and religious), and a better appreciation of Kazakhstan's culture, will reduce the risk of archaic or aggressive forms of identity becoming popularized.
More of an effort needs to be made to reduce the ability of external players to shape public opinion and manipulate information channels. This must be done by supporting and increasing the competitiveness of independent media, both traditional and digital, particularly Kazakh-language media. The undue influence of foreign media, at times purveying fake news, creates risks for the government in terms of its own ability to foster a civic identity and encourages divisions in society.
The government should live up to its international commitments on the granting of asylum to refugees, and ensure Kazakhstani citizens fleeing persecution – particularly from China – are not subject to forcible return.
The government should recognize the growing link between domestic public opinion and its foreign policy, develop better channels of communication to explain international policy, and provide more transparency over its plans – such as, for example, accepting BRI money – in order to foster greater public trust in its actions.


Conclusion
As Kazakhstan negotiates this major turning-point in its development, it has an opportunity to become a model for other states undergoing or set to undergo complex transitions in the post-Soviet region. The country has much to build on: astute and experienced leaders who have Kazakhstan's best interests at heart; an economy with unfulfilled potential that continues to deliver sustained growth, despite all its failings; a vibrant – albeit pressured, fractured and frustrated – civil society that stands ready to assist in the reform process; and a young, dynamic and educated population.
Kazakhstan should rise up the priority list for Western powers because it presents an opportunity for a relatively 'easy win' if their engagement can successfully support the country's reform and development – and be seen doing so. This is an opportunity liable to be lost if it is not actively grasped. Kazakhstan needs honest, critical friends, as opposed to disingenuous partners with dubious motivations. For the West to fulfil this role, it will need to reassess its main areas of concern and its allocation of financial and diplomatic resources. In turn, Kazakhstan will need to be more honest with itself about its own failings, and more willing to listen to its own people – the critics as well as the supporters. If these things can happen more or less in concert over the next five years, then there is an opportunity for Kazakhstan to become a model for others as the leading success story of the post-Soviet period.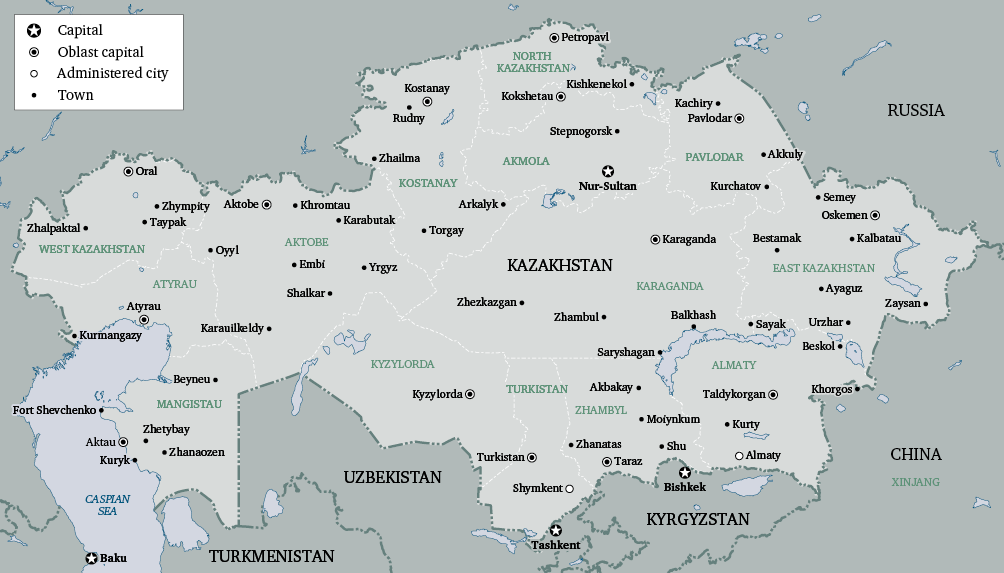 Map 1: Kazakhstan
Source: Adapted from United Nations Department of Peacekeeping Operations Cartographic Section (2004), Kazakhstan, Map No 3771 Rev 6, https://www.un.org/Depts/Cartographic/map/profile/kazakhst.pdf.
Original source: Chatham House
Authors: