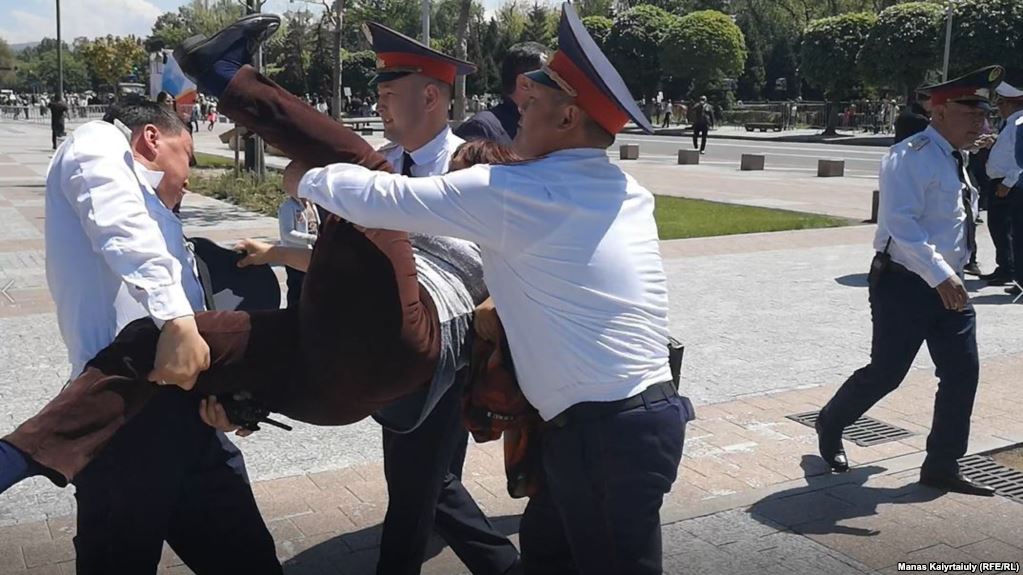 Police in Kazakhstan have detained several antigovernment protesters who staged demonstrations during ceremonies to mark the 74th anniversary of the Allied victory against Nazi Germany in World War II.
Meanwhile, many social media apps and news websites were inaccessible from Kazakhstan on May 9 -- including the website of RFE/RL's Kazakh Service.
RFE/RL correspondents witnessed the detention of at least one protester in Nur-Sultan, the capital, and several in Kazakhstan's largest city, Almaty.
The developments came a day after Kazakhstan's Prosecutor-General's Office called on citizens not to hold or take part in unsanctioned rallies on Victory Day -- warning of 'harsh" punishment for such activities.
Arrests In Almaty Amid Kazakh Crackdown



WATCH: Arrests In Almaty.
Earlier, fugitive former banker Mukhtar Ablyazov, a vocal critic of the Kazakh government, who lives in France, called on Kazakh citizens via the Internet to hold protest rallies during the Victory Day celebrations.
The detentions of protesters on May 9 came while RFE/RL's site was accessible across Kazakhstan only via VPN or proxy services.
Websites of vlast.kz, holanews.kz, informburo.kz, exclusive.kz, time.kz, village.kz, lada.kz, as well as the websites of Uralskaya Nedelya and Aqzhaiyq newspapers have also been inaccessible.
The website of Kazakhstan's Bureau for Human Rights is also inaccessible, and Facebook, YouTube, and Telegram social network are partially accessible, RFE/RL correspondents report.
Growing Discontent
Kazakh officials have not given an official explanation and representatives of the Information Ministry, National Security Committee, and Kazakhtelecom were not available for comments.
Several protests have been held across the country recently, an indication of growing discontent with the political system that has been dominated by former President Nursultan Nazarbaev since before the 1991 Soviet collapse. Nazarbaev retains the title of Leader of the Nation despite his stepping down as president in March.
Protest: Kazakh Man Detained Holding Blank Poster



WATCH: Kazakh Protester Detained For Blank Sign
Many of the protests were focused on the upcoming June 9 snap election, which was scheduled following Nazarbaev's sudden resignation.
Opponents, critics, and rights groups say Nazarbaev, who tolerated little dissent, denied many citizens basic rights, and prolonged his power in the energy-rich country of 18.7 million by manipulating the democratic process.
No vote held in the Central Asian country since 1991 has been deemed free and democratic by international observers.
Nazarbaev's surprise resignation caught many observers off-guard. However, the fact he continues to lead the ruling party and will also keep his lifetime post as chairman of the influential Security Council, has led many experts to conclude that the resignation was a legal sleight-of-hand aimed at staying in power further.
Original source: RFE/ Radio Liberty