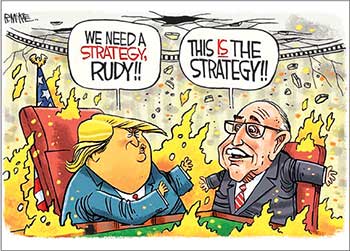 "The faults of the burglar are the qualities of the financier." – George Bernard Shaw, Major Barbara, 1905.
The complaint was filed by Avaaz, a global human rights organization in Washington. It has issued an open call to prosecutors around the world to investigate "the giant web of corruption" that it says propelled Donald Trump's rise.
Avaaz has asked Dutch prosecutors to open a criminal investigation into multi-billion-dollar money laundering schemes that, it said, were aided by Donald Trump's lawyer, Rudy Giuliani, and Rudy's old law firm, Bracewell & Giuliani.
DCReport.org is a unique nonprofit news service that reports what the US President and Congress DO, not what they SAY, and proudly claims to be founded on core investigative journalism principles of research, fact-checking, and reporting in plain English how you and your family are affected by what happens in Washington, D.C.
The complaint is clearly aimed at examining how much money stolen from a former Soviet satellite ended up benefitting Trump, who is named 16 times in the complaint's footnotes.
"The money laundering network started in Kazakhstan, where a figure of up to USD 10 billion was purportedly embezzled," the complaint asserts. "This money was subsequently circulated by two Kazakh oligarch families via a worldwide network of shell companies. A number of these companies were established in the Netherlands. The money was subsequently invested in real estate projects in the United States and Europe, after which it was paid out as 'profits' via – once again – a network of shell companies."
The current Kazakh government is in court in Switzerland and elsewhere trying to recover the money and prosecute members of two families it says stole the money and laundered it in the West. Other lawsuits connected to the stolen money are being litigated in London, Paris, New York and Los Angeles.
The complaint, lodged on October 22 with J.J.M. van Dis-Setz of the Dutch Public Prosecution Service by Barbara van Straaten, a lawyer in Amsterdam. asserts that a small slice of the missing billions was run through Dutch shell corporations with help from Rudy Giuliani's old law firm, Bracewell & Giuliani. Until 2016, Giuliani was a partner in the 470-member lawyer firm.
Neither Giuliani nor anyone at his firm Giuliani Security & Safety LLC responded to requests for his side of the story. Multiple requests for comment prompted no response from Greg M. Bopp, Managing Partner of what was then Bracewell & Giuliani but is now called only Bracewell.
The current Kazakh government is in court in Switzerland and elsewhere trying to recover the money and prosecute members of two families it says stole the money and laundered it in the West. Other lawsuits connected to the stolen money are being litigated in London, Paris, New York and Los Angeles.
The $10 billion theft was uncovered by PricewaterhouseCoopers during its 2009 audit of BTA Bank, the largest in Kazakhstan. In addition, there is about $300 million missing from Almaty, the largest city in Kazakhstan.
Court documents identify the suspected thieves as Viktor Khrapunov and Mukhtar Ablyazov, oligarchs whose families are bound not just by extensive business ties, but also by marriage. Khrapunov is the former Mayor of Almaty. His son Illyas is married to Ablyazov's daughter. Both Khrapunov and Ablyazov are fugitives.
Khrapunov, who was tried in absentia in Kazakhstan, has been convicted of corruption. Ablyazov, who was President of the looted bank, had his worldwide assets with an estimated value of $4.9 billion frozen six years ago by a British High Court.
The Dutch television program Zembla aired an investigative piece on Trump and his Russian associates in 2017. It followed up with an expose of a Trump business partner's role in a Dutch money laundering scheme.
The complaint is aimed at uncovering the full details of Russian money flowing to various Trump projects using so-called anonymous wealth companies, created to hide the identities of the owners. Trump and his family are known to have received vast sums from shell companies and have bragged about how much of it came from people in Russia and other parts of the former Soviet empire. Trump contends he has no knowledge of any money laundering.
Trump is known to have done deals with some of those mentioned in the complaint, including Felix Sater, a violent Long Island felon who was born in Russia. For years Sater travelled extensively with Trump working on deals named in the complaint and handing out his Trump Organization business card. Despite these long ties, Trump claimed during his presidential campaign that he would not recognize Sater if they were in the same room!
In one deal involving Sater, millions of dollars from the Trump SoHo hotel and apartment tower disappeared into an Icelandic bank that was under the control of a Russian oligarch. That bank was part of a multi-billion-dollar scheme to defraud Dutch and British pension funds. Trump has testified that he was due 18% of profits from the building.
Sater is believed to be cooperating with Special Prosecutor Robert Mueller.
Trump has done business since 1983 with Russian oligarchs and wealthy former officials and business people in former Soviet satellites, including Kazakhstan, Georgia and Azerbaijan. A number of mobsters – American, Russian and others – live in Trump Tower apartments. The building has long been known to local, federal and international law enforcement as a nest of criminal residences.
Just three weeks before the 2016 election, a massive expose of Trump's role in helping Kazakh oligarchs hide their illicit money appeared in The Financial Times, London. Titled Dirty Money: Trump and the Kazakh Connection described "evidence that a Trump venture has links to alleged laundering network."
The newspaper said its investigation found that Trump had "assembled an eclectic collection of backers and collaborators. Some had chequered pasts, with links to organized crime or fraud schemes. But perhaps the biggest risk for Mr. Trump's complex, often opaque, business empire was that it might be used for a purpose US officials fear is rife in the country's real estate sector: laundering dirty money."
While Giuliani calls himself Trump's personal lawyer, his role is primarily to spread Trumpian disinformation about Special Prosecutor Mueller's investigations into Russian collusion and related matters concerning Trump and his 2016 presidential campaign. Because Giuliani appears on so many cable and other television shows, but not in court, MSNBC host Lawrence O'Donnell calls the former New York City mayor Trump's TV lawyer!
Rudy Giuliani has had many identities in his time on the public stage. A crusading federal prosecutor who struck terror in mobsters and Wall Street titans alike. A sometimes-cantankerous New York City mayor who became a national hero for his stirring leadership after the 9/11 attacks. And, currently, President Donald Trump's unpaid attorney in the Russia collusion investigation being led by Robert Mueller.
The focus of DCReport.org is on Giuliani's work that has occurred largely outside of the spotlight: He has often travelled to Russia or other former Soviet states as guests of powerful players there. And since Trump was elected, he appears to have stepped up the frequency of those trips.
Just last week, for example, Giuliani appeared in the former Soviet republic of Armenia, which has close trade ties with Russia. He was invited, according to local press accounts, by Ara Abramyan, an Armenian businessman who lives in Russia. Abramyan once helped reconstruct the Kremlin and also received a medal for "merit to the fatherland" from President Vladimir Putin of Russia. Giuliani said he was in Armenia as a private citizen, but on a local TV news show, Abramyan implied that he expected Giuliani to carry a message for him to Trump. (The conversation was in Armenian, so it's not clear whether Giuliani understood what Abramyan was saying.)
There are many things we don't know about Giuliani's trips, says Avaaz. We don't know whether he's being paid, and if so by whom. Giuliani declined to answer our questions. One thing we do know is that a company called TriGlobal Strategic Ventures claims credit for organizing the trips. Abramyan is on TriGlobal's board, as is a former Russian government minister. TriGlobal and Abramyan also did not respond to our questions.
Giuliani's work abroad does not appear to break any laws or rules. But it also appears to be unprecedented. Said Barbara McQuade, a former US attorney and a Law Professor at the University of Michigan: "I don't recall seeing anything like this before."**
The Island, November 24, 2018