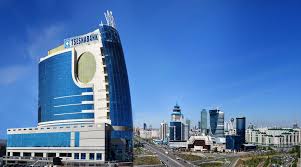 Kazakh authorities said on Friday they would buy 450 billion tenge ($1.2 billion) of agricultural sector loans from Tsesnabank in order to boost its financial strength, while the country's No.2 lender reshuffled its management.
Tsesnabank's liquidity has come under pressure over the last few months and it said this month it had used a short-term central bank loan to replenish it.
At the same time, Tsesnabank, the Central Asian nation's second biggest lender by assets, has said it was observing all regulatory requirements and had no asset quality issues.
In addition to the planned loan portfolio purchase, state holding KazAgro is working with Tsesnabank on restructuring loans extended to the agricultural sector to which Tsesnabank is heavily exposed, the cabinet and the central bank said in a joint statement.
Tsesnabank, in turn, named Ulf Wokurka, a former Deutsche Bank manager, as its chief executive on Friday, its second CEO replacement this year.
In addition to Deutsche Bank, Wokurka has served on the board of Kazakhstan's sovereign wealth fund and briefly headed Kazkommertsbank, a lender which Kazakhstan bailed out last year with a $7.5 billion bad loan purchase.
The oil-exporting country's banking system has been volatile since 2015 when global energy prices plunged and the local property market crashed, leaving many lenders saddled with bad debt and devalued collateral.
The central bank last month revoked the licences of two small lenders which it said have failed to meet their financial obligations and regulatory requirements.
Tsesnabank, which has total assets of about $5.6 billion, announced a 40 billion tenge ($105 million) capital injection this week which it said would also boost its financial strength.
Tsesnabank is controlled by the family of Adilbek Zhaksybekov, who until this week served as President Nursultan Nazarbayev's chief of staff.
Nazarbayev dismissed Zhaksybekov, 64, on Monday, saying he had reached retirement age. The same day, Zhaksybekov was named chairman of Corporation Tsesna, through which his family owns stakes in Tsesnabank and other businesses. (Reporting by Olzhas Auyezov; Editing by Vyas Mohan and David Evans)
REUTERS, 14 September 2018