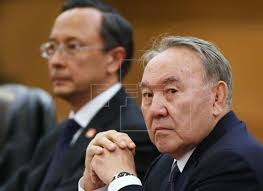 Kazakh President Nursultan Nazarbayev emphasized on Sunday at the Shanghai Cooperation Organisation (SCO) summit the need to push international connection projects such as the Beijing-Berlin high-speed rail line that will pass through Astana, the capital of Kazakhstan.
"Connectivity via infrastructure can increase the development of the SCO members and promote the creation of jobs, and projects like the high-speed Beijing-Astana-Moscow-Berlin (rail line) can build synergies between this organization and the European Union," the Kazakh leader said.
Nazarbayev, whose country held the rotating SCO presidency last year, also suggested increasing cooperation on financial matters, including the establishment of strategic currency markets and currency exchange agreements among member countries.
"The strategic priorities for the SCO must continue being political dialogue for greater mutual political confidence," said the Kazakh leader, who this week – along with Chinese President Xi Jinping – attended the signing of several bilateral cooperation agreements in Beijing.
Kazakhstan is one of the founding members of the SCO, created in 2001 to increase Eurasian economic cooperation and security and which currently includes China, Russia, India, Pakistan, Tajikistan, Kyrgyzstan and Uzbekistan.
Latin American Herald Tribun, 11.06.2018