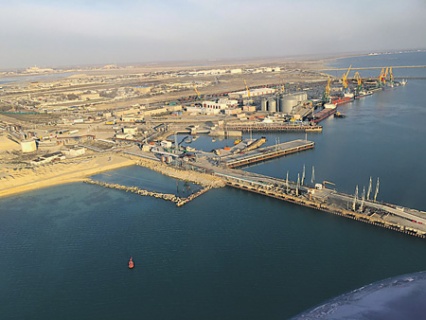 On April 19, Kazakhstan's Senate ratified the agreement allowing the US to use its ports of Aktau and Kuryk on the East coast of the Caspian Sea to transit military supplies to Afghanistan, the Russian news agency RIA news reported.
The supplies will be dlievered passing the next route: from Georgia and Azerbaijan via the Caspian Sea to Kazakhstan, then by rail to Uzbekistan and then they will reach Afganistan.

If the agreement is ratified by Kazakhstan's President Nursultan Nazarbayev and US President Donald Trump, it will allow Washington to use the ports of Aktau and Kuryk on the East coast of the Caspian Sea. The use of these ports is accomplished in the interests of Kazakhstan, as "it intends to support peace and stability in Afghanistan", according to Foreign Minister of Kazakhstan Kairat Abdrakhmanov.
Currently, the main route of material supplies to Afghanistan passes through Pakistan. However, after the deterioration of bilateral relations between the US and Pakistan, the Pentagon is considering to launch the "North" route.
The Russian media has already speculated that if the agrement is implemented, the US and NATO will militarize Kazakhstan's ports. According to this version, the US is going to use these facilities to pursue own political goals in the region.
South Front, 25.04.2018